Full Name: The Caterpillar 
Nicknames: The Smoky Caterpillar, Mr.Caterpillar, Lord Lepidoptera
Age: 8417 life cycles (roughly 100 years for each life cycle)
Gender: Male
Skin Color: A constantly shifting and swirling combination of green and blue.
Hair Color: Bright Orange Hairs stick up around his body like quills.
Eye Color: A hazy blue green that swirls together like a whirlpool.
Appearance Description: 
He is gigantic, the size and length of a 40 car freight train. All of his body is that of a caterpillar, except for his human face and even that was blended with a caterpillar's. 


Hookah is similar to this in shape, like a glorious and psychedelic tree.
Growing from his butt is a large luxurious hookah the size of a city's fountain. It is covered in several thousands of gems and plated with a myriad precious metals and stained glass. The 8 hoses of the hookah have become similar to veins in his body, spreading a constant stream of smoke through his body. Each of his feet can act like nozzles of the hookah hoses. 
He will sometimes suck on one of his front feet, despite the smoke always flowing through his body, he does so as an oral fixation. His body is constantly releasing the smoke but it can be expelled rapidly and concentrated from his mouth, feet or pores. The smoke has strong hallucination or even insanity causing properties to anyone else who breathes it in.

Personality: 
Constantly drifting between the lines of insanity and genius, the philosophical bug is always in a sedated and high-like state. While he speaks slowly and vaguely, he is in no regards dim or stupid. The world just seems to move slowly to him, so coupled with his large size, he seems slow.

He has always been anti-social and perfectly content in no interaction at all, but when he does interact with others he holds an almost exhausted interest in them, more times than not though he has devoured those whom had interacted with him, usually suffocating, intoxicating, immobilizing or melting them with his gas and then eating them whole.

Quirks: 
● Has an oral fixation, so when he's not eating, he sucks on one of his feet and draws smoke from it.
● Very flaky, slow responding, easily distracted and forgetful, will sometimes randomly drift in and out of sleeping
● Difficult to understand, even to him


Likes:
● Eating
● Smoking
● Sleeping
● Slowness
● Riddles

Dislikes:
● Being woken up
● Being interrupted
● Being interrupted from eating
● Being rushed or things happening fast in general
● Running out of "Food"


Powers: 
●Gas Manipulation
●Miasma Generation/Emission
●Matter Ingestion
●Infinite Digestive System
●Gas Mimicry
●Evaporation
●Metamorphosis

Weapons/ Things They Are Carrying:
His hookah (grown from his body)

Butterfly Form
His body dies, left a giant corpse on the ground, this can sometimes lay dormant from mere hours to decades until, like a phoenix clawing its way out of the ashes, he bursts forth from his cacoon of a corpse, forcing through the dead flesh and rotting bones comes forth his finished metamorphosis.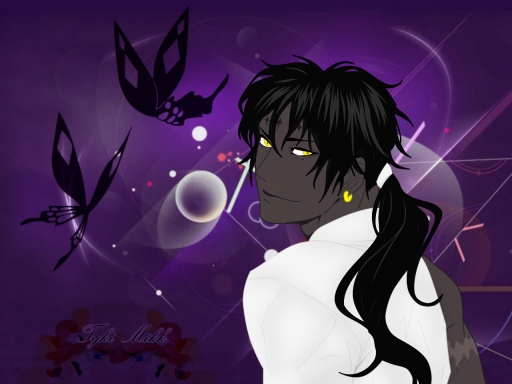 Skin Color: A Deep Black.
Hair Color: Black Human-like Hair.
Eye Color: Bright Gold, unless enraged, then it turns Solid Balck.
Appearance Description: 
His size has reduced down to a humanoid level, standing 6'7" with large beautiful kaleidoscope like wings, with a wing span of 17 feet, 10 feet long. In this form he can manipulate his gas to solidify, so he wills gas to become a hookah or his wings on his back. Smoke still empties from his pores at all times but he can completely manipulate what the gas can do, allowing him to make mind-control gas and corrosive mist.

Does not actually use his wings for flight, by using his Gas Mimicry or Gravity Manipulation he can fly. His wings are mainly cosmetic, meant to hypnotize those that stare into its vibrant and moving colors.

Personality: 
He is much different than when he was in his larval form. He is suave, charming, quick witted and artistic. His handsome face and well toned body has boosted his confidence and made him social. But with this change has come the same unstable mind that his previous body held. Only now with his heightened personality and active mind, made its passes between genius and insanity much quicker and frequent. He will sometimes become full of a powerful deadly rage that seems to only be satisfied by blood shed.


Quirks: 
● Still has an oral fixation, so he constantly has the nozzle for the hookah on his back in his mouth.
● He has become a vain womanizer and man whore, obsessed with beauty and beautiful things. Instead of eating as he did in his larval form, he now drains the blood of beautiful beings, feeding on their "beauty".
● Randomly becomes violently and sometimes lethally aggressive and angry, becomes blind with rage



His wing shape.
Likes:
● Beautiful Things (mostly himself)
● Smoking
● Seducing People
● "Feeding"
● Riddles


Dislikes:
● Being mocked
● Being interrupted
● Being interrupted while "Feeding"
● Ugliness
● Being Defied


Powers: 
●Gas Manipulation
●Miasma Generation/Emission
●Property Manipulation
●Gravity Manipulation
●Gas Mimicry
●Evaporation
●Metamorphosis

Weapons/ Things They Are Carrying:
Since he can turn gases into solids/liquids he can conjure most anything from thin air.