Every day is the same, boring thing as usual; wake up, eat, go to work, get lunch, go back to work, go home, and sleep. It's the same thing every day, but on one eventful morning everything changes.
(Note from the GM: If you're already familiar with Darker than Black, feel free to skip down to "The Plot").

The Gate:
Within the gate the laws of physics don't apply. Of course, the government quickly began construction on a wall around the gate to keep civilians and other interested parties out. Any way you look at it though, to enter the gate is to risk your life because the land within is inscrutable and in most cases deadly.
The Sky:
When the gate appeared, a false sky came as well. Instead of the normal blue sky we are used to, it is now a light shade of purple during the day and a violet color at night. The real stars cannot be seen from Earth anymore, but there are many lights that came in their places and are assumed to be stars. No one knows how they came or exactly when they appeared, just that one minute they weren't there and the next they were. Supposedly, when a star falls it means a Contractor has died.
Contractors:
At the same time that the gates appeared, some people gained superhuman powers. These people are called Contractors because they form "contracts" with the gate in order to gain their powers. At the same time a new Contractor is born, a new star also appears in the sky.
Contractors are kept a secret from the general population by most governments around the world, but the higher parts of society and the criminal underworld knows them very well. Two traits that every Contractor possesses are:
1. The need to form Obeisance, which is a bizarre, obsessive compulsive "payment" for the use of their powers. (There will be a list of examples of these later)
2. A pragmatic, logical world view. It is often observed that a Contractor will never do anything that isn't logical, though there have been a few observed cases where this trait has been ignored. This is usually described as a lack of emotion in general, but there is little evidence to support that claim because many Contractors exhibit at least some forms of emotion (ex. love, joy, and sorrow). However, even if they do feel emotions, they do not possess the ability to feel guilt.
A normal Contractor cares, in essence, only about their own well-being, and everything is reduced to a cost/benefit analysis: Any other issues like laws, emotions, or the question of the sanctity of human life are irrelevant. Contractors are often known to kill in cold blood, smothering unnecessary emotions with logic and rationale. Because of this, they are often used by the government and the criminal underworld as assassins and spies, resulting in violent battles for valuable objects and information.
How a person becomes a Contractor isn't very well known. Supposedly, the powers just manifest one day out of the blue, usually when the person experiences strong emotions.
Powers:
Each Contractor has one power and one star. When they use their power, not only do their eyes glow red but their star also shows activity. As such, the government has cataloged each star and begun identifying Contractors by the star's catalog number.
Examples of powers:
- Electricity manipulation/generation
- Fire generation
- Pausing time (Chronokinesis)
- Creating an anti-tank gun
- Shape-shifting
- Human possession
- Animal possession
- Magic
- Molecular manipulation
- Teleportation
These are just a few examples of powers that a Contractor might have.
Obeisance:
With every power comes a price (usually one related to the power or the person). After using their power, the Contractor must pay Obeisance. It is said that if they do not, that they will simply melt away and die. It is possible for a Contractor to "pay off" their Obeisance, but it requires a large sacrifice and few to none of the Contractors have been able to do that at this point in time.
Examples of Obeisances:
- Sleeping
- Eating something particular (ie. boiled eggs, hamburgers, etc.)
- Drinking alcohol
- Aging
- Aging backwards (until finally becoming nonexistent)
- Spilling their own blood
- Revealing the tricks of magicians
- Being forgotten
- Kissing someone
- Constructing origami
Dolls:
Dolls are emotionless "mediums" that appear as humans, but completely lack emotion and personality. They mostly only follow the command of the person in charge of them. They also lack loyalty, so if someone tries to get information from them, they won't be met with much of a fight. There have been few recorded cases of a Doll ever developing any sort of personality, much less affection for another person.
Dolls can form a variety of functions, the most commonly seen of which is their use of observer spirits, which serve as reconnaissance. Dolls have different mediums through which they can send their observer spirits and must be in contact with this medium while observing; for example, a Doll who's medium is water can send their observer spirit anywhere else there is water so long as they themselves are in contact with water.
A Doll can also act as the perfect sleeper agent. It can be given the memories and personality of another person and assume a person's personality perfectly, mimicking all their habits, dreams, and feelings until the time is right.
Observer Spirits: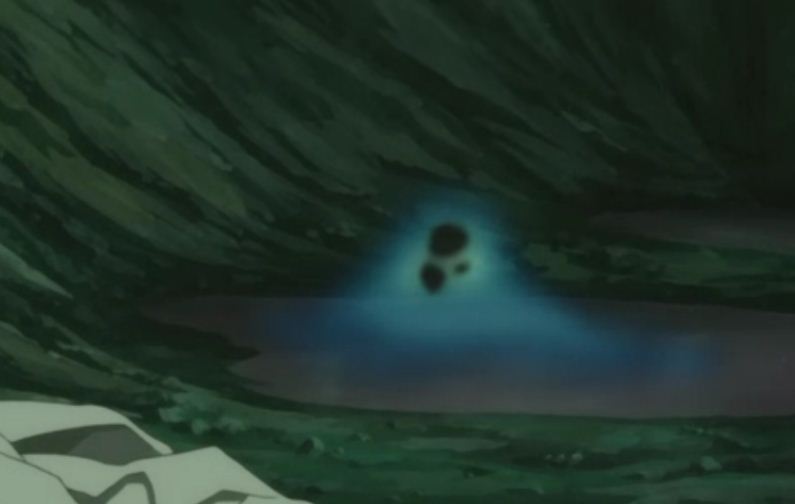 These are blue formless spirits that can be sent out from a Doll to observe another area through a particular medium (ie. water, glass, etc.). However, the Doll has to be in contact with the medium in order to send out the observer spirit.
As I was saying earlier, one day you woke up and you felt just a little off. Maybe you were a little less emotional than usual or you felt more logical or maybe you just felt off, but you woke up and then during the meteor shower that night your powers manifested. For the record, they probably manifested with a bang (probably not literally, of course).
It's been a month since your powers manifested and you were recruited by the so-called "ruler of the criminal underground" (also known as the Syndicate). They have trained you harshly over the past month you've been working for them, making you into an assassin and a spy, and now it is time for one of your first missions.
The Syndicate has assigned you into a team with four others, putting you together so that hopefully you'll keep yourselves in line. Will this mission go as well as the Syndicate hopes? Or are you one of the rare Contractors that still shows their emotions and refuses to fight? Whatever happens is all up to you.
Roles:
Human representative from the Syndicate (Tells the group what to do, but doesn't go on missions with them): Madeline "Cynbel" Halisworth (Kumori-San)
Group Leader (A strong or smart Contractor that generally leads the group): "Chem" (Forensic_anthro)
Second-in-Command (A Contractor that is designated to take over should the Group Leader be killed): "Nox" (Smellie_Catt)
Contractor (One of the other two group members): "Dark Star" (StefanLF)
Contractor (Another Contractor): "Scapegoat" (Pyronide)
Contractor (The last group member): "Osiris" (Imbecile)
Doll (There for reconnaissance): "Royal" (Animality Opera)
Contractor Skeleton:
Code: Select all

Name:
Code name: (what they're called on missions. Not similar to their real name.)
Aliases: (What they go by if they have to introduce themselves outside of the group. Not similar to their real name)
Age: (16+)
Gender:
Role:
Medium: (Only for Dolls)
Power: (Only for Contractors)
Obeisance: (Only for Contractors)
Star number: (Only for Contractors. What's the categorical number for your star? Ie. BK-201, UB-001, HM-432,
Nationality: (This takes place in Japan, but they can be from almost anywhere.)
Appearance: (Picture and description are preferred)
Personality: (Do they show emotions? What do they act like when using their alias and pretending to be human? What do they act like as a Contractor?)
History: (Tell us their history before they became a Contractor one month ago. Were they a student? Did they have a job? If their a foreigner, how/when did they come to Japan?)

1. No God-Modding or Power-Playing
2. Please try to have your Obeisance be equal to the power. If you have a crazy powerful ability, have a strong/challenging/etc. obeisance (please).
2. Be literate as possible, I know everyone makes mistakes every now and then but please try to avoid them if you can.
3. Drop me a PM if you want to reserve a character or if you have any questions about the plot.
4. Cussing and swearing is absolutely fine with me, but your characters don't need to be going, "You son of a bitch, hoe, motherfuckin' hoe, bitch, fuckin' shittttt." in every sentence. It get's old. We get it. You're trying to be a badass. It's not working.
5. Have Fun
6. Try and stay true to your character. The timid little shy one isn't going to suddenly transform into a super-cool crazy dude with no fear. That's kind of pushing the limits right there.
7. I reserve the right to reject characters and to kick people out if it is needed.
8. Last rule here- please try and more-or-less stick to the plot. I know I didn't give y'all much to go off of, but please don't go take a gander into some little sub-story that has nothing to do with what's going on.
9. This isn't really a rule, but I just thought I'd toss this in here. If you're not sure about something, don't be afraid to ask. I check my PMs and the OOC, so don't be afraid to pop over and ask a question or two.
Taking place in...
13 posts here • Page 1 of 1
A famous hotel in the middle of Tokyo. On the surface it's the perfect image of glitz and glamor, a place where celebrities and their entourages stay when they're visiting Japan. As soon as they step through the door, employees skillfully swindle as much cash as possible by using tricks such as bribing the stars with things such as alcohol and fancy food or cigars. Only the best and most expensive treats are provided for the guests of the 'Hotel California' which is ironically named after the song. People who can afford to stay there often never want to leave due to how well the guests are catered to, even if it's only to get their money. However, that is only the surface. In reality, the Hotel California is run by a major drug trafficking organization. Any kind of drug is available to the guests of the Hotel California- for a price. Under the staff's watchful eye no trace of the narcotics ever reaches the main floor of the building. Coincidentally, tonight is when the leader of the drug trafficking organization is due to conduct his routine inspection of the premises. Unfortunately for him, not only does he owe a lot of money to the Syndicate, but he has a rare drug-like substance brought back from beyond the gate. To retrieve this substance and kill the organization's leader, Mr. Hiroshi Ito without generating too much alarm within the building itself. Unfortunately for our assassins, Mr. Ito is heavily guarded by some of the best human and Contractor thugs that he could get. Luckily for our assassins, they have the element of surprise- or so they hope.
Chem adjusted his jacket and ran a hand through his hair, which stood out irritatingly when walking through crowds of dark haired people in Japan. Standing out wasn't advantageous, at least in his experience.
That thought is pointless at this point in time.
Chem's thoughts automatically redirected themselves to the operation at hand. He double checked- no, that had to be the third time now- his person to be sure that all of his knives were present, especially the one he usually used to serve his obeisance. He also had to verify that there was a fresh roll of bandages in one of the inside pockets of his jacket. Satisfied that everything was ready, he glanced at the small group that was standing on the rooftop with him. He was the group leader and he'd already made sure to memorize the codenames of each of the people standing with him, especially the person who was his second in command. Carlisle Delanno, code name "Nox" was his second in command. Raelene Huxley, AKA "Osiris," Cory Melarni, designated as "Scapegoat," and Drake Michael, also known as "Dark Star" were his other three Contractor allies. Their Doll for the night was Tatsuo Takeshi, codename "Royal."
He ran through the plan one last time in his head, remembering what to do if something went wrong, to kill anyone who betrayed them, and to do anything in order to complete the mission. They were to sneak in through an open window, which Chem could see from where he was standing. From there they were to get to the penthouse. They were instructed to move through the main halls, despite the risk of being seen, and to use their powers to get to the penthouse. As they make their way up there, Chem was to leave a trail of blood in the halls as a backup plan in case Mr. Ito tried to run.
Satisfied that he remembered everything important for the time being, Chem turned to the group. "Nox, Osiris, Dark Star, Scapegoat, and Royal, it's showtime." although he would normally smile at his remark, Chem's face remained blank.
Picking up the crossbow-like device at his feet, he shot a line across to the window, tugging at the steel cord to be sure the arrow wouldn't come loose from their weight, he clipped the end of the line to the building they were on. Hooking his belt to the line, he nodded to the others and stepped off the side of the building, sliding right to the open window. Inside, he observed that the room was empty, likely that the occupants were currently at the gala several stories below in the main ballroom. He hardly waited for the others before he was out in the dimly lit hallway, having made sure that there were no employees present therein, he stepped back into the room and pulled up his left jacket sleeve and shirtsleeve, making sure they would stay before he swiftly removed a short blade from an inside pocket of his jacket and drew the blade down his exposed arm, following the lines of the dozens of still-healing scars that had been made in the last month.
Glancing back to be sure the four others had entered the building, he advanced into the hall surreptitiously, being careful to leave a mostly hidden trail of blood behind him on the carpet.
---

The weight of the notepad and lighter against her hip seemed to be the only comfort Osiris could identify in the cold nights of Tokyo. The woman needed no other equipment within her reach, as her ability was to create weapons seemingly from thin air. This concept still hadn't quite sunk into her brain despite living for a month with this knowledge. Chem, their leader, had quizzed the team about the mission's plan multiple times before they had arrived at the Hotel. It was practically embedded in her brain, only an idiot could forget it at this point. Osiris, from the corner of her eye, examined the remaining members. She, had to admit, was impressed by how calm her comrades were. The woman had been on several missions before, but they had been done solely by herself. She was interested to see the capabilities of her team's powers and if they could co-exist nicely with her own.

"Nox, Osiris, Dark Star, Scapegoat, and Royal, it's showtime." Said Chem, with a stern face.
Osiris silently nodded in agreement and watched as their leader projected a cord towards the designated window. After he had disappeared into the room, she followed shortly after. Treading softly on the velvet carpet, the woman quickly exited the room and bounded swiftly after Chem who had somehow managed to create a several metre distance within the seconds they had used to slide down the chord. Her long blond hair galloped along her back as she lurched through the hallway - making sure her mouth or boots didn't utter a sound before doing so. She grimaced as blood dripped from the man's arm, her eyes reluctantly followed the trail and made sure to avoid it while still being firmly in pace.

Osiris slowed down to a walk as she approached the entrance of the main hallway - their leader was already making his way through the room. She scanned their surroundings with each step, ready to pounce on anything or anyone. Her fingers tingled with potential energy, prepared to summon a blade.
---
Cory stood high above the rest of Tokyo. He couldn't help but feel the excitement of vertigo. Despite the excitement he didn't allow himself to be corrupted from his concentration on the mission at hand. Like usual, his job was to protect the rest of the group. He was very capable in combat and strategies but his ability was more suited for support rather than aggression so his hands were more or less tied.


"Nox, Osiris, Dark Star, Scapegoat, and Royal, it's showtime." Chem said with some authority.

He slung down the rope and was soon followed by Osiris. Cory took his carabineer and housed it along the rope. Waited his allotted time to be a safe distance from Osiris and then launched himself off the roof. There was an almost instant peace in the feeling of flight. It was a secret delight to Cory that he wasn't sure he should share as contractors tend to be as serious as they can while on missions. He crossed to the next building in a mere couple of minutes. With a flick of his wrist he was free and sailed through the open window. He tucked into a ball and rolled back up to his feet and was ready behind Osiris.

He was quick behind her as she paced through the hall and followed Chem who was dripping blood everywhere. They came to a main hall and Chem walked straight through without hesitation or a second glance. It wasn't like him to be so careless; that was Cory's job. Cory readied himself by stepping back into the hall and stretching his hands out forwards. Like an impossibly thin pane of glass into another world a portal was open large enough for him to step through. He would have to duck slightly but it was large enough to not be uncomfortable. His training was paying off. This portal allowed Cory to pass from one hallway to the other without passing through the main hall. He exited and stood waiting for the other team members so he could close it.
---
His mind worked like a computer, continuously going over and identifying and categorizing everything he took in from his environment, absently sifting through the most mundane and the most intricate details with meticulous efficiency. The height of the rooftop, the time it would take to fall from said height, what kind of injuries would most likely result, and the chance of death. The distance to the window they were headed to, the type and the strength of the zipline there and how much weight it could support and the speed someone would travel along it relative to their weight. Tatsuo's mind worked over such observations and calculations incessantly, with ease; for him it was no different than an ordinary mind taking in the color of the sky or the shape of a building.

The youth's conscious thought, however, mostly revolved around the mission ahead - the image and name of the group's target, the route they planned to take to him, how much interference they were likely to encounter, and the role each group member was assigned to play.

Chem, Osiris, and Scapegoat had already made their way across the zipline. Being next closest in line, Tatsuo followed suit. For having the mind of a robot, 'Royal' had the grace of a cat, with practiced and precise awareness and control of his lean frame that allowed him to move near flawlessly. He followed down the zipline and was deposited into the window smoothly, where he waited with Chem and the others for the remainder of the group before trailing after them.

Already, he contemplated better methods of executing the mission at hand, and alternate routes each group member could have taken to achieve the Syndicate's goal. But he did not feel obligated to voice these theories, and simply continued as instructed, dark eyes sweeping the halls for signs of anyone or anything that might threaten the mission; even without involving his observer spirit, Tatsuo was very observant.
---
After they left Madeline felt as if there were a hole in her heart. How she worried unnecessarily for those who went out into the night. Usually it hadn't been like this. Working with these mindless bodies had become second nature to her after the first few days. Now it was blind instinct in handling them. Although, it all changed when she met the six contractors which she was supposed to watch over and command.
Worry. It's what she felt now. The sound transmitter placed in her ear, a "bug", as some referred to it as crackled in and out unnervingly. Madeline or "Cybel" paced back in forth, in the comfort of the Syndicates walls trying to concentrate. Hotel California, this place had someone on the inside that was more technologically advanced than those in the Syndicate had expected. Even the top-notch equipment they had would have the possibility looming over that it would fail.
A few minutes passed, and it seemed all was going smoothly for the time being. With contractors Madeline never knew what to expect, but for some reason, she didn't have a good feeling about this.
Gathering up her inner strength to control herself, she walked over to the computer. The room she was in was dark, but the low glow of the large computer monitor illuminated the room partially, enough to enable Madeline to sit.
It was the sound of silence for a long while, and only the faint hum of the computer's hard drive was audible. The transmitter she knew went out again- but just as she thought this, the signal reconnected and she could hear what was going on again. This was no longer a reliable way to keep in contact, unfortunately it was the only one for her, since she was only a mere human.
---
Chem had gone through one of the intersecting main hallways without a second glance. In his mind, it was logical to not look suspicious by glancing around every corner. A glance behind him revealed that Cory had created a portal to keep them from having to go through the main hallway. Chem wanted to call the man an idiot, but he didn't want to speak in the quiet hallway where there was the risk of being overheard. It was pointless to use his powers every time something came up, especially since the dimness of the hallways worked to their advantage in this situation. Shaking his head, Chem continued down the hallway without waiting for the others. At the junction with the next hall, Chem stopped and waited for the others to catch up. This was where they'd need to really start using their powers.

Staggering into the wall like he was drunk, he peered up the hallway. There seemed to be an elevator at the end of the hallway, but of course there were two guards guarding it, though Chem couldn't tell if they were armed or not.
Staggering backwards until he was out of sight of the two guards, Chem stood up straight and turned back to make sure the group had caught up to him. Turning to Osiris, he waved to catch her attention. "20 feet. Two guards." he gestured to show which direction down the hall the guards were. He trusted that she'd know what to do.

"Run after they're down. Elevator." he spoke shortly to the rest of the group, keeping his voice low.
"Royal. Cybil. Anything unusual?" he realized he should have asked that before sending Osiris to eliminate the guards, but it was too late to go back on that now. His voice was low as he spoke to their human contact and the Doll, but he knew they'd be able to hear him.
---
Cynbel replied to Chem as quickly as she could with the poor signal- who knew when it would drop out again. She was glad Royal was there with them so that they weren't in there blind.
"The police have been dispatched. It's amazing that they were so quick to react this time. I estimate that you have 5 minutes before they arrive. I'll try to prolong them for as long as I am able, from here, so that they won't be in the way." She cracked her knuckles unconsciously before typing out her password on the computer logging on the main data frame of the hotel. It was undoubtably obvious that the cameras would be blocked on any floor other than the main floor. Due to the nature of this drug trafficking, Madeline had to find other means to get a look on the inside.
"Just to recap, you are here for Mr. Hiroshi Ito- you're on orders also retrieve the drug which was sythesized from materials on the otherside of the gate. I need you all to focus this time," Madeline knew this part of her lecturing wasn't necessary, but the Syndicate would be at her neck if she let this team fail. Again though, she was highly confident in this team, there was no real cause for her worrying. "It's possible that drug could have been already moved, and I know that that is highly unlikely but in-case that suspicion is correct, I need you to keep Ito alive for interrogations until you can confirm the drug to be from the other side. If he dies, and it's a false product then we may not find another lead to the drug."
A headache was accumulating in her mind, the window which was ajar only slightly let in the noises from the active city. Police sirens. It looks like this was going to be a long night.
Pulling out her cell phone, or the "company's cellphone", which eliminated the threat of the device being tracked, she called one of the only numbers listed on it.
A man, his voice husky and unclear picked up, "Hello?"
"This is Cynbel, I have a small job for you. The police are going for the Hotel California, it's on 17th North st. I need you to stop them before they get there, any diversion will do, preferably nothing that will cause for clean up later. Please. I'll explain payment later."
There was pause, but finally the person agree'd to it and hung up.
---

Not with the slightest of hitches in her breath, the woman eventually managed to close the distance between her and Chem. She approached their leader warily, her sharp eyes still aware of any unknown presence. She jerked her head backwards to identify the progress of her comrades - the team was, more or less, together now. Osiris watched on, curious, as Chem ushered her towards him.
"20 feet. Two guards." She nodded in agreement, no other information was needed in order for Osiris to understand the meaning underneath.
I have to kill them, The woman thought hungrily. Easy.

She crouched behind the corner as the pupils of her eyes began to illuminate a startling crimson. From either side of her back, two thin black daggers quietly burst into existence. They continued to spiral and twirl seamlessly in mid-air for a short moment before abruptly shifting direction towards the enemies. The daggers propelled towards the guards, instantly hitting home - the heart. The pair immediately plummeted to the ground, shock evident in their faces. Without a second to lose, Osiris dashed towards the guards - a glowing scabbard manifesting on her hip. The scarlet pulsating light surrounding the long narrow weapon evaporated into the air, as Osiris swiftly unsheathed an ebony katana. While still in rhythm, she advanced towards the duo - who now lay vulnerable on the floor - and slashed off their heads without a second thought. They unceremoniously tumbled onto the ground, a thick trail of scarlet blood trailing from the severed neck.

The limp bodies blocked the way towards the elevator. Osiris shoved them away with the toe of her boot, disgust written across her dainty face. She looked down at her katana irritated, a line of their crimson body juices coated the edge of the blade. The woman pressed the elevator button and roughly shook her weapon around as she waited for the team to make their way towards her.
---
Cory watched as Osiris slaughtered the guards and cut their heads off after they were already dead. "Gotta love ruthlessness in the evening." it was typical mocking fashion of Scapegoat. He couldn't help but jest his companions as they worked. As he turned the corner and sauntered easily over to the elevator he pulled out his pad of paper and tore a piece off before slipping it back into the large pocket of his sweater. His fingers idly folded the paper and felt every crisp edge. He turned to see where the other companions were coming from and finished his paper airplane. Creased every edge and felt the sharpness to them. He placed the airplane back into his pocket and turned to Osiris "I am going to toss them off the roof of the building. I wanna see if I can beat them to the ground." He offered a friendly smile and continued to play up his carefree nature.
---
As Chem continued on while other team members arrived through the window, Tatsuo waited just long enough for everyone to reach the room before taking off at a brisk stride after his group leader. He stopped when Chem stopped, glancing briefly at Osiris as she received instruction. Before even being prompted, Tatsuo slipped his compact mirror out of his jacket pocket, flipping it open and then placing his fingertips at their reflection. His dark eyes glazed as he focused on his observer spirit, sifting through restrooms, occasional hallways, and lobbies. There weren't many mirrors in the halls, but he could see through other reflective surfaces - albeit slightly less clearly, like framed portraits covered in glass, and the sleek doors of the elevators.

His gaze lifted from the mirror when he heard the thmps of the two guards hitting the floor, and as Chem had instructed, he moved swiftly for the elevator, studying the bloodied bodies as he passed them expressionlessly. "Nothing unusual." He informed with the usual utter calm upon arriving in the elevator. Being rather soft-spoken, it would have to be relatively quiet for anyone to hear him. "There are two guards at each elevator. I believe... two others patrol the halls of each floor." He paused, fingertips still pressed to his mirror as he stood in the elevator. His eyes momentarily went glassy again. "... Only one from the floors above us is currently on break."

His touch was removed from the compact mirror for the time being, and his hollow gaze turned to Scapegoat. Recalling weather conditions, his mind estimated the route and speed of the paper plane Scapegoat had just made, and calculated roughly how long it took for Scapegoat to create and utilize a portal. "... You can." He monotonously answered the question Scapegoat had not technically asked - having little concept that the other boy had wanted to find out for himself whether he could beat the paper plane to the ground.
---
Chem nodded as he received information from Royal and Cynbel. He knew their words were likely reliable, but he really only trusted Royal. Who knew what humans thought; at least he could predict what a Contractor or Doll would do in a situation. Hearing the swish of Osiris' blade cutting through air and flesh and Scapegoat's following joke, he felt the corner of his mouth twitch into something resembling a smile.

Striding swiftly toward the elevator, he stepped inside after a moments pause to check for any visible bugs on the outside. The doors had opened almost instantly after Osiris pushed the button, which set Chem slightly on edge as he wondered why the elevator would already be on this level. He paused to think for a couple seconds, coming up with a secondary plan.
"I don't trust this." nonetheless, he stepped into the elevator. He'd mostly just said it to remind the others to stay alert, though he was sure he probably didn't need to remind them.

He cast a rather suspicious eye at the panel in the elevator as the light for the top floor lit up. He hit the door open button, holding it just long enough to give the members of his team enough time to make sure they were in the elevator before the doors shut and it began ascending.

"Dark Star, Royal, and Scapegoat, go after the substance. Osiris, you and I will go after the target." his voice was low, eyes narrow as he observed the elevator walls suspiciously.
I keep expecting to see cameras tucked in the corners or microphones. Who knows what crazy shit these rich people can get a hold of Chem's thoughts wandered momentarily, his frustration temporarily distracting him from the task at hand. Shaking his head, he pulled himself back to attention as the elevator dinged to signal their arrival at the suite.
---

"I am going to toss them off the roof of the building. I wanna see if I can beat them to the ground."
She glared at the man who had spoken.
"This isn't a game." Snarled Osiris, "Our lives are at stake. You shouldn't be wasting your powers whenever you feel like it."
Was he even taking the mission seriously? Osiris disliked how he had talked to her, it was as if he felt superior. It was clear he was mocking the woman, and that irritated her immensely. Who was he again? Scapegoat? What kind of name was that? Osiris decided that she would not tolerate any bullshit coming from his mouth tonight.

After making sure it was spotless, the woman slipped her katana back into its sheathe and strided into the elevator, choosing to stand in the top left corner of the mechanism. Osiris waited patiently as the team entered the metallic prison and listened in to what was the Doll saying. Two guards on each elevator... That would mean a few would be there at the entrance of the penthouse. The woman watched the elevator doors shut close and felt the container slowly rising upwards. The scabbard resting on her hip brought relief in an otherwise tense situation. She knew she was prepared for whatever was awaiting them at the suite.

"Dark Star, Royal, and Scapegoat, go after the substance. Osiris, you and I will go after the target."
Osiris, once more, nodded in understanding. This Mr. Hiroshi Ito was going to have the night of his life. His last night. Serves him right, he brought it upon himself.

A sudden thought bubbled into her head. The woman whipped out her notepad and pen before scribbling something brief and ripping the page out. She placed the pad and pen back into her packet only to fish out her cigarette lighter. Osiris ignited the edge of the paper and watched, fascinated, as the flame quickly ate up the notepad page. Once it disintegrated the majority of it and started licking at her fingers, she dropped it the floor and and stamped out the fire. The woman ground it in with the heel of her boot until only a sprinkle of ash was left.

It was just in time, as the elevator stopped to a halt and a familiar sound was emitted to indicate their arrival.
---
"So where is this substance supposed to be?" he pretended to cough as Osiris stomped on her paper. "Seems like a waste of time to write something down if you are just going to burn it after... why not just burn it?" He smirked coolly and looked around the elevator to the other people. "Is there any intel on this substance? Are we just going to be walking into a trap? How many guards and so on... anything would help." He shrugged and placed his hands within the large pouch of his sweater. He pulled the headset up slightly so he could hear the song. Hearing a song and the pull it had on him he slipped the headset on and then removed one of the ear pieces to behind his ear so he could still hear the conversation.

He turned to Chem suddenly. "How long will we have? If we find it quickly do you want us to come back you up or head out?" It was the first time this mission that he was showing signs of being serious, but even his voice betrayed him slightly as the friendliness was still there. He may always joke around but that doesn't mean he didn't want to see his teammates die.
---
13 posts here • Page 1 of 1
Arcs are bundles of posts that you can organize on your own. They're useful for telling a story that might span long periods of time or space.
There are no arcs in this roleplay.
There are no quests in this roleplay.
Here's the current leaderboard.
There are no groups in this roleplay!
Welcome home, Promethean. Here, you can manage your universe.
Arcs are bundles of posts from any location, allowing you to easily capture sub-plots which might be spread out across multiple locations.
You can create Quests with various rewards, encouraging your players to engage with specific plot lines.
Settings are the backdrop for the characters in your universe, giving meaning and context to their existence. By creating a number of well-written locations, you can organize your universe into areas and regions.
Navigation
While not required, locations can be organized onto a map. More information soon!
There are no groups in this roleplay!
By creating Collectibles, you can reward your players with unique items that accentuate their character sheets.
Once an Item has been created, it can be spawned in the IC using /spawn Item Name (case-sensitive, as usual) — this can be followed with /take Item Name to retrieve the item into the current character's inventory.
Give your Universe life by adding a Mob, which are auto-replenishing NPCs your players can interact with. Useful for some quick hack-and-slash fun!
Mobs can be automated spawns, like rats and bats, or full-on NPCs complete with conversation menus. Use them to enhance your player experience!
Current Mobs
No mobs have been created yet.
Locations where Mobs and Items might appear.
You can schedule events for your players to create notifications and schedule times for everyone to plan around.
Add and remove other people from your Universe.
Orphanage
By marking a character as abandoned, you can offer them to your players as pre-made character sheets.
"Try me"
7 sightings
Osiris
played by Imbecile
"Don't hassle me."
The Forge
Use your INK to craft new artifacts in Darker than Black, Brighter than White. Once created, Items cannot be changed, but they can be bought and sold in the marketplace.
Notable Items
No items have been created yet!
The Market
Buy, sell, and even craft your own items in this universe.
Market Data

Market conditions are unknown. Use caution when trading.

Quick Buy (Items Most Recently Listed for Sale)
None
Discussions
Most recent OOC posts in Darker than Black, Brighter than White