Name: Raos Keizer
Age: 842
Role: Cursed Male 1
Breed: Half-Dragon/Warrior
Sex: Male
Sexuality: Heterosexual
Love Interest: Flower with possible feelings slowly developing for Axelle
Height: 6'5"
Build: Raos has a muscular build, perfect for the stamina and strength required to move around in heavy plate armor and swing an over sized Broadsword
Appearance: Raos is a half-breed born of a human mother and a dragon for a father. He was born into the world of Darklina 842 years ago and in those years has grown to massive 6'5" along with an equally massive 18ft wingspan. His skin is comprised of scales of a crimson hue save for his face and areas around major muscles such as the biceps and calf. He was born with out the iconic dragon tail and horns though his eyes are still slit-pupil and are a dull yellow color. His skin color is that of a slightly tanned Caucasian his facial features including a strong jaw and thin lips. His hair is about shoulder length, the color is a deep black like that of a moonless night.
Biggest Fear(s): A man who is tool without a past has no fears. Though before he was cursed he feared losing himself to the rage.
Power(s): The scales on his body grant him not only a great deal of physical defense, but against hostile magical as well. His dragonic heritage give him wings that allow him to fly as well as vast reserves of stamina. Finally if pushed far enough he can go into a sort of berserk mode where in order for his body to protect itself he will transform and grow larger. In this frenzy he losses higher cognitive thought and will attack anything it identifies as a threat including allies and innocent bystanders.
Skills: He is a master of most types of basic weaponry (e.g swords,axes, lances, and maces.) Though he would never admit it to anyone except Flower, he is also a good cook.
Weakness(es): If he does use to much energy he will fall in to a deep slumber for day at a time and occasionally when destroying towns he is ordered to he will get pangs of self awareness where his body paralyzes itself for a short while.
Theme Song:
Theme
Extra: I prefer Pepsi
Mandatory Picture: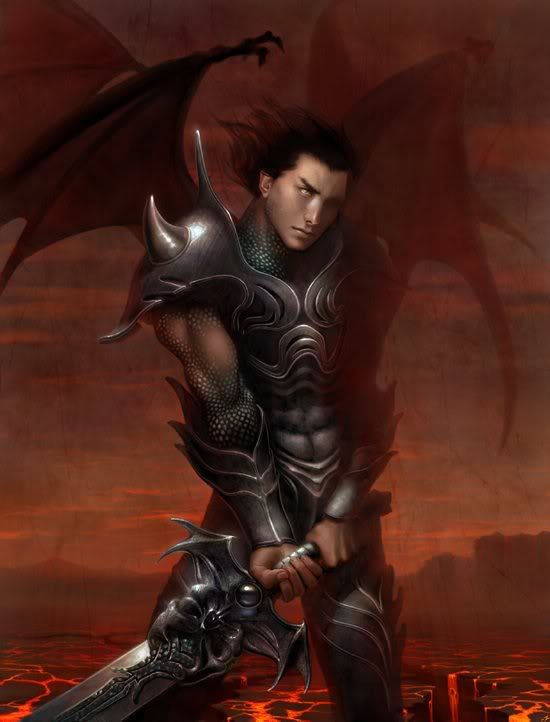 While in his Berserk state:
Personality: Raos used to be a very caring and humble man, he seemed to be stuck on calm very few people seemed to be able to coax any anger or annoyance out of him.
Weapons/Equipment: An over sized broadsword and blackened steel plate armor.
History: Raos' childhood was nothing special other than getting teased and bullied a bit because he was not a full dragon, but he was stronger for it and learned not to give in to his anger easily. His real history started around his 280th birthday when he set out from the village to become his own man when the lust for adventure hit him. During his first years he served one of the more benevolent lords, but that soon changed after the man he once served and respected became corrupt. He abandoned his allegiance to this lord and became a abnormally poor mercenary for higher, as he would only take a few jobs. Few people ever payed for the employ of mercenaries for morally correct jobs anyways. Somewhere along the way as he wandered from town to town looking for work he met Baam and for a time he held purpose in helping her find the ones who destroyed her life and family. They fell for each other somewhere along the road they traveled together and it seemed like she was beginning to really let go of the hate she harbored inside of her... that is until he was taken away.