Helene Kellaway
---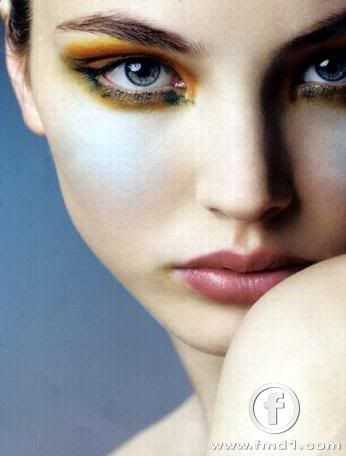 Face Claim: Ruslana Korshunova
Title/Rank:
Lady Helene
County
: TBA
Full Name:
Helene Angeli Kellaway
Age:
Helene was barely of legal age, she is a months short until she can be considered a debutante but her Aunt will listen to none of it. She still considers her profitable- besides its just a month away. (Fifteen)
Gender:
Female
Appearance:
Waves of strands of hair, one of the first things one would notice about Helene. It is literally her crowning glory. It may not be as golden as other girls' hair but it was definitely what a lot of women envy her for- but somehow Helene gets irritated whenever her mother brushes it for her (which often results to cries and wails as her mother tries to remove the tangles). But nonetheless, Helene was blessed with her mother's beauty but got her father's height. She isn't the tallest of women as she only stands as tall as two and half potato sacks (5'5).
Her eyes shine bright like stars in the night sky, the color mix of blue and gray. They have been more gray lately, ever since the news of their parents disappearance. Her nose, button like. Her lips, plump yet glides on her face like a rose's petal.
Often times, one would see Helene in dirty white dress. It has been a natural sight for the Kellaway estate to see the younger Kellaway to be smudged with mud, her hair filled with sand and and dried leaves stuck in her hair. But now that her Aunt is in charge, Helene is forced to in her best behavior and hardly has the chance to discover her surroundings.
Personality:
She is figuratively and literally a fish out of the sea, it had been a habit of hers to see her parents off every time they would go on a new journey. She would cry for a while but soon would stop and enjoy the soft waves that crash against her skin, the feel of roughness of sands and the cries of seagulls had always been her idea of home.
Being the youngest of two daughters that lived a sheltered life, Helene was always the quiet one. Ever since she learned how to walk, her Nanny would often go frantic searching for her and soon had the whole house help and cook searching only to find her splashing in a pool of mud or trying to climb wooden boxes or chasing crabs-alone. Not very lady like, but it is the only way Helene could have fun since Ophelia is always sneaking out of the house and somehow doesn't get caught.
This often leads to her mother scolding her for acting differently compared to the girls her age. While they were gushing over laces and silk, Helene would rather go hunting for the perfect leather foot ware that would come in handy for her next adventure. While the other girls twirl and bow gracefully during dancing lessons, Helene would opt to ride her favorite horse through the woods and gather wild fruits that are in season. Nothing could change Helene, not even threats from her mother on not having supper or locking her horse in the barn- all until their parents never got the chance to go back home after their last voyage.
Since then Helene had to take lessons and nudge her older sister on how to knit, prepare tea and choose what her future husband should be wearing on which occasion. Unlike Helene, her sister managed to somehow put on a show that she is a good daughter and Helene could never guess how her sister gets away with it while she always gets caught.
So now she has to know how to curtsy and most of all know how to socialize- a thing she dreads the most. She has to pretend she has to like the girl next to her when a billion ideas rush inside her mind. BUT if there was one good thing about the change was that Helene now has to keep her hair clean and in place.
Helene had also been less energetic, perhaps she knows her parents are somewhat alive, a thought she had been telling her older sister and her aunt. But both of them would hear none of it, they would tell her that it is a part of the grieving phase of loosing a loved one. And that she would soon get over it. But Helene is determined to prove that they are alive- and that they would come back.
Likes:
Helene is very fond of horses and riding. It is also had been a dream for her to ride the seas, she had been once told that the sea is like a mare that rides with compassion and grace. She loves wearing her father's old boots and foot wear, she learned that they are better than heels. Ungraceful as she may be branded by the society around her but Helene hides a dancing bone that would soon be fill the audience with awe. And last but not the least, it may have been her great energy that made her be blessed with wonderful curves but Helene loves to eat. She would always be the first one in the dining area and be the last one to leave it. Another escape from reality for Helene are books, if not out in the shore or swimming in the sea, she could spend the whole day inside their library getting lost in her imaginary world. In it, she was brave, sociable and the center of everyone's attention- everything that her sister is and she isn't.
Dislikes:
She greatly despise having her hair brushed over and over again, that feeling of your scalp being pulled every time there's a tangle. Another thing would be being locked in her bedroom every time they do not approve of her actions. And hard as it maybe, Helene can feel Thunder's (her horse) sadness when it is being locked as a payment for her misbehavior. Another surprising thing about Helene is that even though she barely cares about getting dirt in her dress, she is greatly afraid of frogs and often runs away fast if she sights one.
Love Interest:
Helene would often voice out that marriage isn't for her, those are the instances that she would speak up when normally she's quiet as the wind. She would comment that parties, balls, and seasons are full of bullocks when in fact she is just really afraid and insecure that no one would want a girl like her.
History:
Youngest of the Kellaway sisters, Helene has always been the baby of the family. She looked up to her older sister for all the times that their parents were not around. She had always seen her as her best friend since they share the same outlook in life.
Having to grow up with their parents always not around, Helene grew meek and quiet. She would rush to Ophelia's side and cry quietly if something goes wrong and as she grew up to become a lady, Helene would rather spend time alone than giggling with the girls of society.
It isn't a secret for her that other girls whisper behind her back and calls her cold and prude like a snowflake. However, she just keeps quiet about it instead of defending herself and most of the time it is Ophelia who defends her.
Secret:
She had always been jealous of her older sister, Ophelia.
She would lose her virginity prior to her marriage (TBA)
Activity:
Her ideal day would be spending her whole day by the shack she discovered near an excluded part of the beach or hiding inside the library reading.
Other:
Helene has a birth mark at the arch of her back hips that is almost the shape of a heart.