Son Goten
A Warrior

A Slacker

A Musician

And Most of all,
A Lover.
-
Goten has been having
totally rough.
His dad ditched him to go explore the world with Shenron, and his Mom Chi Chi is a mad, raving bitch again, strict about Goten who ought to be working on his future. He attends high school, and may be on the verge of failing a class or two. He's apart of the new, illustrious Z-Fighters' team, as well as the similarly named 'Z-Warriors' rock band, playing drums, sometimes with his bare fists, or even his fingers!…until it breaks, and his friend/band manager/bass player Trunks gets pissed (He wants to make it big, after his mom advised him to seek more 'normal' interests for a 'teen,' in addition to martial arts). Goten has also been well in the dating department, currently with a hyper saiyan girl who obsesses over him, and happens to be slightly younger and in a lower grade.
He's also been training mostly with Yamcha, who passed on a few traits here and there down, the fact that Goten was a teen with raging hormones along with a lack of enemies to fight, leaving him to train, play video games, watch TV, etc. Life seems…'adequate' as Goten would put it.
Things seemed to be bleak, Goten beginning to realize just how
wrong
his life was.
Until he saw
her
.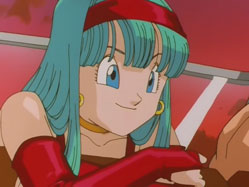 And Since then, only one image has formed in Goten's head: TO MAKE HER HIS~!!
Granted, he has to try and get rid of that saiyan chick, and charm Bra. But that's the least of his problems, when a new enemy appears, and uses the dragon balls to create seven killer warriors to guard the dragon balls for his own wishes, and no one else's. His warriors?: Seven
DRAGON MEN!
(Yes, One of them IS the Dragonborn.)
And of course…that villain himself!
And oh no! it looks like one of his wishes isn't getting granted: The lovely young lady, Miss Bra Briefs, whom this villainous bastard wants as his queen in this new earth he's proposed, just won't come to him instantly, so it looks like he's gonna have to send in some goons to kick ass, and take names. Luckily, he happened to resurrect most of the villains from Other World, and prepared to screw everyone over.
…Well, at least until they realize Goten has the balls to fight them, now that he has the POWER OF LOVE~!!…Yeah, no. He needs help. And MOAR training…
But, he'll do it all for Bra! :D
-
Characters (I won't list everyone at once, but I'll start with the main characters)

1) Goten (JayZeroSnake)

Protector of the Universe to be, Professional slacker. Taught in the ways of the Yamcha, by Yamcha.

2) Bra

The Heroine. She's so cool~

3) The Villain

The asshole who made the Dragon men, and wants Bra, as well as the world.

4) The Crazy Saiyan Girl Obsessed with Goten

A girl who follows old Saiyan traditions, even wearing the armor! Completely OC. -Features fourth wall breaking and bonus ninja powers.-
-
Character Sheet Requirements:

Name
Gender
Species
Age
Appearance

History

Items
Weapons

Sklls/Abilities
Move List

Optional:

Fun Facts
Quote(s)
Theme Song
Extra
1. No Godmodding

2. Try to post 200 words. Feel free to do more if you wish.

3. Post the name of your favorite DB technique at the bottom of your character sheet, Just under history, to show you read the rules.

Tis all for now.
Taking place in...
0 posts here • Page 1 of 1
0 posts here • Page 1 of 1
Arcs are bundles of posts that you can organize on your own. They're useful for telling a story that might span long periods of time or space.
There are no arcs in this roleplay.
There are no quests in this roleplay.
Here's the current leaderboard.
There are no groups in this roleplay!
Welcome home, Promethean. Here, you can manage your universe.
Arcs are bundles of posts from any location, allowing you to easily capture sub-plots which might be spread out across multiple locations.
You can create Quests with various rewards, encouraging your players to engage with specific plot lines.
Settings are the backdrop for the characters in your universe, giving meaning and context to their existence. By creating a number of well-written locations, you can organize your universe into areas and regions.
Navigation
While not required, locations can be organized onto a map. More information soon!
There are no groups in this roleplay!
By creating Collectibles, you can reward your players with unique items that accentuate their character sheets.
Once an Item has been created, it can be spawned in the IC using /spawn Item Name (case-sensitive, as usual) — this can be followed with /take Item Name to retrieve the item into the current character's inventory.
Give your Universe life by adding a Mob, which are auto-replenishing NPCs your players can interact with. Useful for some quick hack-and-slash fun!
Mobs can be automated spawns, like rats and bats, or full-on NPCs complete with conversation menus. Use them to enhance your player experience!
Current Mobs
No mobs have been created yet.
Locations where Mobs and Items might appear.
You can schedule events for your players to create notifications and schedule times for everyone to plan around.
Add and remove other people from your Universe.
The Forge
Use your INK to craft new artifacts in DBZ: Son Goten Vs The Dragon Balls. Once created, Items cannot be changed, but they can be bought and sold in the marketplace.
Notable Items
No items have been created yet!
The Market
Buy, sell, and even craft your own items in this universe.
Market Data

Market conditions are unknown. Use caution when trading.

Quick Buy (Items Most Recently Listed for Sale)
Newest
Trending
Most Followed
None
Discussions
Topics

Replies
Views

Last post
Most recent OOC posts in DBZ: Son Goten Vs The Dragon Balls