[size=200px]Dead Dolls[/size]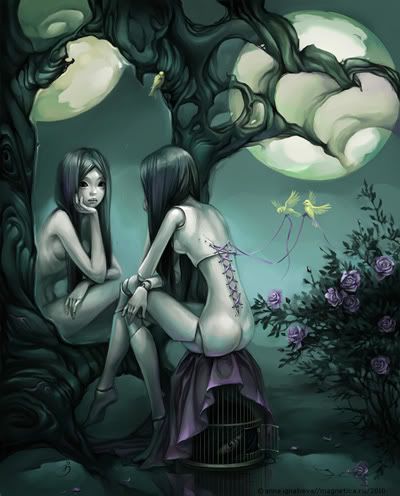 There is a place; a place mortals rarely go, a place where darkness and dark creations are thrown into existence, where the very evil of life is created. It's called the Nightmare realm; where nightmares and fears are born and where things are made into a terrible reality. It's led by the Puppet King; a young looking man of beauty and intelligence but is as old as the birth of the Universe itself. With his power of darkness and his ability to weave fears and nightmares, he has complete control of every living thing and soul that walks into his realm. He is the king. And no one can stop him.
His specialty is making his own dolls; forcing the souls of humans into bodies he controls and makes and dresses; dolls with invisible puppet strings. And of course; one of his first creations was made to be the first doll ever created; and her name was Lace. With a key hole tattooed upon her back; it was portal keyhole to and from the mortal and nightmare realm. A large key was the only object that made this possible for anyone to escape or be brought inside; and without the key, the king was almost powerless.
For years he continued to pull people from their sleep and create them into is own dolls; slaves, servants. He made boys into puppet servants; with black strings stitched to their backs which he yanked and pulled as they were forced to do his bidding. As the misery and the power inside this realm grew; Lace and her friends, the other dolls under the control of the puppet kind, knew that they couldn't sit here and let the puppet king grow stronger.
And with a strong pull of their wills; three of the dolls [one is lace] and one puppet servant fleed from the nightmare realm as Lace managed to grab the key she guarded and they escaped through the portal and into the mortal realm. Determined to destroy the key and trap the king inside the nightmare realm forever and then kill him, they must flee to the center of England where they will find the secret tombs to lead them to the original birth place of realm keys.
But as the realm king realizes what has happened; he and his puppet servants escape through a spell that lets them escape through the minds of the mortals but this spell won't last for long. They must catch the dolls and pull them back into the realm before they reach the birth place of the keys.
But as a few mortal teenagers stumble along these dolls; they must join the run and chase to help the dolls with their mission.
Will love bloom between these mortals and these dolls? Will the dolls get caught? Will the king be destroyed.
It's up to you to decide.
~~~~~~~~~~~~~~~~~~~~~~~~~~~~~~~~~~~~~~~~~~~~
Characters:The Dolls/Puppet Servant:Doll 1:
Lace Cremjay played by Wonderland
Doll 2:
Chilero Sheena played by Michaelis_xXx_Elly
Doll 3:
Azerius Rilkean played by Zenia
Doll 4 [Puppet Servant]:
Gavin Etherwick played by Cienpher
The Puppet King:
Samael the Puppet King played by Lifecharacter
The Black Puppets [His personal servants.guards]Puppet 1:
Lellochia Harvata played by Michaelis_xXx_Elly
Puppet 2:
Nayu Harunik played by chikyuutenshi
Puppet 3:
Open
Puppet 4:The Mortal Teenagers:Human 1
: Ryhen Natashami played by chikyuutenshiMortal
Human 2:
Kitten Saez played by Diesel_Blue25
Human 3:
Britta O'Callaghan played by Kirai-chan
Human 4:
Avira Euthymius played by ChildOfNone
~~~~~~~~~~~~~~~~~~~~~~~~~~~~~~~~~~~~~~~~~~~~
Code: Select all

Character Skeleton:

Name: [First and last]
Gender: [Female or male]
Age: [Can't be below 15 years old]
Race: [Doll, mortal, ect.]
Role: [puppet, doll, ect.]
Orientation: [bisexual, straight, ect]
Status: [Single, taken, ect]

[Picture here. Must be real life or detailed anime. Nothing... crappy.]


[b]Appearance:[/b] [Detailed paragraph. Tell height, weight, hair colors, body, makeup, style... ect.]


Personality: [Detailed Paragraph. Describe their characteristics, if they are nice or mean at heart, ect. ]

Hobbies: [At least 4]

Dislikes: [At least 4]

Likes: [At least 4]


History: [Detailed. Describe past stories that are important to he character's current time in life.
13 posts here • Page 1 of 1
13 posts here • Page 1 of 1
Arcs are bundles of posts that you can organize on your own. They're useful for telling a story that might span long periods of time or space.
There are no arcs in this roleplay.
There are no quests in this roleplay.
Here's the current leaderboard.
There are no groups in this roleplay!
Welcome home, Promethean. Here, you can manage your universe.
Arcs are bundles of posts from any location, allowing you to easily capture sub-plots which might be spread out across multiple locations.
You can create Quests with various rewards, encouraging your players to engage with specific plot lines.
Settings are the backdrop for the characters in your universe, giving meaning and context to their existence. By creating a number of well-written locations, you can organize your universe into areas and regions.
Navigation
While not required, locations can be organized onto a map. More information soon!
There are no groups in this roleplay!
By creating Collectibles, you can reward your players with unique items that accentuate their character sheets.
Once an Item has been created, it can be spawned in the IC using /spawn Item Name (case-sensitive, as usual) — this can be followed with /take Item Name to retrieve the item into the current character's inventory.
Give your Universe life by adding a Mob, which are auto-replenishing NPCs your players can interact with. Useful for some quick hack-and-slash fun!
Mobs can be automated spawns, like rats and bats, or full-on NPCs complete with conversation menus. Use them to enhance your player experience!
Current Mobs
No mobs have been created yet.
Locations where Mobs and Items might appear.
You can schedule events for your players to create notifications and schedule times for everyone to plan around.
Add and remove other people from your Universe.
The Forge
Use your INK to craft new artifacts in Dead Dolls: The Puppet King. Once created, Items cannot be changed, but they can be bought and sold in the marketplace.
Notable Items
No items have been created yet!
The Market
Buy, sell, and even craft your own items in this universe.
Market Data

Market conditions are unknown. Use caution when trading.

Quick Buy (Items Most Recently Listed for Sale)
None
Where the puppet king rules
Discussions
Topics

Replies
Views

Last post
Relationships
by Lace on Thu Sep 08, 2011 6:15 pm


13 Replies
477 Views
Last post by Zenia
on Mon Sep 12, 2011 10:52 pm

Evens and Ideas
by Lace on Thu Sep 08, 2011 6:14 pm


3 Replies
360 Views
Last post by Zenia
on Thu Sep 08, 2011 6:57 pm
Most recent OOC posts in Dead Dolls: The Puppet King
There have been no posts in the OOC topic for this roleplay!