---
"Get up and fight, and I'll teach you. Or lay there and be selected out of this world. The choice is yours."
---
---
"Sadly, circumstances have selected you out. I do apologise, but you're effectively a corpse that hasn't figured out its own nature yet."
---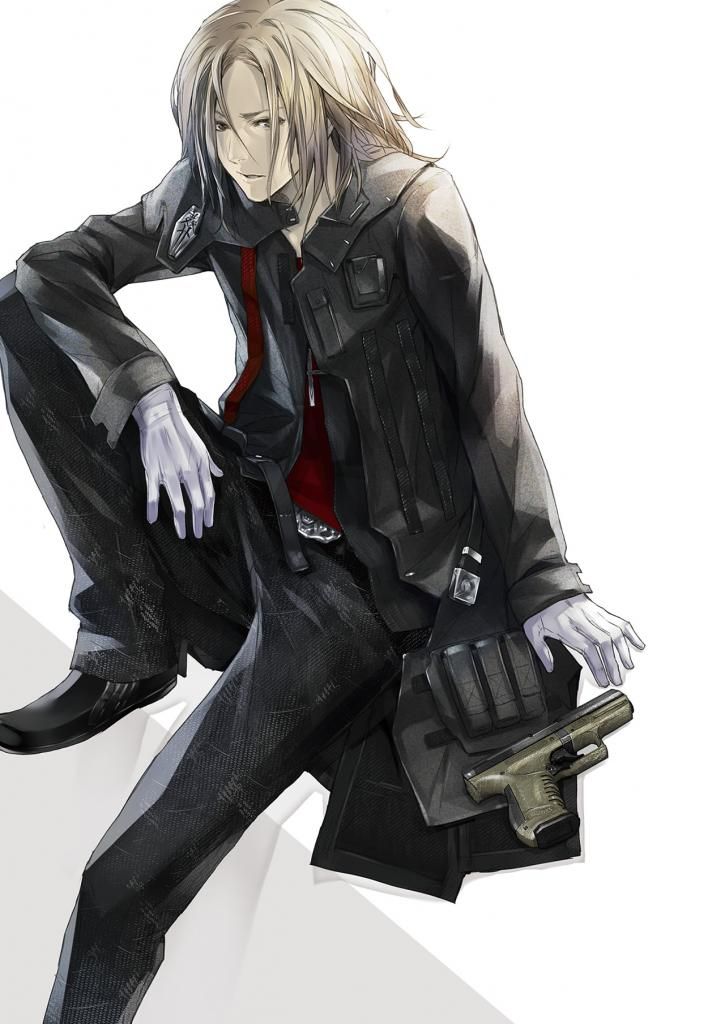 ---
★ Name ☆
Gai Havelock; known to the general public simply as 'Outsider'; the name he took during his, ahem, 'career'.
★ Age ☆
25
★ Role ☆
Deadman #6
★ Bird Name☆
Osprey
★Gender ☆
Male
★ Branch Of Sin ☆
Ares' Will
★ Romantic Interest ☆
Tries not to fall in love - he has done so only once, and it didn't end well for anyone involved. Nonetheless, he is by no means above using his looks and charisma as another weapon, particularly when the opposite gender is involved.
★ Face Claim ☆
Gai Tsutsugami
---
★ Theme Songs ☆
M4 Part II, Faunts
Bios (Acoustic Version), Guilty Crown OST
Humanoid, Chevelle
★ Personality ☆
A complex, if not divided man. Equal parts passionate demagogue, warm friend and ruthless pragmatist, he is exceptionally charismatic, and hardly afraid to use it to his own ends. He is particularly proficient at persuading others to follow his ideals; already, in Deadman Wonderland, he has acquired a small but exceptionally loyal following. On the inside, he is a devoted ideologue.
On the surface, at first meeting, he appears a kind, lighthearted man always willing to assist another, despite his disability. If he sees someone drop a book in the corridor, he'll bend down and pick it up with his good arm. If he sees someone being pushed around, he'll stand up for them. He frequently greets newcomers warmly, and often offers to teach them the basics of combat; many disbelieve that he could ever have been thrown in prison, and far more are disbelieving when they hear that
he
, of all people, is the feared 'Outsider' - the legendary terrorist who nearly brought Tokyo to its knees. Indeed, a popular theory within Deadman Wonderland is that he is merely joking about his past and was thrown in for angering a judge or some such action.
However, over time, this impression begins to give way. A hint of malice is detectable beneath those grins, a subtle but firm undercurrent of utter ruthlessness. He can, with disturbing ease, go from laughing and joking with his friends to brutally assaulting an inmate who dared to step to him - and then back again - without ever changing his tone of voice, body language or palpable confidence. He claims it to merely be a matter of experience - his is a rather chequered past, after all - but more than a few are afraid of him.
The more perceptive newcomer will quickly realise that he is no heroic, jovial, good-natured veteran trying to give newer participants a chance in the Carnival. Rather, they will see him for what he truly is - a pragmatic terrorist trying to recruit to his own cause.
Interestingly, in the Carnival, he makes a point of always offering his opponent the chance to surrender before combat - he claims that he actively dislikes killing, and has no desire to cut down any more than he has to. To date, none have taken up his offer. The only time he has not made this offer was when he faced Yuki Nagakawa - the fight where he lost his arm.
What lies inside his mind is an even greater mystery to those within Deadman Wonderland. His burning passion and desire to escape this place are clear; he has already shown the willingness to sacrifice individuals for the sake of his cause. Yet, at the same time, he claims to care about them deeply; when he gets news of a friend injured in the Arena, the slightest imperceptible twitch of grief can be seen on his face, for just a moment. After his goal is achieved, he often talks about finding a nice girl to settle down with and letting the world forget that he ever existed. However, his actions prior to his incarceration are exceptionally dark; some of the Deadmen fear that many more would die were he ever set loose.
However, most mysteriously - and most terrifyingly - when asked why he was so devoted to his mission of the utter destruction of the Japanese government, he simply responds with the following -
"Oh, I just wanted to hold a very particular a pretty girl in my arms. That's all."
★ Branch Of Sin Explination/ Abilities ☆
Ares' Will
Capable of physical manipulation of blood within extreme proximity of his body; the power gets exponentially weaker as his blood moves away from his body. Nonetheless, while in immediate contact with his skin, the strength this manipulation could exert was enormous; his raw physical power rendered him one of the most deadly fighters in the Carnival, hence his naming - a lethal bird of prey. Combined with a former occupation that naturally lends itself very well to the Carnival Corpse, he was considered the obvious favourite in his first three rounds, where he typically crushed the opponent within seconds, closing the gap while avoiding any counterattacks and brutalising them in close combat until either they surrendered or they lay dead.
However, his unexpected loss in his third round resulted in the loss of his right arm. Due to his only real area of expertise being hand-to-hand combat, and the obvious difficulties of fighting hand-to-hand without one arm, he now utilises his Branch of Sin to form his missing right arm; due to the distance from his body, it is little stronger than his left, and he is barely capable of keeping on par with skilled humans in combat, let alone other Deadmen. His combat in the fourth round resulted in a close and difficult win, and it has since become apparent that he is but a shadow of his former self in combat.
Betting agents have considered his death imminent within the next couple of rounds.
★ Talents And Skills ☆
*Due to his former occupation, he is decidedly proficient with a range of martial skills - firearms, explosives, and hand-to-hand combat among them.
*His true gift, however, lies in organising and executing complex plans; regardless of his disability, he is a veritable military genius, and his knowledge of tactics is not to be underestimated under any circumstances.
*A gifted teacher - in the short time he has been in Deadman Wonderland, he has already trained Yuki Nagakawa to be a proficient combatant in a range of martial disciplines, including with firearms, despite the lack of access to any.
*Exceptionally charismatic; he can talk his way out of near-anything, and he knows it.
★ History ☆
Almost all of Gai's history remains a mystery, and is a subject of great speculation within G-Ward. He speaks a little of his youth; he says he grew up in the mountains, somewhere around Matsumoto, and had a tight-knit circle of friends growing up, all of whom are dead under various circumstances. He encountered his Branch in his late teenage years - he got in a fight with a gang when one of them shoved his friend, and was stabbed repeatedly, almost dying where he stood. While he claims to have possessed a longheld interest in martial arts, he was clearly outmatched; lying there, he found himself in the process of trying desperately to save himself and stem the bleeding.
He's rather unclear on what happened next, but it's known that it ended with him surrounded by the corpses of seven gang members, two friends and four police officers, and with him having sustained minimal injury. He recovered enough to crawl away, pulling himself into a house where he met a girl - a girl who saved his life.
After that, he refuses to say what happened, although he does not deny most accusations levelled at him. From there, his story is inferred from news reports - horrifying recounts of devastating attacks, a wave of assaults on government buildings across Tokyo and brutal assassinations of public officials. Eyewitness accounts drew disbelief from the public - a man who moved with inhuman speed, capable of throwing cars out of the way with perfect ease, crushing men's spines with a flick of his wrist. While the damage at first led the government to believe that they were dealing with a large, well-armed group of experimentally-augmented super-soldiers, it soon became apparent that this conflict was all because of the actions of one man, and one alone.
The speed with which he struck and retreated made it impossible to track him, and over the next few months, Tokyo was gradually brought to its knees. Eventually, he revealed his demands - that every elected figure in the Japanese government step down immediately, and new elections be called immediately. In this video, he referred to himself as 'The Outsider'. He offered no explanation for his demands, no reason, no story; simply a statement that either his demands would be met voluntarily, or compulsorily. While the response was at first positive, largely in an effort to curb the quickly-mounting civilian body count, orders came down from the top - a special unit was being called in to terminate him, with extreme prejudice.
Unfortunately for him, in his video, it became apparent to Deadman Wonderland's administrators that they were not dealing with any mere soldier - but instead, a Deadman, and an extraordinarily powerful one at that. Four platoons of Undertakers were assembled to capture him, equipped with extensive air and ground support; using a group of schoolchildren as bait, they forced his hand, and after an intensive firefight that levelled a significant portion of the Shinjuku area, he was listed by the presses as Killed In Action.
In reality, he was captured, and brought to Deadman Wonderland. Kept under tight lockdown, he was forced to fight in the Arena, where he won his first few rounds with extreme ease due to his extensive experience with his Branch of Sin. However, his attention was elsewhere - he began building an army. Recruiting largely newcomers, he created a small core cadre of Deadmen. As well as being given a safe space to hone their Branches of Sin, they were trained in other areas - military tactics, firearms use, hand-to-hand combat. He ensured that each and every one of his soldiers was ready not just for the Carnival, but for a war - a war with Deadman Wonderland, and possibly beyond.
Now, his preliminary actions begin to close, and the initial preparations approach completion. His disability, while vastly limiting his combat effectiveness, has done nothing to slow his plans. His soldiers, his friends, are ready; a few more, and he will have enough power to take G-Ward by force. His intentions are clear to each and every person in G-Ward.
Come the sunset of day of his escape, the Deadmen will be free to live once more.
Or Deadman Wonderland, and everything in it, will be nothing but ashes on the wind.
---
---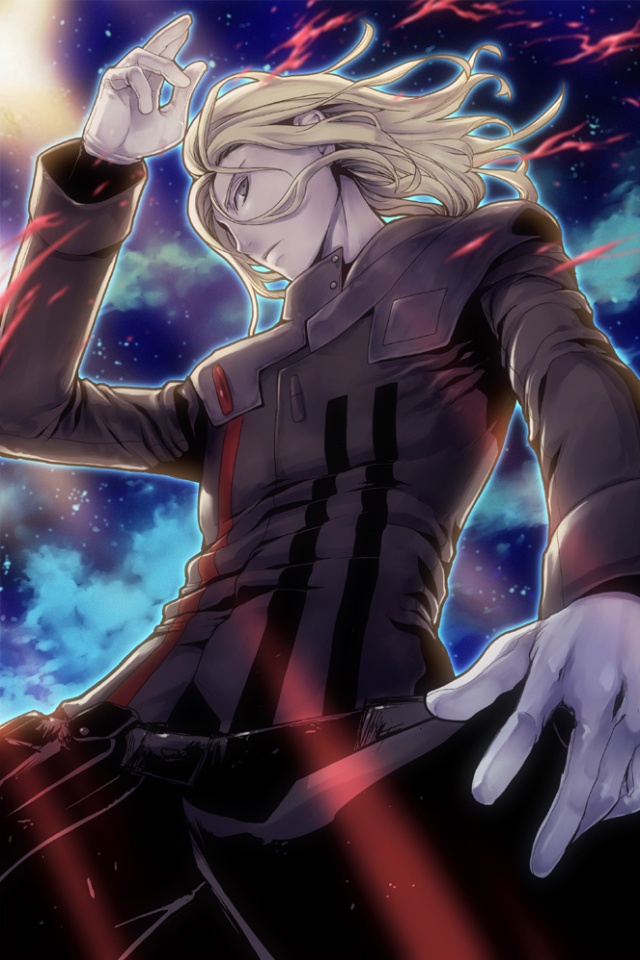 ★ Strengths ☆
- A gifted soldier; the source of his training is a mystery, but he claims to have once been an officer of the JSSDF.
- Exceptionally intelligent; both when it comes to plans and people. Whether he has any empathy is questionable, but at the very least, he has a very effective intellectual understanding of what makes people tick.
- Was previously known to be a terrifyingly powerful combatant due to his Branch of Sin. While the loss of his arm has heavily hampered his abilities, he remains a crafty opponent and is not to be underestimated in the Carnival.
★ Fears ☆
- On the surface, appears to fear nothing; he claims that not even death scares him now, although he's been known to joke that the idea of having to eat another plate of prison food brings an existential, eldritch dread upon him like no other.
- However, truth be told, he has a deep fear of attachment to people. In his experience, they tend to die too easily; thus, he tries to stay away from caring about them.
- He's also terrified of dying in the Carnival - of dying for nothing. While the idea of laying down his life is almost a welcome one, he wants to die fighting for something he believes in, not just for the sake of living another day.
- Lastly, he's also scared of cranial damage - while he views his body as a rather expendable tool, he shudders at the very thought of his intellect being impaired.
★Likes ☆
- Good wine; he claims to favour French reds.
- Good food - he seems rather used to living the high life.
- Good conversation. He says that he feels starved of intelligent conversation, and welcomes a philosophical debate on any subject.
- Hand-to-hand combat; even with one arm missing, he remains exceptionally deadly in close combat.
- The sound of his own voice. Not kidding. He just loves the way it sounds.
- Discussing philosophy, particularly that of Kirkegaard, Nietzsche and Sorel.
- His friends; despite his past, he is a very sociable man, and clearly enjoys the company of others.
- His hair. Why, nobody knows.
★ Dislikes ☆
- Those who try to disengage themselves from the world. In his view, either you fight, or you get selected out of the world. There are no exceptions.
- Prison food. He makes this dislike vocal and frequent.
- The smell of city air; he finds it horribly polluted and almost nauseating. As he says, "Say what you will about G Block, at least the air's clean."
- Those who would prey on the weak and innocent for their own pleasure - particularly those who dare to threaten his friends.
- Has begun to show mild irritation at the frequency with which people mock his (admittedly, rather feminine) appearance.
---
---