---
"Courage is almost a contradiction in terms."
---
---
"It means a strong desire to live taking the form of readiness to die."
---
---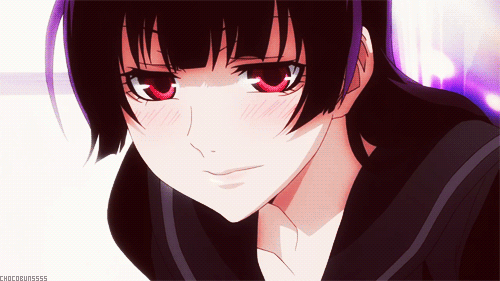 ★ Name ☆
Sonobe Minami
★ Age ☆
20 Years Old
★ Role ☆
Deadman
★ Bird Name☆
Shrike
★Gender ☆
Female
★ Branch Of Sin ☆
Acacia Thorn
★ Romantic Interest ☆
TBA
★ Face Claim ☆
Kanoe Yuuko
---
★ Theme Songs ☆
Pride - Nothings Carved In Stone
★ Personality ☆
Upon first meeting Minami, the first impression is of a sweet girl who doesn't belong in the prison. She's sweet and comforting to be around because she is often relaxed and smiling cheerfully compared to other more dreary inmates. Her smile lights up the room. Minami can appear to be an airhead who doesn't realize the situation she's in because of her cheeriness but that's just misunderstanding. She understands the rules and prison very well. Nevertheless Minami is a great friend and supporting person as she often cheers on her friends and sticks up for them. She always helps where she can and its almost like she is a cute little lamb among wolves.
Which is funny…because that's just what she wants you to believe. Minami is a viper hiding in the shadows. She is manipulative and loves to toy with others. She also loves to see them suffer. However, that's not to say that she wants them to die. After all, what use is a dead person to her? The people who love her, adore her, and spoil her keep her alive. They keep all the other baddies at some distance. They risk their lives for 'cute wittle Mimi' and she survives another day. Her first priority getting out of wonderland. Her second priority is not losing anything else that belongs to her because she already lost her voice in one carnival match. So to that effect, she will do anything it takes. Her mask has become like a second personality totally in the sense that it's so real that it's not just acting anymore. She feels the friendship and does like to be around them but when they turn their back or if they were to get into a fight, she would instantly lose all such endearing emotions like the drop of a hat. She wouldn't risk her life for someone else unless it benefited her in some way. Minami is selfish that way.
However, deep down, most of her sadistic and manipulative behavior comes from her trauma. She almost died once and she will never let herself come close again if she can help it. This is why she is so determined, and why she has developed two different personas. Her desire to live is her desire to take revenge on those that wronged her. Death wasn't enough to satisfy her thirst for revenge.
★ Branch Of Sin Explination/ Abilities ☆
Acacia Thorn:
This ability allows Minami to make bramble-shaped constructs out of her blood wherever it is spilled. Her first technique using her blood is to weave in and out of her opponents attacks and carefully place her blood in pinpointed spots before activating her Branch of Sin. Her Branch of Sin expands the blood into a giant spike which could easily impale her unaware opponent who thought he had just cornered her. This often gives her opponents second thoughts about going for fatal wounds because a sprayed arc of blood could easily mean doom for her opponent if it lands on him.
It could also mean trapping them in a cage of thorns where she could probably manage to kill them without having to get so close. She could simply splash some blood into the cage and stab them. Of course, this technique wouldn't work very week on deaden with projectile Branches of Sin since they could shoot her from the cage. Also, she can't just spill blood willy nilly so she has to time her attacks and such carefully.
The second technique and her most precious is to let her blood spill onto her nails so that she can use her branch of sin to grow talon-like structures on her hands. They aren't curved like real claws since her Branch of Sin mimics the thorn of an acacia tree but they are long and pointy enough to piece any foe.
★ Talents And Skills ☆
✧ Athletic: Plenty of endurance and speed. Stronger than most women but not all.
✧ Manipulation: She's gotten good at it over the years.
✧ Pain Endurance: No pain will ever truly amount to the day she realized her sin.
★ History ☆
Minami grew up with her Father in the city of Nagano, Japan. They were relatively well off and didn't have much trouble. Minami never remembered her father and she didn't worry about it because she loved being with her father. She went to Saionji middle school and then to an Elite High School in Tokyo after acing the entrance exams with flying colors. Even though she happened to excel at her academics, she wanted to go into physical education. In her high school life, many of the other kids shunned her because they thought she was a country bumpkin or that she was haughty and full of herself. She didn't tell her father about the troubles she faced during that time and kept it too herself. She didn't mind being alone even though it was depressing sometimes.
By the time she got to her second year, Minami had joined the track team and had become the vice-captain. Her times were setting records in the school and she worked hard to be even better than the captain. During this time she grew extremely close with the manager whose name was Saito Fumonji. He was a quirky guy but he had a smile worth a thousand words. She started to grow feelings for him but kept them closed in her heart because she could never gather the courage to tell him. By the time of her third year in high school she had become the team captain and was preparing for college. Saito eventually asked her out and she accepted and they agreed to have plenty of happy salad days. Everything was going so great until that day. Even now, it seems like a dream to her.
During the last few days of her high school life, after she had accepted a scholarship to an elite private school for a spot on their track team and everything was going great with Saito, tragedy struck. A gunman came to the school with a licensed shotgun that was actually owned by his father who was a known huntsmen and professional businessman all over the news. He had been attending and apparently in the elite school there was a type of special bullying going on. The student who scored lowest on the exams in the school would be subject to beatings, ostracizing, and more. However, many of the people who had been bullied wanted revenge and they all planned to kill the highest scoring students in the school. It was an elaborate plan but only the gunmen thought that they were serious. So the day that it was planned, he came and found himself alone. Realizing this, he lost his mind and grew angry at the world. As he recklessly shot down students and proceeded to set the building on fire, people dying beneath him could hear him laughing and mumbling "I'll kill the cowards who are ignorant and afraid. I'll kill the elites who think they are gods among men. I'll kill them all and be saved." The teachers tried to rally the students and guide them to safety but the student populace had finally realized that the gunmen was planning on killing them and panic broke out.
During this, Minami had been in the classroom with the other students. When the panic and chaos exploded students began pushing each other to escape. Minami tried to keep up but the group overwhelmed her and pushed her down. She could hear some of the other students who had fallen as well and the screams as an entire hallway of students trampled them; breaking ribs, sternums, legs, and causing internal injuries. Minami could only watch as a tiny girl fell near her and hoards of students stepped on her, crushing her until blood streamed from her mouth and her fingers which were reaching for help bent in strange ways. When the hallway cleared Minami crawled as far as she could. If she didn't escape, the gunmen would find her and finish the job even if she happened to bleed out beforehand. She could feel her broken ribs move inside her as she pulled herself down the hall. Blood dripped into her eyes from where feet had stomped and cut her head from the edge of a loafer. One leg was useless and it dragged behind her. Her stomach burned and a strange draining sensation filled her. She heard footsteps behind her before she could dodge and a foot landed on her broken leg. She screamed and tried to pull away but it was useless. Her vision blurred and she gurgled blood. The gunmen looked down at her with a loathing pity and she looked back at him, truly looking at him and saw the cockiness and newfound confidence he had. She wished she could have cursed him but she only trembled in fear. However, that was when Saito knocked him down and stole his gun. Her boyfriend shook like a lamb and pointed the gun at the murderer. She could only watch as Saito shot the gunman. She couldn't even speak. Instead Saito picked her up and carried her to the auditorium where the other students had locked the door. To this day she wondered what kind of courage and strength it had taken for him to come back to her. She loved him.
Saito banged on the door and when they opened it after several painfully long minutes he stepped inside. Minami could feel herself fading but she didn't want to worry Saito by panicking. He set her down and started asking someone to help her. Minami finally looked over to see the other students and what she saw shocked her. They looked apathetic, hateful even. They all looked at her as if she were to blame for the entire incident. Saito explained to them that the gunman was dead and that she needed help. No one moved. Saito stood and grabbed the nearest person in fury, not thinking about what would happen as he mentally broke down. It was understandable. His girlfriend was going to die and all he wanted was for someone to call an emergency vehicle. The students surrounded him and began to beat him down. It was like a tidal wave of fear and fury, sickeningly moving together like a cold machine was hauling Saito to his death. The students were just killers, giving their fear and anger to Saito to bear. Minami felt something change inside her, a numbing and furious sensation that itched deep inside her gut, as she watched Saito fall unconscious and then die as his body received internal injuries that were ultimately fatal. Bludgeoned to death by his own classmates. When the students turned to her, she knew they were going to cover it up. She smiled, a smile that didn't reach her eyes…and killed them all. She impaled each and every one of them until the screams died out. The sound of sirens in the distance was the last thing she heard before darkness took her.
After that, it was pretty clear that the authorities weren't sure what to make of the school wide massacre except that a gunmen killed a good portion of the students and almost all of the faculty and that the rest were somehow stabbed by the same object all at one time. The authorities were trying to cover it up but the media were calling it a mystery massacre. They thought that a new gang was on the rise. Later, the public found out that only a small group managed to survive and they had refused to say a word about anything that happened that day. Some were taken in as suspects of the crime in the auditorium. Minami on the other hand was sent to Deadman Wonderland and that's where she's been since. She knows plenty about the rebellion although she isn't sure if she wants to join because that is a heavy risk to take. Although, that doesn't stop her from making friends with the rebels.
In her second to most recent Carnival Corpse she lost the battle against the Pheasant and ended up losing her vocal cords. Losing to Pheasant and losing something as precious as her voice deeply affected her and now she is even more determined to win even at the cost of her morals. It may be borderline obsessive but most of the time nowadays, if you wanna find her, you have to go to the training room. You can find her there working out her muscles and endurance and sometimes if she finds a friend, sparring lightly. She still hasn't learned to cope with others not understanding what she wants but she is learning steadily and eventually she hopes she can attain a newbie to train to be her attendant for her. Even so after a few weeks of not speaking, she received a mechanical voice box from one of the rebels that she is friend with that emits a common feminine voice but she dislikes using it because it's not her voice and when she speaks, it feels like someone else is speaking. So, that's why she would prefer to have someone by her side who can understand her instantly and translate when she would prefer to stay silent. However, that seems bleak since newbies come and go and training one would be pointless if he or she ended up dead in a week. Plus, having close bonds are rare in Wonderland. As for her attitude towards the match, she doesn't hold the man nicknamed pheasant to blame since she would have killed him or tried to and somehow she's still alive which she knows she should thank him for but she doesn't wish to be around him yet. It causes her a phantom pain in her throat because her emotions escalate and she remembers when they took it away from her in that gruesome surgery. Although she didn't scream during the surgery, that moment traumatized her slightly.
---
---
★ Strengths and Fears ☆
Minami is determined to live which gives her the strength to survive and the ability to face whatever Wonderland is going to throw at her. It also gives her a ruthlessness that allows her to distance her emotions if it came down to killing her friend one day. However, she fears that she will never escape and that she won't be able to win against a strong opponent if she doesn't train and keep working hard.
★Likes ☆
✧ Running
✧Others Suffering
✧Training
✧Living
✧Eating
✧Having Supplies
★ Dislikes ☆
✧ Swimming
✧ Laziness
✧Tough Opponents
✧Ignorance
✧Idiots
✧Weaklings
✧Anemia
---
---