Frostbrook is a small village located in the mountains. It's not too high up, but it's far enough away from large cities to prevent any mischevous teens or thugs; the crime rate is extremely low. The village is home to two families, each with a dark secret hidden up their sleeves, the Drights and the Anders. For this, the village is split into two parts, divided by a small stream. To gain access to the other side, they must have an invitation from the family leader (the two main characters) and cross the Main Bridge. It's always snowing there, which is how it got the name of Frostbrook.
The Drights are a vampire family that have been around for more than 5 centuries. 18 years previous to this story, their head vampire mated with a human to consieve a child. The baby girl was allowed to age until she reached her 18th birthday, then they changed her. But the girl had made friends with the child of the rival family, and so they were slightly unsure as to whether they should name her the new head vampire. After a while of waiting, they realised they couldn't put off the decision any longer, she became what so many people thought she was not worthy of becoming; the family leader. The Drights are quiet calm and suffisticated, they try to avoid fighting at all costs.
The Anders are a slayer family, the ones that hunt anything supernatural. Their name has been passed on through history as being the saviors of all humans. 18 years previous to this story, a new baby born into the family. The entire family had planned for him to be the family leader, yet they began to doubt their choice after he became more tied up with the child of the rival family than his own duties. But by that time, it was too late. The Anders always knew that the Drights were hiding something, yet they couldn't quite figure out what it was exactly, this only fueled their hatred. They've always been quite viscious and violent compared to the Drights.
Warning: This is only going to be a brief paragraph about your role within the roleplay and where to start the story. This roleplay is starting from just before the two families discover each other to be vampires/slayers. You will be playing a character from either the Drights family or the Anders family. Romance with the opposite family is not allowed, apart from the two protagonists. There will only be 4 non-family characters in the character section, 2 female and 2 male; this will help spice up the roleplay a bit. Another thing, violence is only allowed if you make sure you do not fatally injure or kill someone, if you wish to go further than a little scrap then please PM me and the person you wish you fight.



[center]Characters
Protagonist/Head Vampire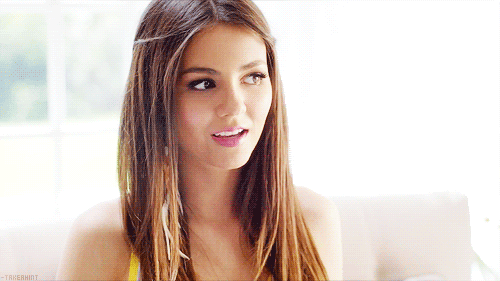 Name: Jessica Dright | Age: 18 | FC: Victoria Justice | Taken
Jessy is a very beautiful, funny and charming girl that is always in a good mood. She hates to see people upset, doing her best to lift people's spirits. She is thought of as the quirky one by her family, due to her jolly attitude and lack of ill temper.
Grumpy Sister
Name: ------ Dright | Age: 90 | FC: Nina Dobrev | Reserved (CuteAsKaylah)
She looks at life from a negative point of view. She despises her sister, Jessy, purely for the fact that she became head vampire instead. She has an extremely ill temper and is hard to please, though at times she can be quite a tease. She loves to prank her sister, but mainly just causing pain amuses her.
The Weakling
Name: ------ Dright | Age: 16 | FC: Ross Lynch | Open
He is the quiet, reserved and shy one. He is fairly weak and will refuse to participate in a fight, mainly because he doesn't want to get hurt but also because, unlike most vampires, he has the strength of an average human. When confronted, he will back off without even thinking twice; he does not do well under pressure. Once you've gained his trust enough, he shows his sweet and caring side. Overall, he's a very nice person that loves his sister Jessy more than anyone in the entire world.
The Mother Figure
Name: ------ Dright | Age: 520 | FC: Sara Canning | Open
She is the wife of Jessy's father, and an amazing mother figure to the family. Her kind and caring nature allows her to get along well with the children very well. Despite the fact that she may seem nice, if you annoy her she can be one viscious and dangerous person with the intent to kill. She is feared amongst Frostbrook for that reason only.
The Father
Name: ------ Dright | Age: 625 | FC: Ian Somerhalder | Open
He is the most powerful of the Dright family because he is the first vampire to have ever been created. He was bit by a bat so rare that you only find one every 6 centuries, causing him to shift into a vampire. He is more of a sarcastic and witty person and he never takes anything seriously. He often plays pranks on the children, but rarely ever his wife because he knows he'll get a proper beating if he does. Upon meeting new people, he will show his dominance by being rude or treating someone like dirt, this is because of his serious side, the side that only shows when he's around people who aren't in his family.
[center]
Anders
Protagonist/Family Leader
Name: ------ Anders | Age: 18 | FC: Alex Gaskarth | Open
He is quite a bad boy character. He often attempts to flirt with Jessy, though they usually end up with him being slapped; it doesn't stop him, not even slightly. Most people know him as the mischevous one. He loves to cause trouble around the village in his own little ways. He often finds himself falling for Jessy, but he tries to shake the feeling away because of their family's hatred for eachother. More often that not, he's an extremely happy person.
[center]
Annoying Brother
Name: ------ Anders | Age: 20 | FC: Andrew Garfield | Open
For many reasons, he is annoying. He will try to upstage his younger brother at all costs, mainly by flirting with anyone that he does in an attempt to win them over before his brother can, this includes Jessy. He's quite a slob, he doesn't care about his appearance and he lacks in personal hygiene, yet most outsider girls swoon at the sight of him, he enjoys that fact. He puts himself before other people and doesn't care if he hurts them, physically or emotionally.
The Emotionally Damaged Sister
Name: ------ Anders | Age: 17 | FC: Taylor Momsen | Taken
She has not been able to handle her rough upbringing too well, this caused her to be emotionally damaged as she grew older. She has a hard time trusting anyone who is not in her family, and an even harder time trusting the rival family, which is why she holds a deep hatred for her brother because he befriended one. She'll rarely speak to anyone other than her siblings and isolates herself in her room, hardly coming out unless it's for dinner or bathing.
The Twins
Preferably, I'd like one person to play the role of both twins
.
Name: ------ Anders, ------ Anders | Age: 16, 16 | FC: Cole & Dylan Sprouse | Open
Twin 1 (Cole Sprouse) is a naturally talented musician and comedian. He mainly enjoys playing piano, but he has a rough knowledge of acoustic guitar. His personality is vert joyous and cheery, rarely ever sad. He never takes what people say seriously, he'll try to make a joke out of every little word or phrase.
Twin 2 (Dylan Sprouse) is an amazing artist and comedian. His favourite drawing style is anime, only some chibis. He is an extremely critical person and would rather judge someone than get to know them properly. Apart from that he is very caring and dedicated, he never gives up.
The Self-loathing One
Name: ------ | Age: -- | FC: Alex Pettyfer | Open
--Make your own description based off of the title role--
The Hopeless Romantic
Name: ------ | Age: -- | FC: Paul Wesley | Open
--Make your own description based off of the title role--
The Flirty One
Name: ------ | Age: -- | FC: Selena Gomez | Open
--Make your own description based off of the title role--
The Dumb Chick
Name: ------ | Age: -- | FC: Candice Accola | Open
--Make your own description based off of the title role--
First+Last Name
Age (Your character should already have an age, if not choose an age between 15-25)
Gender
Role (The title in italics above every character, this should also be added in your synopsis)
Appearance (Picture only, gif accepted)
Personality (Feel free to just put the little description
House design (Picture only, must be around the size of a cottage with snow)
Bedroom design (Nothing too fancy)
History (If you're from a family, there's no need to fill this in. If you're not from a family, this is 100% needed)
Taking place in...
0 posts here • Page 1 of 1
0 posts here • Page 1 of 1
Arcs are bundles of posts that you can organize on your own. They're useful for telling a story that might span long periods of time or space.
There are no arcs in this roleplay.
There are no quests in this roleplay.
Here's the current leaderboard.
There are no groups in this roleplay!
Welcome home, Promethean. Here, you can manage your universe.
Arcs are bundles of posts from any location, allowing you to easily capture sub-plots which might be spread out across multiple locations.
You can create Quests with various rewards, encouraging your players to engage with specific plot lines.
Settings are the backdrop for the characters in your universe, giving meaning and context to their existence. By creating a number of well-written locations, you can organize your universe into areas and regions.
Navigation
While not required, locations can be organized onto a map. More information soon!
There are no groups in this roleplay!
By creating Collectibles, you can reward your players with unique items that accentuate their character sheets.
Once an Item has been created, it can be spawned in the IC using /spawn Item Name (case-sensitive, as usual) — this can be followed with /take Item Name to retrieve the item into the current character's inventory.
Give your Universe life by adding a Mob, which are auto-replenishing NPCs your players can interact with. Useful for some quick hack-and-slash fun!
Mobs can be automated spawns, like rats and bats, or full-on NPCs complete with conversation menus. Use them to enhance your player experience!
Current Mobs
No mobs have been created yet.
Locations where Mobs and Items might appear.
You can schedule events for your players to create notifications and schedule times for everyone to plan around.
Add and remove other people from your Universe.
The Forge
Use your INK to craft new artifacts in Death of Me; Broken Bonds. Once created, Items cannot be changed, but they can be bought and sold in the marketplace.
Notable Items
No items have been created yet!
The Market
Buy, sell, and even craft your own items in this universe.
Market Data

Market conditions are unknown. Use caution when trading.

Quick Buy (Items Most Recently Listed for Sale)
Newest
Trending
Most Followed
None
Discussions
Topics

Replies
Views

Last post
Most recent OOC posts in Death of Me; Broken Bonds
@lightnightpoint - Your application was fine, feel free to post at any time.

@CuteAsKaylah - Sure thing, put up the application as soon as possible.
Can I reserve nina dobrev?
Aha! I finished her character sheet! I just uploaded it, and if it needs to be fixed just PM me, okay? I hope you like her! Fingers crossed!
Sure thing, just make sure you put up the application within the next 2 days! ;3
Love it! Love it! Love it! Can I reserve 'The Emotionally Damaged Sister' a.k.a. FC Taylor Momsen?
This is the auto-generated OOC topic for the roleplay "
Death of Me; Broken Bonds
"
You may edit this first post as you see fit.