---
╔
╗
"While I thought it was a simple twist of fate, it proved to be a deceit of the devil that left us open and vulnerable. I might not directly be responsible for my actions yet I am their representative, their pawn they can get rid of anytime. So before anyone else is forced to suffer like I do, I will persist smiling as told. My opportunity will come soon or later, I am sure."
[
Fairy Tail Gone Bad | Sunrise Avenue
]
Dɪᴀʟᴏɢᴜᴇ Cᴏʟᴏʀ ✦ SlateBlue || Tʜᴏᴜɢʜᴛ Cᴏʟᴏʀ ✧ SlateGrey
╚
╝
---
---
---
---
---
---
⌈N I C K N A M E⌋
Ae, Aron, "King Solarius"

⌈A G E⌋
29 years old

⌈G E N D E R⌋
Male

⌈R A C E⌋
Fairy part Elven

⌈R O L E⌋
Acting King

⌈F A C E

X

C L A I M⌋
Apollon Agana Belea || Kamigami No Asobi
---
---
---
---
⌈P O T E N T I A L

X

I N T E R E S T⌋
It is complicated: He won't fall in love in this kind of situation where he deceive everyone around him. It feels just wrong.

⌈S K I L L S⌋

‡ Dancing || A way he gets his money with. He'll just stop in a crowded place and starts to dance, sometimes also going through the crowd to gather more attention, letting them take part within his show that seem to please whole mass of people. With his pretty face to boot, it is quite the money source.
‡ Empathy || He has always beeen someone who can tell others feeling by just looking at their faces, their behaviours or merely by judging situations. It is noted that he is quite the headshrinker, with ease he is able to cheer up people even if his methods are peculiar.
‡ Bargain || Basically, Aeeron is a merchant therefore his skill to bargain is required. Though he wasn't as the most, cunning and likes to fool his customers instead approaches them like a friend, makes them comfortable in his presence and recommend them things according to their wishes and not otherwise. It is noted that he also has a keen eye if it's about rarities, so that his business goes (went) smoothly.
‡ Medical massage || Perhaps it's his ability as a half elven? Howsoever, he has the technique and talent to do massages that send people to heaven, which is also something useful he make use of to gain money for survival.

⌈S T R E N G T H S⌋

ღ Charisma || He attracts people because he approaches them, and he has always been a excellent conversationalist.
ღ Dodging || While he is not strong in direct attacts, he uses his sharp enchanted sight to his advantages and dodges any attack coming to his way. That while doing a sneek attack at once. With this, for a surprise attack to succeed is quite difficult.
ღ Smiling || He smiles, even though his mood wants otherwise. He smiles, when someone is being a bastard or a bitch to him. He smiles, even when a customer wrongly accuses him for something and he only means good! He knows that getting angry won't solve anything so keeping a cool hand and smile is his ultimate solution for every conflict.
ღ Herbal knowledge || It is hereditary, it seems.

⌈W E A K N E S S E S⌋

Ψ Family || His family is probably his greatest weakness, the present is the proof: His sister "is held captive" and he was forced to be the King of Alfheim in name only.
Ψ Elves || He can't handle them, they care too much about status and nobility and blood.
Ψ Children || He is a children lover.
Ψ At times impractical || Sometimes he is too spontaneous while the other time he just can't figure a good strategy and ends up doing something silly.
---
---
---
---
⌈P E R S O N A L I T Y⌋



||

quite spontanous

†

patient

†

stubborn purposeful

†

kind-hearted

†

strictly independent

||



Don't even attempt to understand him. You would never be able to; he doesn't even understand himself sometimes! He is but a steady person, can almost be called neurotic, shifts his personality traits from one to another everyday. Sometimes to adjust, sometimes because of a hidden motive. Even though he might appear easy going and without a single worry, like a happy-go-lucky person, he does have thoughts no one would've guessed when seeing him. You can't say he's cunning; he's just too understanding and kind. His empathy is strong, yet he doesn't show it much. He is rather distant to strangers, and if possible doesn't hang out much with people he isn't sure of their characters. Therefore he also never depends on others, is strictly independent and if possible, never calls for help, fearing betrayal.

He is an extremely patient person nonetheless, stays calm in every situation and smiles despite everything. Aeeron is not seen to be angry - never actually. He bottles it away, every single feeling that can cause him to turn aggressive and keeps them in as best as possible. He is aware that violence never solves a problem and lives with that thought, refusing to use violence and always tries to settle problems with words, that may or may not hit quite some nerve.

Moving on, he is a very optimistic character actually. He won't ever think he can't do it before trying to do so. And that, with a bravery of hundred men. Even though he won't ever rush things and recklessly goes there only to end up in a hospital, but if he sees a possibility, he'll go for it hundred percent. Adding to it, Aeeron is someone who keeps loyal to his words. He won't ever throw random words into the room, only when necessary. In fact you can say, every single word of his has a meaning to it, whether it's a less or a very important one. He takes pride in what he's doing, and will hold every responsibility of his actions. Although not quite emotionless, still that stubborn spirit living inside him makes it possible and keeps him strong for any hindrance that may cross his path.

He is confident and never gives up, stubbornly faces forward like no other. A quality which surely let him appear as one charismatic guy who knows well how to catch people's interest, gather them and grabs their attention. A very important trait for a merchant like himself. Did I mention how extremely over-protective he is over his only family, his little sister? She was always sickly and weak, but beamed such a lovely vitality and joy that no one really can't hate her. His little sister meant the world for him. Without her, he can't live. That's why he definitely won't do anything too rashly and incautious, patiently waiting for his opportunity to strike.
---
---
---
---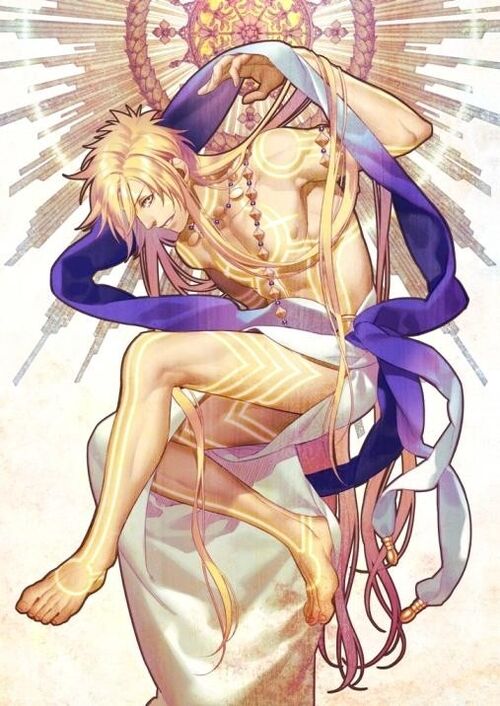 ⌈H I S T O R Y⌋

Within civil war he was born in a shelter for all refugees, gathered and attempted to stay alive with the limited ressources they had. The reason for the civil war back then was long forgotten - it became trivial for races to fight each other and grief mundane. The woman, an elven of noble blood helped the deserted in their need, helped them with medical treatments but also mental treatments, were the strength of many even while she did not share those people's race. A rebel that stood proudly against war, and fought stubbornly for peace.

That same brave woman was the one who gave birth to Aeeron within the time. They believed it was love back then that bonded the elven woman and the fairy man, met in the war field as though it is a call of destiny. The woman was pregnant fairly quickly, but decided not to rest despite her condition, did everything in her power to still be as of help. Then Aeeron was born, a strong child which strength is proven as he grew up. It was however, a short-lived happiness. His father died within combat, an honourful death which not only his family grieved.

His mother was a strong woman, but the loss of her beloved had more impact than anyone had thought. She neglected her son. Neglected those in need. Only to mourn over the death of her lover, day and night, crying all over without end and became frail through the days, the weeks, the months - the years. In the meantime Aeeron grew to be a cheerful child that conjures smiles on everybody's faces almost daily. The civil war had ended finally, and time had come to begin the reconstruction.

Aeeron learned many things within the shelter, helped here and there and grew up having to bear the burden of many sorrow, including her mothers. He attempted so many times to get her back up to her feet, but he never succeeded. It was at the age of ten years old where he found her dead on her bed, clearly did suicide. And that little boy with innocent eyes was calm, too calm as he found her as though he had predicted this to happen. Not only once he wondered why she even waited so long to do this; regretted to have stopped her in her countless attempt for suicide before.

After all, it was not only her mother that was suffering. Aeeron knew well of her pain as well - treasured the few memories he still remembers of his father like no other.

He was taken by a family with fairy only, who told him that they stood in his mother's favor, her being their lifesaver back in the civil war. He was grateful always and never showed any sorrow, tried to bottle up everything within his heart and unconsciously made his foster family to worry. It was their little daughter who broke the ice and helped him to go through many difficulties and grief that will never be forgotten. She was like a little angel, giving him the support he needs to feel better. Through her, he became more open but still was afriad of betrayal, and thus was never really someone who put much trust into anybody aside his foster family.

His distrust doubled as the so-called-friend betrayed them, took their belongings with force and even murdered to get what their want. The peace in the little village that just for several years had been restored was completely shattered once again; something that never can be put together again. Thus they decided to move away and find work in the city - however, even that attempt for a new beginning ought to fall through. A group of bandits attacked them and once again Aeeron had to bear the sight of his family to die right in front of him. A sigh unbearable that everything went black... and as he awakened, the bandits were dead. Aeeron was in the border to go mad completely, feeling that their retribution wasn't enough, wanted to strike the predetors once again dead - he even didn't care how they found their death. He simply didn't care - as then the little girl crawled out their carriage, her eyes sleepy and tired, asking for her mother.

Quickly, Aeeron took her away, wanted to protect her from what had happened as it was nothing for the little girl to see; nothing she would ever recover from of its sight. And as she slept, he prepared his foster parents respective burial, prayed for them to find peace and sworn that he will never let their daughter to face any sadness in life. A duty, that he placed heavy on his shoulders and caused him to be quite over-protective.

It was obviously nothing easy for Aeeron to avoid her questions about her parents whereabouts. However he managed, began a new life with her in the city where he learned various of things, that includes massaging and dancing especially. He always tought her that he was his big brother and thus the little girl knew nothing else. By the time she was sixteen Aeeron told her about how 'their parents' died in a bandits ambush. It was nothing that she could swallow that easily but she proves to be a strong woman and Aeeron was grateful for that.

One day, there was a peculiar hooded man watching Aeeron perform, gather people around him to sell goods and also was there as he offer his service to massage someone. Like a creepy stalker, he had followed Aeeron and the little girl anywhere until one day, the little girl was missing; only a note left behind for him to go somewhere. Of course Aeeron knew immediately that it was not the little girl's notice, and quickly concluded she was taken away by strangers who actually had him as target. Without much strategy he went to the place in the note as he met again his creepy stalker, who threatened him. He was to be the fake King for them in name only. A king that was only a facade; and if he refused, they'd kill his 'sister' immediately. Thus he obeyed - without knowing that his sister had struggled and found death within it, just two days before his coronation.

After all, he had no other choice but to obey in his unknowingness.
---
---