---
╔
╗
"Everything I have and everything I am belongs solely to my lord. Without him, I would have nothing - be nothing. As you can see, the debt I owe him is one I can never repay. Even so, I have devoted my life to his service. My body is his shield, and his life, my life. There is no power that could sway my allegiance, nor could death itself keep me from his side."

"I will follow him to the end of the world and beyond. That is the oath I swore."
╚
╝
---
---
---
---
---
---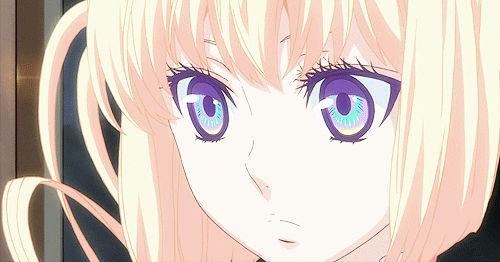 ⌈S O B R I Q U E T⌋
"The Prince's Strength," although this tarot-inspired title is sometimes abbreviated to simply "Strength." She also bears the much more dubious title of "The Accursed Maiden."

⌈N I C K N A M E⌋
Luka, a portmanteau of the first syllables of her first and middle names.

⌈A G E⌋
19... Apparently.

⌈G E N D E R⌋
Female.

⌈R A C E⌋
Appears Human, but her superhuman physical abilities and proficiency with magic show that she's much more than she appears. What, exactly, she is, however, still remains a mystery.

⌈R O L E⌋
The Prince's Bodyguard.

⌈A P P E A R A N C E⌋
Contrary to her mature demeanor and appearance, Luka is actually a rather petite girl, standing only at a height of about five feet, five inches. Most of the people who she interacts with, thus, usually end up being at least a head taller than her in stature. And, considering that she lives in Alfheim - or at least, that she did until recent events displaced her to follow her lord - and that most of the people she deals with regularly have at least some level of fairy blood in them, her own diminutive size seems quite contrary to her role as a protector, and her mentality as a warrior. Nevertheless, even if one respects her abilities, it can't be denied that she certainly doesn't look the part of a bodyguard and vassal for a wayward monarch. Her limbs, although long and limber, appear delicate and fragile. Her shoulders, although firmly set in a rigid, upright posture, are nevertheless small and far from broad. Her slender waist gives way to gently curving hips, a flat stomach, and a mature, if somewhat unremarkable bust line; but all that this serves to ensure is that when comparing her side by side with the Prince she serves, she looks more like his mistress than his guardian. Either way, her lithe, girlish form hardly has enough muscle to it to draw any notice whatsoever.

Her image problems aren't exactly helped by her youthful face and clear complexion. With smooth, pale pink skin that is almost unnervingly lacking in any sort of scarring or blemishes, she looks almost more like a sculpture or a painting than a Human. This extends even to her hands, which one would expect to be calloused or bruised by her rigorous combat training, yet remain as tender and white as those of the unfortunate princess she formerly served before her sudden exile. It is as though any time her body was marred in any way, it was somehow "reset" to the way it was before, making it look as though her body is as as clean and untouched as new-fallen snow. Regardless, her face is without a doubt the most notable feature of her appearance. From lean neck comes a rounded, elegant jawline, curving upward into slightly prominent cheekbones and cheeks the thickness and roundness only further accentuate her obvious youth. Her lips are a fair shade of pinkish-red, concealing silvery white teeth that might make for a beautiful smile, if she ever happened to show such a rare expression. Her nose and ears are unremarkable and petite, not drawing any attention away from the brilliant locks of golden hair trimmed precisely around her face to frame what is without a doubt her crowning glory: her eyes. Unique in their prominence and their hue, their brightness matches perfectly with the pale gold of her hair and the whitish-pink of her skin. Azure, but streaked with faint flecks of a lighter shade of aqua, they almost seem to glow with their own inner light, set like twin star sapphires in the midst of her elegant yet serious countenance.

Although her hairstyle tends to vary somewhat, she usually keeps her hair bound in twin sidetails in order to keep it from getting in her face during combat situations. Although she used to possess a great many outfits both for formal and casual occasions, she lost her belongings during the flight from the capital, and as such currently only has the clothing she happened to be wearing at the time: a ruffled silken blouse with long, flared sleeves, colored in shades of white and coral, and trimmed with lace, with a few matching elements including a pleated skirt that runs approximately to her thighs, lace-trimmed knee-high stockings, and snugly-fitting slipper-like white shoes. While the quality of her attire does mark her as someone of importance, her outfit is at least practical enough not to get in her way during battle, and not nearly flashy enough to draw unwanted attention. Unfortunately, her own physical appearance is much less nondescript, as her white skin, blonde hair, and indigo eyes are a common trait associated with Humans from a legendary kingdom far to the Southeast, known as Falkenheim. However, few know of this place anymore, considering it disappeared over a hundred years ago.

⌈F A C E

X

C L A I M⌋
Tsukumo || Karneval
---
---
---
---
⌈P O T E N T I A L

X

I N T E R E S T⌋
One-Sided Devotion: At the moment, Luquiere's mind is free of matters such as romance. Given her vow of service to the Prince, it is inconceivable that she would devote herself to any other man than him, while at the same time, the debt she feels towards him and her own position relative to his mean that, although one might argue that her absolute, unwavering dedication to him could be described as "love" towards him, she would never think of acting on these feelings in any capacity other than that of a servant. Were he to acknowledge and accept her as a lover, or were another man to approach her, with the Prince's approval, and with existing amorous intentions, then perhaps she might consider such a relationship, but given her status as his vassal and servant, his needs and his person come before all else, and are to be respected, even if that means enforcing her own state of solitude.

⌈S K I L L S⌋

‡ Uncanny Condition || As many have been surprised to find when facing her in battle, she's much more physically capable than she looks. With senses keen enough to rival those of an Elf and reflexes to match, she'd be dangerous enough as a normal Human. However, for reasons that can't be determined, she also possesses superhuman physical attributes. With beast-like speed and agility, she's capable of pouncing several yards in a single bound, and crossing tremendous distances in a flash. Her strength, meanwhile, would be sufficient to overpower a man at least twice her size, and her skin is more like a natural armor than ordinary flesh, capable of withstanding even the blows of a sword and showing little damage. It's unclear exactly where she got these superhuman powers from, but nevertheless, at her best, she's capable of moving almost too fast to be seen, appearing as little more than a blur of gold briefly connecting two points instead of visibly moving from one to another, and of breaking blades with her bare hands. This isn't to say she's an unstoppable juggernaut. Hit her hard enough or enough times, and she'll eventually fall like any other Human. The problem lies, quite simply, in actually managing to hit her at all, let alone with sufficient force to bring her down, considering her enhanced durability. On a final note, there is one other anomaly about her body. Namely, she's even lighter than her small stature would suggest, to the point where, at times, she's actually almost weightless. Oddly enough, this only really shows when she's moving, as she can leap in violation of gravity, and move without regard for friction, yet when she finishes a given movement - an attack, for example - it bears the weight of her full supernatural strength.
‡ Celestial Magic || Another inexplicable ability, the origin of which nobody can really say. Although she appears to be a normal Human, if one from a legendary land - although said land actually banned the usage of magic and persecuted non-Humans in doing so, oddly enough - she has the uncanny ability to produce rainbow-colored starlight from her body, and to manipulate it. Usually, as shown in the gifs, this takes the form of rather cartoonish five-pointed stars of varying colors, which, upon impact with a target, erupt in violently explosive fire. However, she can also form shields, or other simple creations with them. Exactly the opposite of her body, her magical moves actually seem to have a physical presence, as she's been known to hit people physically with her stars, instead of using their explosive power like a fireball, or to block incoming attacks with curtains of blazing light. Nevertheless, although useful, what she can create with this ability, as well as the ability's power, seem to be very limited in comparison with those of a more ordinary magician - which is odd, as starfire is considered one of the most powerful forms of magic, and is one that almost nobody knows how to actually use. It would seem she knows much more than she's letting on about the full extent of her powers and their origins, but whatever those are, she isn't telling.
‡ Singing || A rather strange thing to mention, considering her other areas of expertise and her stoic, silent attitude. Although it comes as a surprise to most people, she actually has a remarkably good voice, and a good ear for music.

⌈S T R E N G T H S⌋

ღ The Prince's Strength || Luquiere is untrained in the proper usage of arms. Nevertheless, her superhuman physical abilities, bestial agility, and aptitude for hand to hand combat make her a dangerous adversary, even for someone using a sword or spear. Although she is trained in the traditional martial arts of a sect of personal aides and operatives known to serve the monarchy of Alfheim, much of, if not most of her knack for combat appears to come from simple experience in untrained, no-holds-barred physical combat, providing her insight into the most efficient means of harming an opponent just using her arms and legs, and the mindset nessecary to think on her feet and predict courses of enemy attack. Although where she acquired such an expertise remains unknown, her talents for barehanded violence are quite formidable. Furthermore, her magical powers allow her to even the odds between herself and magic-using opponents, and to more than make up for her lack of weapons. She's also knowledgeable in political matters and in strategy, making her a useful aide for the Prince. Suffice to say, there is a reason why her lord escaped from the combined forces of the entire Elder Council unscathed, even when his only comrade and protector was unarmed.
ღ Skilled Servant || More than just a bodyguard, she is also used to serving as the Prince's personal servant. Cleaning his room, preparing his meals, and washing his clothes are all well within her occupational boundaries. She's just as versed in maintaining a home environment as she is in fending off enemy attacks or anticipating possible political threats that might lead to an assassination attempt.
ღ Absolute Loyalty || She is unquestioningly, unwaveringly, and unshakably loyal to her lord, first and foremost. Anything that can threaten him, she will take into account and work to guard against. When it comes to aiding him, she cannot be bribed, reasoned with, or otherwise dissuaded. If there is any course of action she can take that will better him, regardless of the sacrifices she must make in executing it, she will carry it out without any hesitation. She has no concept of her own life save as an extension of her master's will, and will not give up on helping him, even if it kills her.

⌈W E A K N E S S E S⌋

Ψ The Accursed Maiden ~ Melancholy Aura || Something about Luka just screams of regrets, sorrow, and wasted effort, even though her expression and attitude is completely impassive, and shows no sign of such things. Perhaps it's just superstition, but it's widely believed that Luquiere is under some sort of a curse. There may be at least some truth to this rumor, as she has an alarming tendency to fail at anything she wants to accomplish. For example, if she set her mind upon catching fish to eat for dinner, it's highly likely that not a single fish would "happen" to be in the whole river at the time she arrived. Perhaps the current would shift, carrying them all away, or they'd be caught by other fishermen, or some other coincidence, but regardless, her hopes seem to exist only to be dashed. Although, given that the Prince hasn't died yet, maybe her determination also has some factor in her chances of success...?
Ψ Falken...? || True or not, it can't be denied that Luka has a striking resemblance to depictions of the Falken people - a sect of Humans widely reviled for their persecution of all things magical. Furthermore, certain obscure legends point to their very heritage being accursed, attributing the disappearance of their city-state in a single night to this supernatural cause. Whether or not these legends have any substance to them, and even whether or not she actually is a Falken, nobody knows. Regardless, many people distrust her based on her appearance alone, and oftentimes they come to hate her and blame her for their misfortunes due to her "accursed" nature.
Ψ Social Issues || Luquiere is not one to trust other people easily. Keeping almost every aspect of her identity a secret, she avoids interaction with others whenever possible, preferring to live a solitary life. Perhaps it's because she's afraid of her "curse" affecting the lives of those around her, or because she's just become so used to being treated as a pariah due to her resemblance to a Falken, but either way, the only person she really seems to trust is the Prince, and even he doesn't know much about her. In any case, don't count on her to perform well in any sort of role that requires dealing with other people. Although she seldom snubs or insults them, she generally just tries to avoid dealing with them whenever she can, and can often come off as arrogant or spiteful due to her pointed silence in the face of interaction with those she doesn't know or trust.
---
---
---
---
⌈P E R S O N A L I T Y⌋



||

Loyal

†

Inexpressive

  †

Serious

  †

Melancholy

  †

Hardworking

||



An enigmatic, silent figure, the Prince's Strength is considered rather unnerving by many. Seldom showing emotions in favor of a blunt, straightforward approach to things that only takes the most reasonable, effective course of action into account, Luquiere is consequently very mechanical in her attitude. Something in the past convinced her that expressing her feelings, much less acting on them, was a waste of time and effort, drawing her to complete, introverted stoicism. It is perhaps just as well, since a servant is more useful as a tool than she is as a person. To her, her duties are all that she has, and outside of her life as the Prince's personal aide and protector, there is very little that actually matters to her. She has no hobbies, no friends, and no aspirations other than practicing her duties so as to improve at her work, the Prince, and doing whatever needs to be done for his sake until the day she dies, and, if possible, beyond. As such, she's perhaps the ultimate doormat, subjecting herself willingly, completely, and absolutely to him. Consequently, due to this single-minded focus - no, obsession, with fulfilling her duties, her attitude essentially has only two settings: submissive, and indifferent.

To anyone who isn't the Prince, Luka simply pays no mind. It's not her duty to bother with their thoughts, feelings, desires, or quibbles. If the Prince wants to ally himself with someone, then let him do as he will. That person's affairs are no bother of hers. The only thing she has to determine is whether or not they are a threat to his safety, or if they may be useful to him. If they are the former, then she will deal with them as soon as that threat becomes apparent. If they are the latter, then she may take their utility into consideration and advise her sovereign accordingly. If they are neither, then they are not important, and she had best keep away from them lest her cursed nature and boorish attitude besmirch her Prince's honor by proxy. She does not actively push away or disparage people unimportant to her duties, and remains perfectly polite when in their company - at least, when speaking in their company. She simply tries to dodge interacting with them if at all possible, as her experiences with other people are such that she has come to assume that in the eyes of anyone save the Prince, her opinions, actions, and even presence is both unneeded and unwanted.

---
---
In the company of her liege, however, matters are different. Although her inhibitions still keep her far from behaving like an ordinary person - as well they should, for disrespecting the one to whom she has devoted her very life would be unthinkable - she is more free with displaying her feelings, albeit awkwardly. Not entirely comfortable with showing how she feels plainly, all her attempts at emoting are consequently very understated. A faint smile might take the place of a laugh, or a distant frown the role of tears. She is also much more attentive, responding quickly, honestly, and promptly to any question he might ask of her, and never faltering for an instant should he require her assistance in any way, shape or form. She's bluntly, brutally honest even to her lord, but fortunately, has little, if anything, ill to speak of him, instead giving her candid opinions on other, more dubious individuals, and thus still showing to his person only the utmost respect. Even so, she still refrains from asking anything of him, save that he not probe too deeply into her nature and her past. As though she has no dreams of her own, she merely continues to serve however she is able to.

Despite her seemingly one-track mind, Luquiere does have her quirks. For example, her veneration of her master is such that, at times, she even does her best to imitate him. What he eats, she eats, what he does, she does, and the sorts of things that interest him are always things she makes sure to be fascinated by as well. The Prince isn't just her lord. Although it may not appear immediately obvious, he's also her personal hero. As one who saved her from a meaningless existence, who gave purpose to her life, she strongly admires him, wishing to be like him in any way she can, and, failing that, to at least please him with her actions. Any insult to her Prince is unforgivable, and to be rebuked with the utmost seriousness. Any praise or blame is meaningless save his. And, perhaps most importantly, any inconvenience he might experience, or any pain he might suffer, is worse than her dying a thousand deaths. Her devotion, both to his cause and his person, could quite frankly be called insane.

However, although she appears quite satisfied with her role as his protector, she nevertheless gives off a feeling of a sort of indescribable melancholy, as though despite all her hard work, she's still empty on the inside. Hyper-critical of all her own failures, and lacking any sense of self-worth, perhaps due in part due to her perception of herself as "cursed," she is driven half-mad by any failure on her part to complete her duties, no matter how minor. If the food she prepares for him is anything less than perfect, she'll spend weeks puzzling out the flaws in her recipe so as to expunge the error permanently from her routine. If she can't do even one thing he asks of her, then she will re-evaluate her duties, and the train in the given task until she can. Even if a goal is impossible, so long as her lord desires it be accomplished, then she will give every effort to achieve its completion. Due to her veneration of the Prince, she's wholly dependent on his praise and his satisfaction with her to remain secure in her position as his aide. But Luka is only Human, and as such, she can always find something she could be doing better. Consequently, her melancholy remains a perpetual state. Even so, there is a certain inexplicable element to her personality, an incomprehensibly vast sense of regret that seems to drive her to improve in any way she can. What could have driven her to such despair prior to her meeting with her new monarch, and what could it have been that instilled in her such a psychotic dedication to her master...?
---
---
---
---
⌈H I S T O R Y⌋

Very little is known of the mysterious, violet-eyed girl who has gained a certain level of infamy in recent years as "The Prince's Strength." Quite possibly, not even she herself knows where she comes from, or what, exactly, she is. She certainly didn't seem to remember having any sort of name until her liege, Prince Sangre, gave to her the identity she so cherishes today. All that is really certain is that before he met her, she was nothing: a beggar reviled as the bearer of a curse and a bringer of misfortune, shunned as a pariah and chased from place to place by angry crowds demanding the blood of the Witch who brought nothing but sorrow wherever she went. She made a life for herself by hiding her hair and eyes as best she could, and pleading passers-by for some small, relatively worthless coin with which to buy herself enough food to live on, and whenever her life started to look up, somebody would discover her identity as the infamous "Cursed Maiden," and she'd be forced on the run again. Famines or earthquakes would strike villages she entered, or there would be some sudden, horrible crime which she would seem the only possible culprit. It was as though the world itself demanded that all her efforts end in ruin.

Eventually, this pathetic, wandering existence found itself at the edge of the royal capital of Alfheim. There, she met a compassionate young man who turned out to be the son of the manager of a local mill. With his help, she'd just been offered bread, water, and a bed to stay in for the night. That is when everything went wrong. A bolt of lightning came from a suddenly cloudy sky, striking the mill directly and setting it ablaze. This fire spread to the nearby fields, and soon, most of the farms surrounding the edge of the city were destroyed. The only reason such a horrible thing could happen, people reasoned, was because of the arrival of the infamous Cursed Maiden, in whose wake similar tragedies had been left all across the continent. Gathering as a single mob, those whose homes had been destroyed took up the stones of the shattered mill, and began to cast them upon the helpless, despairing girl. Yet, in that instant, a most unexpected savior appeared, stepping between her and the mob and shielding her with a pair of glistening silver wings that shone like those of an angel in the moonlight. Even when these were broken, he didn't stop shielding her, until guards came to investigate the sudden clamor and drove back the mob. In the wake of these trying events, her protector ordered her to be taken with them, and to her amazement, she found herself staying in the royal palace.

As it turned out, the one who had rescued her at the cost of his wings was the Crown Prince himself, a young man named Sangre. Overwhelmed by his kindness towards her, and by the cost he had paid for her sake, the nameless, accursed girl begged to be allowed to serve him for the rest of her life in the hopes of somehow repaying him for his sacrifice. To her relief, he accepted her offer of her life as payment for her debt, even though almost the entire royal court was against the decision. Saying that as his servant, she'd need a "proper, respectable name," he decided he'd christen her with the rather elegant-sounding - if ultimately meaningless - name of Luquiere Kalina Lilant. Overjoyed, she accepted this "gift" without hesitation, not realizing that it had largely been meant as a joke, and wore the name as a badge of honor. When the Prince tried to give her a simpler nickname to go by, since her full name was much too cumbersome to bear repeating, she once again accepted without hesitation, taking this as a sign of friendliness and familiarity, even though the nickname was just his way of mocking her naive acceptance of the first name he'd given her. Thus, she came to be referred to as Luka. Surprisingly, no more unnatural misfortunes seemed to befall her in this period, casting some doubt upon the authenticity of her "curse."

As it turned out, the role of a personal servant, aide, protector, and secretary to a member of the royal family wasn't an unprecedented one in Alfheim. Although it hadn't been a position that had been used for at least a generation, there was once an order known as "Tarot" that had served the single purpose of guarding and serving monarchs and their heirs from their births to their deaths. Although it had been abolished as unnecessary during the great age of peace that came with Titania and Oberon's rise to power, seven of its members still remained as palace guards, even if they had lost their official positions. Studying the art of combat under them to augment her own experience fighting to survive, she became a formidable fighter. During this period, her superhuman physical abilities were fully realized, as was her startling potential for a branch of magic most had deemed to be solely theoretical. When her mentors had nothing more to teach her, Luquiere underwent the rites of initiation into the abolished order, which her Prince had approved, evidently amused by this show of dedication. Gaining the title of "VIII ~ The Strength," she pledged to live, serve, fight, and die for her lord's sake, thus earning her the appellation of "The Prince's Strength" amidst the court. Although traditionally, one's name, past, and belongings were all surrendered during initiation in favor of living solely for the sake of the lord one pledged oneself to, Luka had already surrendered herself body, heart, and soul to Sangre, and owned nothing save her name, which he himself had given her. As such, this requirement was waived, as it was considered she'd already left everything behind to join him in the first place.

Her dedication to him never once wavered in the years that followed. Although he grew increasingly demanding of her, she always tried her best to please him, and to earn his praise. Yet, he seldom ever complimented her on her work, and often belittled her with veiled jabs at her competence. Yet again, she failed to realize that these were largely meant in jest, and so began to question her worth, and her purpose in living. Devoting herself even more single-mindedly to her work, she continuously pushed herself past her limits, trying to improve enough as to earn his approval. For many years, that was all she cared about. But then, everything changed when the royal family was attacked. Oberon and Titania were poisoned in their sleep, and a similar attempt was made on the life of her lord, Sangre, on the following night. Although she spotted the assassin and chased him off before he could strike at her master, she failed to apprehend him, causing whispers to spread around the palace that it had all been Sangre's doing, and that she'd failed to catch the assassin as part of a deal that had been struck to off the King and Queen so that the Prince could take the throne. The guard began talking of rebellion, throwing its support behind the Elder Council, who supported these rumors. Terrified that her "curse" had brought ruin upon the kingdom she so cherished, she hastily gathered what provisions, money, and other important things she could, and fled the castle with her master in an attempt to get to safety, gather support, and hopefully strike back against the usurpers. Although frightened that her "curse" might bring ruin on Sangre, too, she had resolved to let nothing harm him - not so long as she lives. As of yet, she hasn't failed in upholding that oath, nor does she ever intend to...
---
---