---
---
❝The world is such a horrible place, but I cannot deny the beauty in it.❞
---
---
∞ Full name ∞
Moa Willow
∞ Nickname ∞
M, Bunny, The moon goddess
∞ ID Number ∞
M14568
∞ Age ∞
She was just past her fifteenth birthday if she remembered correctly.
∞ Gender ∞
Female
∞ Sexuality ∞
Asexual
∞ Face Claim ∞
Kagami Sasami
---
---
*

∞ Height & Weight ∞
5'0, 100lbs
∞ Hair color ∞
Pitch black
∞ Eye color ∞
A light shade of red, much like a rabbit's
*
∞ Distinguishable Facial Features ∞
None
∞ Birthmarks/Scars/Tattoos/Other ∞
Her identification code is tattooed on her back, near her shoulder. Other than that her skin is unblemished.
∞ Physical Description ∞
Moa has a tall and willowy figure, standing at a height of 5'0, and weighing a mere 100lbs. She has flawless pale skin while her eyes are a simple, pale shade of red, causing her friends to dub her bunny, partly because of her appearance, but mostly because of her fascination and love for those creatures. Of course, because of that, she has also being nicknamed the moon goddess, from the legend of the woman who lives in the moon with her rabbit.

She always wears something like a school uniform, which colour compliments her eyes. Whether in battle or just slacking around, she usually carries a pillow with her, so she could easily fall asleep whenever there is time to. It brings her some comfort too, so she brings one along with her, hiding it in her clothes so people won't think of her as weird.
---
---
∞ Likes ∞
♥ Rabbits l especially the white ones. Moa can never resist those balls of fluff.
♥ Candy l Her favourite is the Japanese sweet Senbei, but she eats any other candy too, enjoying all of them immensely.
♥ Soft things l Like pillows, they give her a sense of peace and comfort.
∞ Dislikes ∞
✖ Scientists | She's had a bad feeling of doctors or scientists ever since they got shot down and those people did tests on her. She is always wary of them and has a great amount of negative feeling and distrust toward them and their work.
✖ Betrayal | She is not one to take betrayal too easily, and hates it when people back stab her.
✖ Being alone | It makes her feel hepless and afraid, so if you leave her alone for a period of time she would become increasingly affectionate all of a sudden.
∞ Talents ∞
✔ Singing l Her voice is melodic and beautiful, and it can change in pitch and tone smoothly. Still, she hardly sings anymore.
✔ Acting l Though she could never be as good as Kou, Moa can act, using disguises or changing her voice. She is also a brilliant liar.
✔ Learning l She learns at an incredible speed, soaking up knowledge like a sponge.
∞ Fears ∞
✘ Needles l The experiments has left her with a strong fear of needles, and she would break down in fright if she even sees one.
✘ Blood l For a supposed 'killing machine' Moa is terrified of blood, and thus cannot bear to see anyone hurt. She always helps heal them even if they were her enemies.
✘ Water l She is worried that she might malfunction under such circumstances, though she was told that she was waterproof.
∞ Flaws ∞
✘ Sleep l She literally sleeps wherever she wants to, even if its immediately after a battle. Even when she's awake, she's only half-conscious, always yawning, and only appears fully alert when in battle.
✘ Trust l She is a little too trusting of people, always believing that they wouldn't do her any harm.
✘ Quiet l Moa hardly speaks, only adding in something when she is required to, but remains silent most of the time.
[/font]
---
---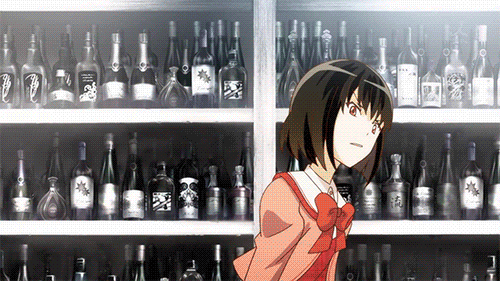 ∞ Abilities ∞
Weaponised limbs[/b]
Her ability allows her to make machine parts come out of her arms and legs. It's a very confusing ability, but Moa learned quickly, and controls all the changed body parts like they were her normal ones. She has several weapons built into her, so she can control which one comes out. Some of them are a sniper rifle, a machine guns, a bazooka, a laser shooter, and several other big guns that would put armies to shame. Having guns has also given Moa a freedom to advance her weapons, and she sometimes builds in new things like a condensed milk squirter or a water gun for fun.

Regeneration
Well, not exactly. Moa 'regenerates' by fixing her weapons, before turning them back into her hands again. Even if her arm was cut off, as long as she could make another gun in the place of it, she could regenerate her arm back. However, a downside to it is that the high technology will be replaced with basic one until it 'grows' back, but the least she could do is maintain a normal appearance.

Hardened body
Having weapons that can come out any time gave Moa a hardened body and defences. Her strength in her arms and legs has also increased, so she could run faster or lift heavier objects despite her fragile look.
[/font]
∞ Personality ∞
Moa is a sweet and kind girl, always wearing a slight smile on her face and ever ready to help. In fact, her only flaw is that she could fall asleep in any condition, no matter where she is. In fact, that often got her teacher annoyed during her trainings, but its hard to stay mad at her as she always apologised meekly after that, and never once got bad grades. She always keeps up her good behaviour as she just has a natural flair for learning and taking in information, and that helped her in using her powers to their potential. She has a tendency for mischief too, often scaring her friends but making a realistic looking pistol come out and squirting water at them, but her jokes are always harmless, and she makes sure that nothing big comes out of them.

Always optimistic, there's hardly a time when you could see her sad, but even then its just a quick flash in her eyes. She knew fully well that she must keep the pain and sadness in, as the smile is probably her only protection now.

Most of the time, Moa will simply stay indoors and read, hardly socialising or finding the need to, but she loves to have friends and appreciates them. However, she is often taken advantage of as she trusts too easily
[/font]
---
---
∞ Romantic Interest ∞
TBD
∞ History ∞
Moa lived a pretty normal life in a small town Hiruna on the beautiful planet Artemis, and was loved by everyone who knew her. All she ever wanted to do was to spend the rest of her life there, just wandering about the meandering streets lazily, or dozing off in the sunshine with her friends. In all, her life was pretty much perfect until the government came. They took young Moa when she was ten, bringing her into a training facility where she trained with several others, and installed her powers within her. Though Moa found it confusing as to why they had to have powers, she followed without complaint, always optimistic about what will happen. It was them when she found out the creature called a 'rabbit' on earth, and loved it immediately, often found dozing off with a pile of books about them beside her at the library.

Of course, it didn't take long for them to send the trainees to earth. Due to the fast rate that she was learning, Moa was taken to earth when she was 14, with several others, and she was overjoyed at the thought of finally meeting the rabbit creature she loved so much. What she didn't expect was that the ship was shot down before they even touched down. As the debris fell all around her, she was confused and frightened, not knowing what happened as her team mates vanished from her sight. Even when they tried to subdue her, she refused to hurt them, stubbornly believing that they didn't mean to hurt her.

They caught her without any problems and brought her to Area 51, where she was put in a room and conducted tests on. She hated the tests immensely, as because of her powers, her skin and flesh has became hardened, and it was hard for them to take a blood sample. They had to find the correct vein too, and if the needle didn't go in immediately, they simply stabbed her again and again, not caring about her as she wasn't one of the humans. Moa had to endure the pain each day, causing her arms to become black and blue, covered with bruises from the failed attempts of the needles, and when they had to put tubes in several parts of her body the pain was sometimes too much for her to bear, and she would silently cry herself to sleep each night, her body covered in wounds. There were countless times when she just wanted to end it all, but she always kept looking on, forcing a smile on her face even in the worst situations.
*
∞ Hex Code ∞
Red?