---
---
"What does it mean to be truly 'alive'? I lost the answer to that question long ago."
---
---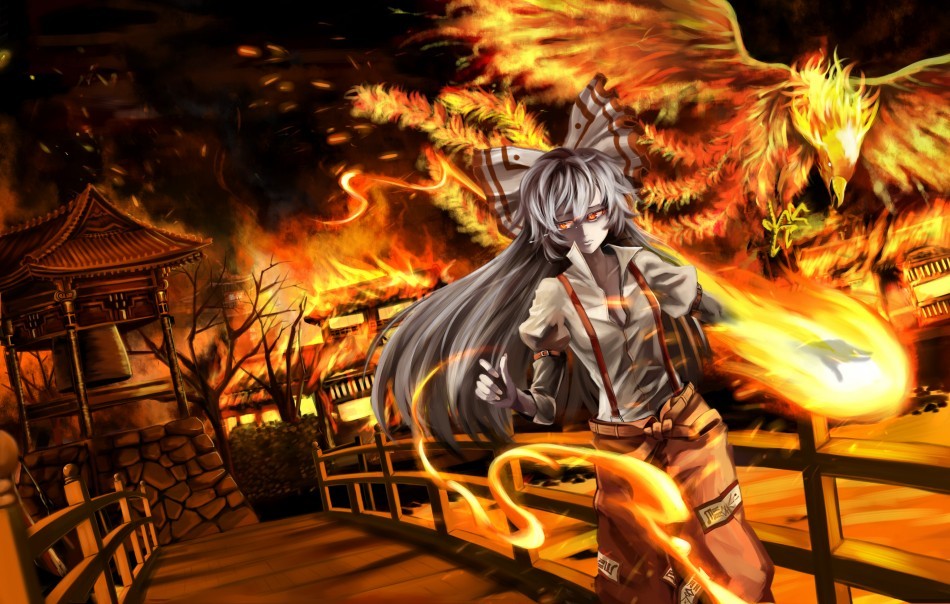 ---
---
---
---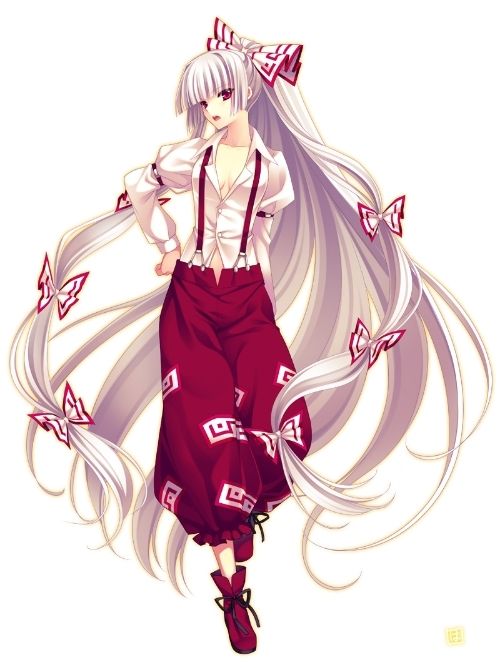 FULL NAME
TITLE
Scarlet Guardian of the Bamboo Forest
AGE
Roughly around 1,185 years old
GENDER
SPECIES
ETHNICITY
OCCUPATION
GENERAL APPEARANCE
Mokou has red eyes and ankle-length light grey hair. She wears a light brown shirt that appears as if it's been discolored from fire, and dark red overalls that're randomly decorated with paper charms. Her hair's tied with these same red and white paper charms. The paper talismans on Mokou's pants and hair ribbons are wards to protect her from being burned by her fire. Her shirt, which lacks such talismans, appears to have been burnt repeatedly.
---
---
---
---
PERSONALITY
At her core Mokou has a very dubious personality. She is the kind of person who, when pissed off enough, wont hesitate to attack with little regard for the safety of herself or others around her, and if the person she's attacking is her arch nemesis Kaguya then any chance of the encounter not ending in someone dying has basically gone up in smoke. No pun intended. She is a nice person at heart, though, and this violent aggressive side only exists because of the past events in her life over which she had little control. The way she was treated after gaining immortality - feared and hated by humans - lead her to go into hiding and eventually on a rampage where she destroyed anything she came across for hundreds of years. It was nine hundred years before she found her way into Gensokyo where humans didn't fear immortals and she could finally start to make her way back into their society somewhat, so it's only to be expected that some part of her aggressive side still lingers. She does keep it for people who she feels deserve aggression sent their way, though. She shows her kinder side when she helps lost humans out of the Bamboo Forest of the Lost, though. She knows her way around the forest, and is friendly with the fairies who live there, so she doesn't get lost and uses this to guide people back to safety free of charge. During these trips she listens to their stories about their lives but doesn't freely share her own stories, probably because of the hesitation she feels when it comes to getting close to others. To continue her dubious personality, though, she has a habit of swapping between being friendly and threatening to a person in a few seconds flat.

Being an immortal like she is Mokou finds it difficult to get close to people, since she'll exist forever while even the oldest and strongest youkai (even the ones who are older than her) will waste away eventually. She knows this is the case and doesn't think anyone else can truly understand how she feels, but it's not like she doesn't let people get close to her at all. She has a bitter rivalry with fellow immortal Kaguya Houraisan who Mokou also feels is another person who can understand her completely even if the two of them fight and kill one another constantly. She is also on somewhat friendly terms with Kaguya's subjects and youkai friends, so she doesn't hate them for their loyalty to their princess.

Speaking of Kaguya; Mokou's hatred of Kaguya is something that consumes her very existence. It's the reason she first killed a man and stole the immortality elixir that gave her the gift of eternal life. She claims to hate Kaguya with all of her heart, and admits to stealing the elixir to spite her, but after nine hundred years of stumbling around on her own she had grown tired of existing without a purpose. Eventually finding Kaguya in Gensokyo was something that Mokou thought of as a magnificent paradise, since her arch rival was stuck in the same horrific fate she was. They could continue killing each other as long as they wanted and that made Mokou extremely happy since she finally had a purpose again. Basically Mokou isn't good with emotions, especially not after her first nine hundred years of immortality being less than desirable.

Following up from personality traits gained from her immortality; Mokou takes really, really bad care of herself. She has self destructive tendencies thanks largely in part to the fact that she doesn't have to worry about taking care of her body in the slightest. If she doesn't eat she'll starve to death, if she doesn't wrap up in winter she'll freeze to death in her sleep and if she eats poisonous mushrooms then she'll certainly die, but these things don't matter because she'll come back to life seconds later. The only thing that will happen is that she'll feel the pain of death, and that'll just make her stronger in the long run, or so she seems to believe.

If her dress sense wasn't enough of a clue and her harsh, crude word choice didn't make it obvious then Mokou is quite the tomboy. She was also the unwanted child of an aristocrat and wasn't allowed to go out in public because of this. Perhaps this was also something that added to her less than stellar people skills?

Finally, and perhaps most importantly, Mokou does not like being immortal. She views it as a curse rather than a gift or a blessing and thinks deeply about whether or not she's truly alive anymore if she doesn't need to take care of her body's needs. She doesn't really let this dark thought process show on the outside, though, but doesn't mind talking about it when dealing with someone who understands her.
LIKES
DISLIKES
✦ Drinking
Kaguya ✦
✦ "Killing" Kaguya
Arrogance ✦
✦ Smoking
Being taken advantage of ✦
---
---
---
---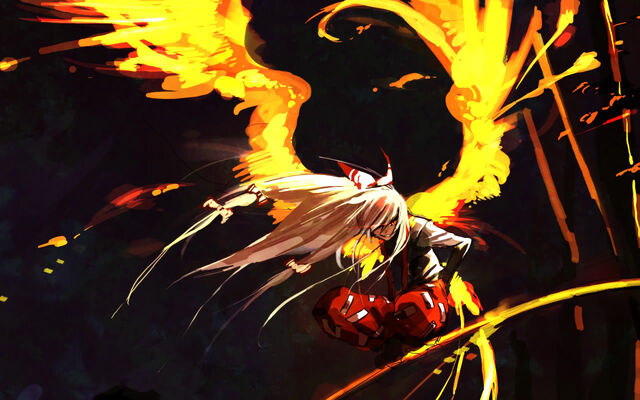 ABILITIES
Neither Ageing nor Dying - Mokou's most important ability is her immortality gained from drinking the Hourai Elixir. Thanks to this ability she cannot die, cannot age and cannot get ill. It also prevents her from entering Hakugyokurou - the netherworld - because to do so one must be 'dead' and that's impossible for her. Thanks to the Hourai Elixir her wounds regenerate quickly with larger wounds taking days to heal. She can, however, still feel pain and cannot keep fighting once the pain has become too great to deal with.

Manipulation of Fireire - Mokou has the ability to create fire, increase and manipulate it but lacks the ability to dissipate the flames she summons. Since her control of her powers came from training it seems likely that she felt she didn't need to 'turn off' the fire given her immortality. In addition to controlling fire she is also resistant to the damage caused by them, though unfortunately her clothes are not. So she wears special warding charms that keep her clothing protected from her flames.


Other Skills - While not as exciting as fire manipulation or immortality she is a pretty good cook and fisher.
WEAPONS/TOOLS
STRENGTHS
-Over a thousand years worth of combat experience with numerous youkai
-Her body is extremely durable but she is far from being immune to injuries.
-Mokou's immortal soul allows her to suffer any kind of injury without being killed even if she were to be torn to pieces. Over the span of her lifetime she has built up a strong resistance to pain. She still feels it but it will take a lot more for it to slow her down.
WEAKNESSES
-Mokou's immortality, however, doesn't prevent her from being susceptible to fatigue. Even though she is incapable of dying, she still feels pain when injured just as a normal human does. Since she doesn't die, feeling the sting of death when she reaches the brink of oblivion brings her a great deal of pain and fatigue when she immediately revives.
- Depending on how devastating any injury she takes, Mokou's wounds usually take days to recover if lethal.
---
---
---
---
FAMILY
Fujiwara no Fuhito || Deceased || Father
HISTORY
Mokou was born as the daughter of a well-known noble by the name of Fujiwara no Fuhito who was a powerful member of the imperial court of Japan during the Asuka and Nara periods roughly 1,185 years prior to our story. A life fitting of a noble girl had her with few friends, yet she lived a life of comfort and luxury. One fateful day news of a mysterious young woman who was rumored to posses unearthly beauty reached the capital of Japan. It was said that she was the daughter of an old bamboo cutter and already, men from all across Japan had heard tales of her beauty, and came in hopes of catching a glimpse, but none ever succeeded. The true identity of this fair maiden was the legendary Kaguya Houraisan, who was formally the princess of a race of beings who inhabited the Moon. These beings, Lunarians as they call themselves, possessed the ability to brew a supernatural elixir that had the power to grant any being immortality if they drank it. They called it the Hourai Elixir and its purpose was to test powerful rulers inhabiting the Earth and to cause disturbances among the Humans. To put it simply, this elixir was created by the Lunarians to play "god" for their own twisted entertainment but even though many humans have been tempted by this "Fountain of Youth" the Lunarians never once have let the Hourai Elixir to touch a mortal's lips often times demanding impossible requests and tasks in exchange for it. They made sure that the chances of any human being able to acquire it were a definite zero. Though strangely enough, Lunarians themselves were strictly forbidden to consume the Hourai Elixir. The Elixir makes one an existence completely independent of even the concept of reality, thus making one not subject to the bounds of life, death, or even manipulation, although the pain of injuries can still be felt. This medicine indeed makes one truly invincible, and forced to live out their existence forever and thus no one is allowed to even one drop of it.

Kaguya Houraisan, who as stated before was the princess of the Lunarians, managed to convince the lead medical genius of the Lunarians to create the forbidden elixir for her own self interest and was granted immortality. It wasn't long until it was known to everyone that the princess had committed the worst of taboos and she was quickly exiled to live among the humans as punishment. Not long after she was sent to earth, Kaguya was found by an old bamboo cutter who took her in and she lived with him and his family for many years. Though they thought it was strange, the family never asked Kaguya why she appeared to never age.

Tales of her unearthly beauty led men from all across the land to seek her hand in marriage, Mokou's father being one of them, but none could successfully complete her trial of the Five Impossible Requests one must complete if they were to be wed to her. The first was to bring her the stone begging bowl of the Buddha from India. The second was to retrieve a jeweled branch from the island of Mount Hourai. The third was to seek the legendary robe of the fire-rat of China. The fourth was to retrieve a colored jewel from a dragon's neck. The final task was to find the legendary Cowry treasure of the swallows. Her father was never able to complete even one of the tasks, and was sent home with the shame of seeking another woman. This naturally caused the family to split, the father left out in shame, the mother went insane over time since their marriage had lasted at least ten years, and Mokou herself fell to pieces at how one woman wrecked her family. Her life now in shambles Mokou harbored hate against Kaguya since then, and never knew how to take revenge upon her for the tragedy that befell her family.

That was, until she heard about "something important" belonging to Kaguya Houraisan, which was, of course, a small portion of the same Hourai Elixir that was the cause of her exile which she had left for the Emperor of Japan for reasons unknown to Mokou. From the information she had gathered, the Emperor of Japan had ordered for the Elixir to be disposed of and destroyed for he had no desire for immortality. A select group of soldiers were to take the Elixir to Mt. Fuji, which was believed that the summit was the closest to the heavens, where they would attempt to get rid of the Elixir once and for all. Managing to follow the soldiers in secret, she trailed the group that was carrying the Elixir, clearly intent on using it against Kaguya somehow, waiting for the time was right. Once there, it was then that Mokou discovered that the group of soldiers planned to fling the jar into the fires of the volcano to destroy it. Distraught that her plan would go up in flames (literally) if she didn't act soon, Mokou began to panic. But there was nothing she could do. A small noble girl stood no chance against even one of those soldiers. But as they were about to throw it in, the goddess Konohana-Sakuyahime, who calms the eruptions of Mount Fuji, appeared and forbid the soldiers to throw the jar into the volcano because Mount Fuji's volcanic activities would restart should they do so. She explained to them that it was in fact the Hourai Elixir, the elixir of immortality. She gave the command to go to Yatsugatake where her older sister Iwanagahime handles immortality and unchangingness dwelt.

The soldiers then tried to light the jar on fire, but Sakuyahime's powers prevented it. Discouraged that their efforts resulted in vain, soldiers decided to give up for the night and try again at first light. Exhausted from trailing the soldiers and relived that she still had a chance, Mokou fell asleep hidden within a cave nearby as she planned to wake up before the soldiers to snatch the Elixir and be on her way. But shortly after she laid down a bloodcurdling scream echoed from where the soldiers set up camp and Mokou scrambled off to see what it was. Apparently the soldiers had decided to take the elixir for themselves but Sakuyahime, who had been keeping a close eye on the group managed to kill all but one of the soldiers before they had consumed it. As Mokou sprinted towards the camp, now littered with the bloody bodies of the soldiers, the one who managed to escape Sakuyahime's wrath ran straight into her. As they both fell to the ground, the jar that contained the small portion of the elixir fell from the soldier's hands and both Mokou and the soldier went for it. Mokou, who was much smaller and quicker than the large man, snatched up the jar and sprinted away from his reach. The soldier gave chase and quickly gained on the girl. Mokou who had no clue where she was on the mountain found herself reaching a cliff which was a sheer drop off to the ground below. The soldier who had caught up to her by now cornered her to the edge of the cliff. Mokou helpless and out of options reached for one of the sharp pins that held up her hair as some for of defense against the soldier who was closing in on her quickly. As the burly man lunged for her, Mokou brought the sharp accessory up to his face and stuck it into one of his eyes. Letting out a sharp cry of pain the guard stumbled off balance as Mokou manged to sidestep to shove him off the edge. The girl watched as the soldier plummeted to his death. Now with nothing standing in her way, she finally was in possession of the thing that would bring justice to her family. But has Mokou held the small jar she quickly realized that she had no clue about what to do with it. She knew exactly what it was and what it could do but it never occurred to her that she would actually come into possession of it herself. Though while pondering what she would be able to do with such a powerful elixir the desire for immortality consumed her. She thought of all the possibilities. She would live forever. How wonderful would that be? Never to die. To have an eternity to experience everything in life. And if her situation was unfavorable she had an eternity to fix it to how she wanted it. Her young naive mind clouded her reasoning for she did not even once think about the cruel, torturous, dark side to living forever which she would regret for the rest of her days.

She abandoned her life after a number of years of gaining an immortal soul and spent six hundred years alone, away from humans. During this time, she picked fights with youkai, the desire to be stronger, and to one day take revenge upon Kaguya for her actions. Her choice to become stronger, however, was questionable since she fought youkai, after youkai, after youkai in an attempt to vent her anger at how her life became a wreck. In that time she was becoming stronger, she came across a youkai that possessed similar traits as the mythical phoenix, who she felt was mocking her, and thus picked a fight with it. But she, like the phoenix, was immortal, and thus fought for too long. Mokou and the Phoenix fought for several days, until the phoenix itself surrendered and acknowledged Mokou as a superior individual than itself, bestowing itself onto Mokou, its power of Phoenix Fire now hers.

Another three hundred years passed and for those three hundred years, she became bored with the endless fighting with youkai so she lived in isolation once again. She spent her days wandering aimlessly and found herself in a large bamboo forest which was know as the Bamboo Forest of the Lost located in the midst of the haunted lands of Gensokyo. Mokou took a liking to the place as it felt hidden from the rest of the world. It was a place where she could live tucked away from the world she left behind so long ago. For many years she wandered the forest, learning key places and established a small home for herself there. She found it hard to know locations within the forest, so she set up an encampment in a small clearing she found, and that was where she set up her new "home". It took many years, roughly fifteen, after stumbling upon the Bamboo Forest of the Lost to know where she was at most times by instinct as she developed a mental map of the forest. The few friends she had were rabbit youkai who were peaceful, and they helped her forage for food while she helped protect them.

A short time after she settled down though Kaguya and Mokou met once again at the hidden manor, Eientei, Kaguya had settled at when she went into hiding from the Lunarians. Mokou noticed the change in the Bamboo Forest when she heard from her rabbit youkai friends about invaders at the hidden manor, and she ran to investigate. It was then that Mokou's hatred for Kaguya reignited with full force and this time nothing stood in her way. When Mokou confronted her and the matter was brought up about the many men who lost their families, Kaguya had a lot of recollection of the many men who proposed to her and attempted the Five Impossible Tasks, and seemed proud of "putting humans in their place". Mokou, angered by her arrogance, went on the offensive against Kaguya, screaming vengeance for her family and friends who lost their families because of her. Their fighting continued almost daily since then. Though Mokou's hatred towards the Lunar Princess burns stronger than any flame, deep down she cannot deny that she is relived to find someone with the wretched curse called Immortality.

Throughout her early years living in the Bamboo Forest, Mokou has had minimal contact with the human settlement within Gensokyo. Occasionally she acts as a guide for humans who get lost among within the forest, protecting them from hostile youkai that live there.
---
---
Uuu~
---
---