---
---
"With a gentle hand, a soft voice, and easy understanding, I will make peace."
---
---
[url=link to theme song]Theme | Artist[/url]
---
---
---
---
FULL NAME
TITLE
AGE
GENDER
SPECIES
ETHNICITY
OCCUPATION
GENERAL APPEARANCE
Kiyoko Memoe (Japanese meanings: Pure Child, 100 Blessings) Is fairly tall. She has very, very long, slightly curly black hair, and eyes that look like runes, but with no true color. they change daily. She usually always wears a tight fitting kimono with cherry blossoms and wolves on it, and very large sleeves. She just appeared in Gensokyo as a small child. She has grown graceful and strong from running and climbing in what she calls "sacred" cherry tree garden. She has plenty of curves, but small features, making her perfect in ways. She lived with an herbalist of whom taught her how to heal people. She grew strong spiritual bonds with spirits and reading people's auras and telling them the correct paths to follow in order to make their lives, and other people's lives, better. Many call her a God because they believe she is a child of one. She has a very unusual wolf by her side at all times...

She was, in fact, born by a God.

The Goddess of Peace (Yin-Yang), Dream (as we will call this Goddess) wants some part in this. And she accompanies her child in the form of a wolf. But no ordinary wolf. A very, very large white wolf. And it always protects Kiyoko Momoe from harm.
---
---
---
---
PERSONALITY
Kiyoko Momoe is a very shy girl because of what she looks like, because she knows people talk about her. Dream talks to her, as a wolf, but only Kiyoko Momoe can understand. Because of her powers she doesn't want to look into people's eyes, but if she believes they are lying she will to get the truth out of them. She has almost mastered making shields out of magic runes. Dream makes the runes for her. Some of Momoe's magic depends on things like stone runes with etchings and paint on them.

Kiyoko Momoe is normal in some ways. She dances sometimes around her fire on a full moon in the middle of the night after making sure no one is around, And therefore is almost never seen dancing. She cooks and goes to the market with money she has earned by working for the herbalist. She managed to make a small swing with the help of the Kodama that live in the forest's trees. And she sings thanks to them while swinging to thank them because she doesn't know if she could do it herself (maybe not very normal but still something someone would do at least once if they were able to).

Kiyoko Momoe is a very magical and spiritual being, for she hath come from the heavens. Will she be able to make peace between two different species? There is only one, hard way to find out...
LIKES
DISLIKES
✦ Wolves
Mean people ✦
✦ Practicing her abilities
Being called names ✦
✦ Her cherry tree garden
War ✦
---
---
---
---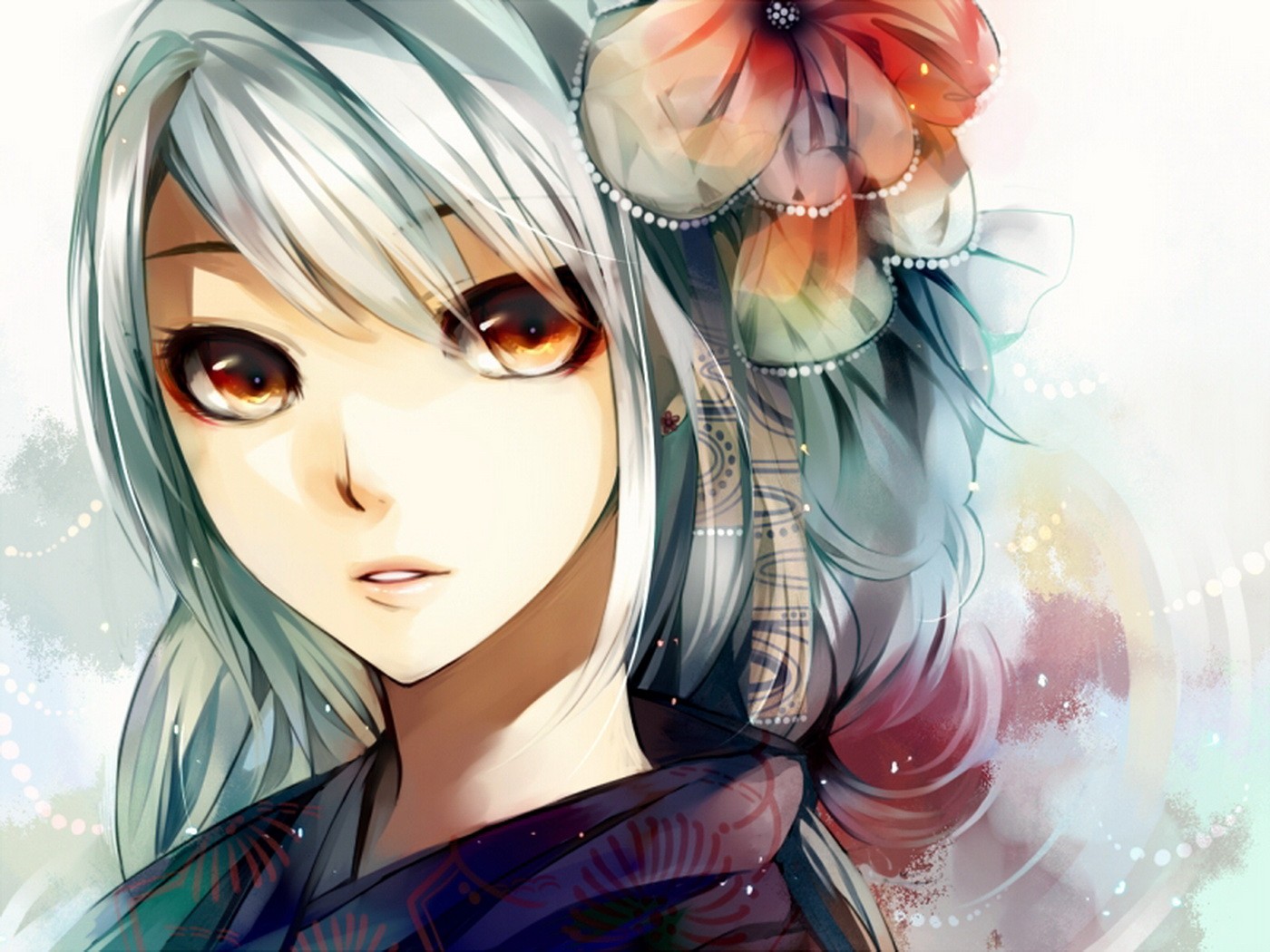 ABILITIES
Kiyoko Momoe can see into people's souls through their eyes, and as she does this, she can control that person's body with her mind. She can see what type of person they are.

Kiyoko Momoe knows a small amount of Telepathy that is able to control objects, such as her Runes that she uses for most of her magic. She holds her hand out close to her leather pouch full of runes and the one she wants shoots into her hand. Sometimes it doesn't give her the correct one so Kiyoko Momoe takes three seconds to check the rune before using it, Allowing her to be attacked before being able to protect herself.

Kiyoko Momoe can make barriers while holding a blue Aqua Rune, so she can make stairs or a pathway were ever she needs/wants, so she can protect herself. But she can't attack while using one. She has a mental trust list of people that can pass through her barriers if needed.

She can become invisible while holding a white Air Rune and can pass through walls. If she holds someone's hand before doing this, they can both be invisible together and can't let go of each other until Kiyoko Momoe stops the spell. Though, If something has eyesight better than the average human during day/night, they will be able to see her during day/night. If it is only slightly better, Kiyoko Momoe appears transparent, almost like a spirit. She can also choose to be transparent to everyone (not including things that have eyesight worse than the average human).

While holding a Red Ignis rune, she can make fire when needed. So she can make fire under a pot, or fire around her for various reasons.

When she is holing a black Darkness Rune, she can make it night, and with a yellow Light Rune, she can make it day. She doesn't use this much because it messes up how the world lives and works. But she can use the black Darkness Rune to blind people and then use the Light Rune to take the blindness off.

Holding a green Terra Rune, Kiyoko Momoe can make earth rise and fall, creating a pit, but she cannot use this because it both messes up the world and takes up a lot of her spiritual energy, being very deadly the more she does it, because this builds up and holds against her for years.

Dream (the wolf, if you have forgotten) is very, very large and serves as a mount, as well as a protector and a mother.

Best ability for last, Kiyoko Momoe can harness her godly power ~ Which means, the girl inherits her mother's power, but more often, her mother decides to take over the girl in times of need, so that Kiyoko Momoe cannot switch back. Either way, as the goddess enters, you can hear a scream for about 10-20 miles all around, and as the goddess leaves to go back to the wolf (of whom just sits and waits) the girl goes limp, as it takes up a lot of her spiritual energy, but it slowly comes back. Before the Goddess leaves, she creates a barrier so that her child will not get hurt by any enemies that might try to harm her. (Also, Kiyoko Momoe's hair and eye color change to blue)
WEAPONS/TOOLS
COLOR RUNES ~ Kiyoko Momoe has mastered making Runes of all types, and they help control what magical ability is going to be used. She makes the strongest ones she possibly can, but they break easily and sometimes have limited uses on them, even with the strongest material. Kiyoko Momoe has a medium sized fur pouch that holds all her runes. The runes have carvings with colors painted thinly inside of the carving.

WOODEN POLE ~ Kiyoko Momoe uses a strong cherry wood pole with a slight magical ability to it. It has a golden sphere at the end, with wolf and flower etchings on it like the rest of the pink pole does. it is laced with golden markings of hearts, and has a tight fitting woolen part to grip it so she doesn't get slivers or blisters and be comfortable when holding it.
STRENGTHS
~ Being part god - Her magical abilities - Her softness ~
WEAKNESSES
~ Living in the Forest Of Magic - Her sometimes unstable magic ~
---
---
---
---
FAMILY
Dream (the Goddess of Yin-Yang in Wolf Form)
HISTORY
Kiyoko Momoe dropped from the sky to the ground, into a lake. There was another splash behind her. They had made a double rainbow in night sky, although it quickly vanished. Kiyoko Momoe saw what had splashed behind her. It was a very large, white wolf with black markings. The wolf picked Kiyoko Momoe in her teeth as it would a pup, but then threw Kiyoko Momoe behind her, and she landed on the wolf's back.

From there, the wolf swam to shore and walked into town just as it was daybreak. Then the town woke up and people came outside and saw a large wolf walking down the road with a baby on its back. The she-wolf walked down the street to a hut and sat down with Kiyoko Momoe. Just as the herbalist opened their door, the wolf and baby sitting side by side on the pavement in front of his door. He picked Kiyoko Momoe up and carried her into the house. The wolf followed and the man allowed it, for reasons even he could not explain.

So Kiyoko Momoe grew up with the herbalist and learned how to talk, walk, eat with good manners, and cook. When she became nine years old, he taught her herbalism, And then that is when the she-wolf started to talk more and teach her magic. And one day while sitting outside making runes the herbalist asked her what she was doing. "I am making runes," She replied. "And who taught you how to make runes?" the herbalist questioned. So she explained and then after a few weeks showed him what she could do in the middle of the road, but this was in self defense. Her hand, quick as lightning, picked the rune from her pouch and make a shield to protect herself and anyone else down the road from a runaway cart. Everyone was shocked at what a young girl could do. She then became an Arahitogami (living god).
---
---
---
---