---
---
"No life is without purpose, some people just have more unfortunate purposes than others. Mine is to change those fates."
---
---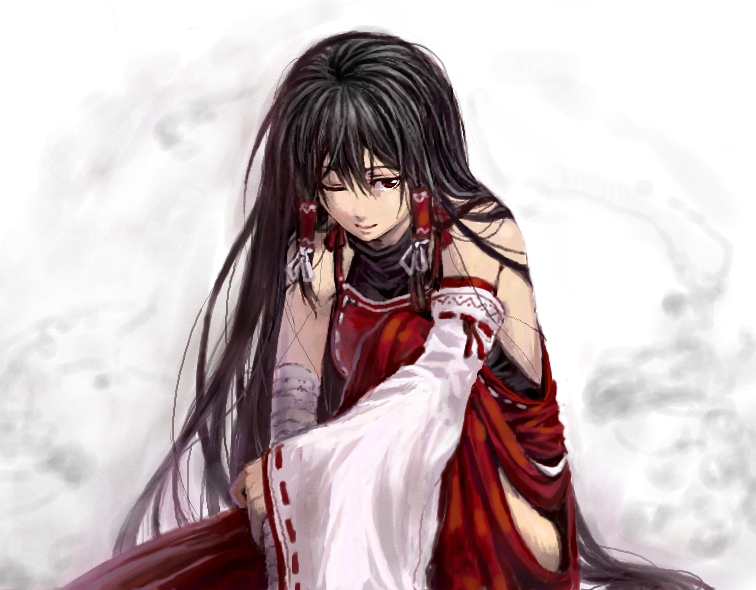 ---
---
---
---
FULL NAME
TITLE
The Fierce Shrine Maiden of Hakurei
AGE
GENDER
SPECIES
ETHNICITY
OCCUPATION
GENERAL APPEARANCE
If there is one thing that Reika is most known for, it is her size. She's over six feet tall, towering over nearly everybody she knows. Combined with her hard muscle tone, Reika is often compared to an Oni. As well as being very muscular, she also has a rather curvy figure, which is most obvious when she's in her combat wear. Scars cover large portions of her body, mostly around her arms and hands, due to her long experience of physical combat against Youkai. Reida has a narrow face, brown eyes and, unlike her daughter, she has long black hair.

Reika's clothing tends to vary. When she is doing shrine-related rituals, she wears a red hakama, a white kimono and sandals like a shrine maiden typically would. When she has to deal with Youkai, instead of the kimono she'll wear a sleeveless red top, detached white sleeves and a tight black leotard underneath, as well as combat books. Typically, she'll have her bangs in hair tubes which occasionally have ceremonial bells on them (depending on the occasion.)
---
---
---
---
PERSONALITY
Most would think of Reika as a cold and unthinking fighter, always retaining a stoic expression and a soul-piercing glare as she pummels Youkai to a pulp. Yet, while she certainly appears that way when she's in a bad mood, in reality, Reika is a very caring and compassionate woman. She might not be the most social person, as she doesn't often interact with other humans other than while she's fulfilling her duty as a Youkai hunter, and is usually very serious and somewhat frightening when doing so. Reika adopts this face in front of both humans and Youkai as she does not want to show any sort of weakness.

When among family, she also attempts to retain a strong expression, not wanting to disappoint her predecessor (her mother) or her successor (her daughter). She might be a strict mother, but she's always has her daughter's well-being in mind. That said, it isn't as if she can't be unprofessional in front of them. Reika and her mother may take their duties very seriously, but her mother's occasionally casual nature does rub off on Reika, who often acts in false irritation toward her. Reika also tries to be an encouraging and strong figure toward her daughter and is always teaching her the ways of the Hakurei shrine maiden. Everything she does is because she cares for her family, even if she isn't quite doing it right.

As caring as she might be under her cold exterior, Reika does have some negative traits. Reika tends to hold grudges, and when she holds a grudge, she will not let it go. Reika also hates Youkai, even without having any justification for her hatred. She merely believes that all Youkai, by nature, attack humans, and she tends to blame them for any and all of her problems. While she has no qualms against brutalizing Youkai, she absolutely refuses to harm humans, regardless of any quarrels she may have with them. Though some humans may think of her as monstrous, she justifies that only monsters attack humans. Still, she fears being considered as such, as she wishes to do nothing but good for the sake of her family, her friends and all humankind, and her method of doing so is to fulfill her duty as the Hakurei Shrine Maiden, to exterminate all Youkai. A world without Youkai is a better place after all.

Isn't it?
LIKES
DISLIKES
✦ Humans
Youkai ✦
✦ Her family
Her sister-in-law ✦
✦ Mockingbirds
Heights ✦
---
---
---
---
ABILITIES
The Hakurei are among the most gifted humans in all of Gensokyo. Their bloodline and their continued service of their deity grants them many blessings, especially in the girls of the family. Different shrine maidens tend to have slightly different blessings, but Reika inherits many of the traits of her predecessors.

The ability to fight Youkai ~ Reika's unique blessing is quite unlike that of all her ancestors. Reika was born with a lot of spiritual energy, even for a Hakurei, but her energy is quite unstable. Although it is difficult for her to use typical spiritual attacks or effectively use a weapon such as a bow, Reika is able to transfer her energy into raw power, giving her supernatural strength and stamina in battle, comparable to that of a Youkai. Ordinarily, physical attacks aren't all that effective against Youkai, but Reika is gifted with the ability to severely harm Youkai with her punches and kicks to the point where it is difficult for them to recover. Although her battles tend to be long and drawn out, Reika will maintain as much stamina as her will to fight. Her will it the source of her energy, and as long as it stays strong, she will be strong. That said, whenever she doesn't have the will to fight, she weakens, so until she gets into a fight, her supernatural abilities aren't as active. That said, rigorous training does make her about as strong, if not stronger, than ordinary men. Still, using constant or strenuous usage of this power will put strain on her body, and she may have trouble recovering from both wounds and fatigue.
The ability to manipulate the Yin-Yang orbs ~ The Yin-Yang orb is a sacred jewel to the Hakurei family and a shintai to the god that inhabits the shrine. Therefore, it holds the power of the god within it, and it takes a lot of training to be able to handle it properly. Reika hasn't entirely mastered it and thus, can only use it in a limited amount of ways, such as manipulating its size and launching it toward enemies, as well as use it as a shield. If not properly controlled, it could harm Reika as well. Reika's mother, Chiyoko, has full mastery over the orb's usage and can do a variety of things with it, such as multiply it, control its movement with her will and make use of its true power, a power that Reika desperately wants to master, just as any woman would. It's true powers include;


1. The ability to eat sweets and not get fat
2. The effect of giving its user whatever scent they desire
3. The ability to turn into a cat whenever the user chooses

The ability to channel gods ~ Reika is still training in this ability, but as a shrine maiden, Reika has the ability to channel gods within her own body and she may make use of their blessings for whatever purpose she needs, as long as she can perform the rituals correctly and retains enough focus. While Reika has no problem doing so in rituals such as Kagura dances (as well as with the help of sacred sake) she hasn't completely mastered how to do it in the middle of a combat situation.
The ability to manipulate barriers ~ While the Hakurei are known commonly for their ability to deal with Youkai, they're original blessing was the ability to manipulate magical barriers using techniques that had been passed down between generations since ancient times. It is said that the original blessing of the Hakurei deity was that of barrier manipulation. Using their affinity with magical barriers, the Hakurei had access to all sorts of abilities such as the ability to seal Youkai into objects, and even the ability to seal away powerful Youkai by opening the barriers to Hell or Makai (the demon realm). Both Reika and her mother are knowledgeable in the techniques of barrier manipulation, but Reika rarely ever makes use of it, as she relies not on sealing Youkai, but on either exterminating them or beating them within an inch of their life. Reika's spiritual energy is also too unstable to make use of barriers within combat for defensive purposes.
[/list]
WEAPONS/TOOLS
Gohei ~ A wand commonly used by shrine maidens for rituals, offerings and exorcisms. It's not really a weapon, so Reika doesn't really use one in combat as she relies more on her physical abilities anyway. Nonetheless, she commonly carries one around for the sake of rituals, as well as exorcising spirits that can't be dealt with using one's fists.

Ofuda ~ Another tool commonly use by shrine maidens, ofuda are inscribed slips of paper used as talismans or amulets. They tend to be used for purification and exorcisms, but they are also key to the barrier manipulation techniques of the Hakurei. Some Hakurei shrine maidens are known to use them for combat usage, where they can lock onto evil presences and attack, but Reika does not use them this way. Nonetheless, she is skilled at making them and often carries many around for any purpose.

Persuasion Needles ~ Long needles commonly used by the Hakurei specialized Youkai combat and extermination. Most commonly, they are thrown at enemies and can prove to be very harmful toward Youkai, seeing as they are charmed for purification. Reika uncommonly uses these in combat, although her accuracy isn't perfect. She has developed a technique, however, where she can use ofuda to attach them to her fists, effectively acting as deadly claws.
STRENGTHS
- Reika is physically stronger than ordinary humans and some Youkai. She also has great speed and stamina.
- Reika is a stubborn as a mule and would never give up against a Youkai.
- Reika inherited and learned many talents from her predecessors as the Hakurei shrine maiden, who are considered to be one of the strongest families against the Youkai in Japan.
WEAKNESSES
- Reika refuses to harm humans, even if another's life is in danger.
- Reika tends to have a one-track mind and when she's set on something, she may not listen to reason against it.
- Constant application of her powers can leave her physically drained and make it difficult for her to recover.
---
---
---
---
FAMILY
Chiyoko Hakurei||56[|Mother
Chou||8||Daughter
HISTORY
From birth, Reika was clearly special. The Hakurei were quite well known for being a spiritually strong family, but somehow, Reika was born with an unusually high amount of spiritual energy, just about unstably so. That said, as a child, Reika grew up learning the Hakurei way, being strictly taught in the various techniques and rituals essential for a Hakurei shrine maiden to know. Reika had a lot of difficulty doing so, it seemed, due to her high spiritual energy being very unstable. Yet, while she was no good at rituals which required concentration, nor was she any good with using Youkai extermination tools such as a sacred bow or staff, Reika did at some point unlock her true potential, her absurd physical strength. It only became apparent whenever she had any sort of outburst, but over lots of time and training, Reika's mentors were able to get her to learn how to control her power. As Reika matured, it was quite apparent that not only did she have a lot of spiritual power, she was also very tall.

As a teenager, Reika would participate in many rituals and even join her family in Youkai extermination, not that incidents were all that common when Reika was a child. By adulthood, Reika's family had grown awfully small, the many older members of her family all either dying from age or falling prey to the Youkai. Reika, on the otherhand, had been a skilled fighter, and was often considered a prodigy among Hakurei. "The Dragon King's Blessing" is what they called her talents. Indeed, she had gained quite the reputation among the humans, but while she was often hailed as an ultimate weapon against the Youkai, there was also a sort of a bad stigma attached to her. Being tall, unusually powerful for a woman and absolutely ferocious in combat, humans tended to be uneasy around here. What with many of the Hakureis having passed away and Reika mainly being in charge of the shrine, worshipers that came to the shrine became fewer and fewer. Reika never took it personally, however.

At about the age of 23, due to an agreement between the Hakurei clan and the the Takeshi household, the resident Samurai clan of the village, Reika was arranged to wed a man from the house, Koizumi Takeshi. She was against it at first, perhaps out of pride as well as a sense of independence, but eventually, she agreed to go through with it. The nature of their relationship isn't truly known as they rarely went into public together, Reika more so than Koizumi. Rumors definitely spread among the village people, although nobody knew for sure what went on. The two did, however, conceive a child, Chou. Part of the agreement was for them to have at least two children together, yet they never had a second.

A period of months after Chou was born, the two had went into public together for the first time for the sake of resolving an incident. It was said that although they stood together, they seemed indifferent and stoic. Nonetheless, the two traveled deep into the forest toward Youkai Mountain. They were gone for two days. Reika returned with her husbands corpse in her arms, her hands bandaged and soaked in water and her sleeves stained with blood. They say she still had the same stoic expression when she carried to the courtyard of the Takeshi house, but she didn't say a word. It wasn't uncommon to see people who've went out into the woods come back, mangled, slashed, crushed, burned, frozen, drowned, dismembered, gutted or drained of their souls, yet it was more common for them to never come back at all. Naturally, the rumors picked up again, and where the accusations were made, Reika was scarce. The accusations have more or less faded today, but that bad stigma of suspicion still hangs over Reika. Those unaware are quick to be made aware.

Ever since, however, Reika has been raising her Chou with care. Reika often enforces strict teachings upon her and tries to mentor her just as her predecessors did before, although Reika's mother, Chiyoko, isn't nearly as strict on her granddaughter as she was (and still sort of is) on her daughter. Chou had been taught many things such how to perform rituals, make ofuda and even knows a vast amount of folktales about Gods and Youkai from both her guardians, but while Reika has taught her a lot about various types of Youkai, their weaknesses and how to repel them, Reika had unconsciously avoided teaching her about how to properly combat and exterminate Youkai. Reika even refuses to bring Chou along whenever she's performing an exorcism. Typically, Reika avoids taking Chou with her whenever she is away from the shrine. Chou only occasionally goes to the village with Chiyoko and thus, doesn't really have any relationships beyond that of her family. Reika is not entirely happy about it, but she believes it's for Chou's own good. After all, she doesn't want Chou to ever have to see the stares.

[That Hakurei, she has the look of a Youkai.]
---
---
---
---