---
---
"The borders between love and hate, light and dark, I control them all, dear."
---
---
---
---
---
---
FULL NAME
TITLE
AGE
GENDER
SPECIES
ETHNICITY
OCCUPATION
GENERAL APPEARANCE
A woman with long, blonde hair and deep purple eyes. She wears a purple dress that reaches all the way down to her ankles. Yukari also wears a white, with a light shade of pink, mob cap. Red ribbons are tied on the front of the cap as well as the ends of her hair. Yukari is also shown to carry around a parasol with the same color as her cap and a fan.
---
---
---
---
PERSONALITY
Yukari is an enigmatic youkai. She has this carefree aura that makes others lower their guard. She plays the occasional pranks on others and makes some jokes in a conversation. Yukari is also usually formal in her speech and behavior, carrying herself with with the elegance of a lady. Despite all of this being done while awake, Yukari's known to be asleep during the Winter, and thus is inactive for a full half of the year. However, there's always a deeper side within Yukari that makes her feared.
Yukari is actually very manipulating. She's sly and clever, like a kitsune, especially since she has a long history in her life. She strategizes silently in her mind while keeping up a facade of carelessness. She also has access to Shikigami, specifically one kitsune named Ran. Ran herself is intelligent. However, when comparing Ran and Yukari's intelligence, Ran is more book-smart while Yukari is street-smart. Despite this, Yukari can command Ran in a way that highly utilizes a shikigami's natural trait to become stronger under the master's order.
Yukari is also known to plan ahead and orchestrate events to occur in order to achieve a goal (in reference outside the roleplay plot, she manipulated a series of events to teach Eirin to fear the unknown). Even when it seems like Yukari is not actually involved with an event, there is always a possibility that she had already worked in the background to make an incident occur.
Despite all of this, Yukari does have a certain caring side to her, which is kept in secret in order for her to be feared. She is capable of doing selfless actions, though only behind the backs of everyone else.
LIKES
DISLIKES
✦ Ran
Being rudely awakened✦
✦ Sleeping
Being called anything older than 17. ✦
✦ Pranks
Being called a Gap Hag.✦
---
---
---
---
ABILITIES
The Ability to Manipulate Borders and Boundaries ~ Yukari's main power is her manipulating of boundaries. Physical or conceptual, she can control them seemingly with ease. This specific ability allows for the manpiulation of reality, which makes her potentially a god-like entity without being one at all. For example, Yukari can create or destroy the border that separates night and day, thus changing the sky into night when its day and vice versa. Another known use of this is to create little holes within a space dubbed a 'gap'. From within this gap you can see eyes staring out into the world. Yukari uses gaps to transport her, anything, or anyone to another place almost instantaneously.

Onmyoudou ~ Taoism derived arts of Japanese court wizards. Yukari, coincidentally, specialises in spells dealing in barriers.
WEAPONS/TOOLS
Fan and Parasol ~ Yukari always carries with her these two objects. While they are normally decorative items for her attire, the fan and parasol area also sometimes used to block weaker attacks. Surprisingly, they are quite durable.

Shikigami ~ Shikigami are, if you will, servants. However, they gain this special bond between them and their master within a pact. This bond is evident in how Shikigami gain power whenever they do something within an order from their Master. Yukari's most frequently used Shikigami is Ran Yakumo, a nine-tailed kitsune.
STRENGTHS
-Yukari's specialization in Onmyoudou deals in barriers, which are also done by her natural ability to manipulate borders and boundaries. Thus, certain spells may be enhanced by this natural ability.
-Yukari is able to speak to Ran in a way to fully utilize her as a shikigami. Thus, Ran is given even greater power once under an order.
-The eyes within the gaps can be used for Yukari to look out from a gap.
-Due to her manipulation of borders and boundaries, Yukari is able to see through the effects of certain powers. (Outside of the setting of this roleplay, Yukari is able to see through Keine Kamishirasawa's ability to hide history in the events of Imperishable Night, thus allowing Yukari to see the Human Village despite its creation 'hidden'.
-As a youkai, Yukari has physical abilities that far exceed those of a human's. However, this again may be further enhanced by her boundary manipulation.
WEAKNESSES
- While her gap manipulation seems god-like, Yukari cannot simply travel everywhere she wants. For example, she has to use multiple gaps in order for her to reach Heavenm, and only through specific certain conditions can Yukari gap to the moon. However, in the latter case, she still must walk most of the way.
---
---
---
---
FAMILY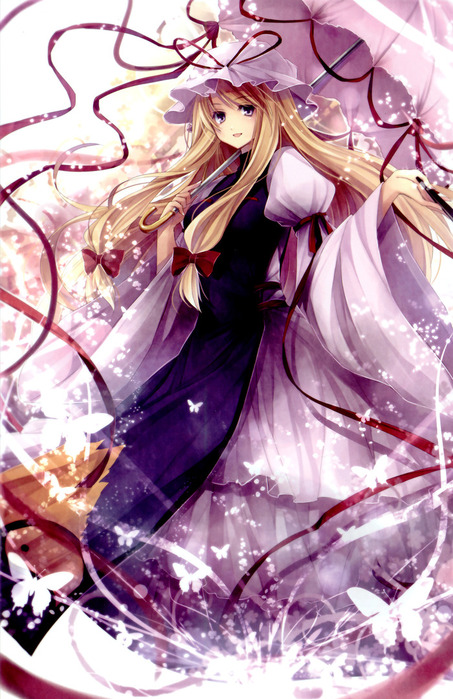 HISTORY
Yukari Yakumo, a mysterious figure with great power and influence. Not much is known about her origins, but there is some to say about her doings with others. She led an army of youkai to the moon in the first Gen. While the youkai army did lose and was forced to retreat, all of this was done in order to teach the youkai a lesson about conquering and expanding. Yukari also made Ran, a nine-tailed kitsune, become her familiar. Yukari is known by the Hakurei clan, somewhat, by her repeated sudden visits. Reika is not an exception to this.
[/list][/list]
---
---
---
---