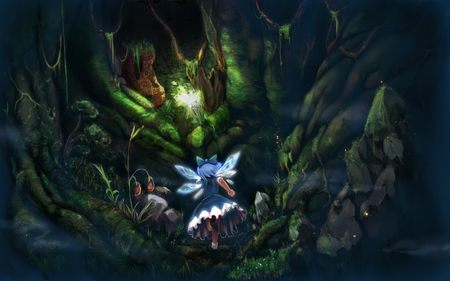 A dark and humid forest where sunlight rarely hits the ground. It isn't far from the village at all, but nobody would dare go close. Mushrooms and other fungi tend to grow excessively here. The air is thick with their spores, making even breathing difficult at times. Hallucinogenic mushrooms, however, make potentially good ingredients for various kinds of magic. Other forms of magical ingredients tend to be present in these woods as well. Because of the harsh environment, the Youkai population isn't as heavy either, so it's a great place to be if you want to be alone. Unfortunately, because of these traits, Youkai Magicians tend to take residence here. Plus, unknown beastly Youkai may possibly lurk in these dark woods, Youkai who probably aren't fond of being disturbed.
http://en.touhouwiki.net/wiki/Forest_of_Magic
Setting
1 Characters Present
Tag Characters »
Add to Arc »
Yukari Yakumo, a youkai with mass amounts of power and wisdom, had spent her days wisely.

All of them were based on sleeping in a futon in her house while ordering her shikigami to do all the work. However, Yukari doesn't simply orders her around before going back to sleep after each task is done. Rather, Ran Yakumo, a kitsune with all nine of her tails, has been taking orders just by looking at Yukari and waiting to see if it would open. Strangely enough, even a snore was able to convey to Ran orders that were incomprehensible to anyone but the shikigami in question.

Ran was ordered to grab the message in the message box. The kitsune walked through an opening within reality, which led into a realm of darkness and eyes that stared straight out into the present reality. Yukari's home's location is completely unknown. In fact, not many may even know that Yukari has a home that would be compared to that of a human's. Any messages that would be sent to Yukari would be put into a wooden box within the Forest of Magic, which would be sensed before the mail would either fall through a gap in the box or be picked up by Ran.

Ran exited a gap near the box, picking up the mail. She walked through the gap, not watching as the exit behind her closed. She walked back into Yukari's room and read the mail. "Hm... Yukari-sama. You have been invited to a youkai meeting in Youkai Mountain.

"Bah... It's most likely that tiny oni....." Yukari groaned, shifting in her sleep.

"It doesn't seem to be like it." Ran said, reading the letter. The gap youkai sighed and took the piece of paper with writing on it. After a few moments of silence, Yukari placed the paper on the floor.

"Fine then. Might as well...." Yukari yawned as she slowly got up from her futon. "Ran, get me my white dress...." She muttered as she wiped her eyes.

Yukari Yakumo, a youkai with mass amounts of power and wisdom, definitely had spent her days wisely.
---
1 posts here • Page 1 of 1