DEVAN KOHAKU MIYAMOTO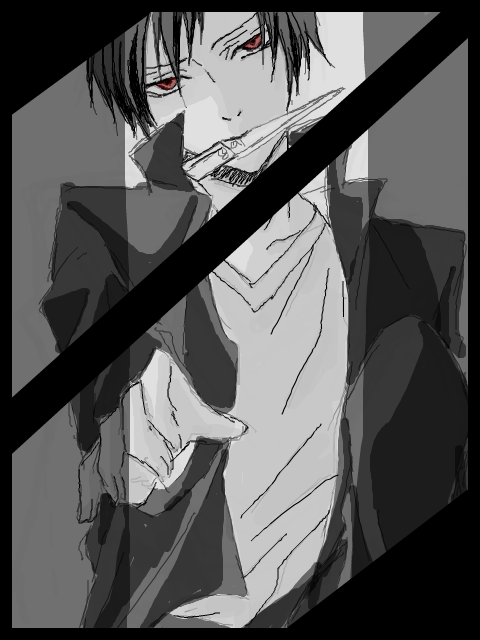 Nickname:
N/A
Age:
19
Role:
Assassin
Partner:
Emilia Marlen
Appearance:
Standing at 5'11" with a lean, lanky build, his lax movements can make for an elegant yet simultaneously choppy pattern of motion something between a zombie and a doll - with startling agility in a fight. His normal walking, however, is usually an arrogant, laid back strut akin to a punk who doesn't give a damn. Being of Japanese ethnicity, his skin is pale olive, with completely untapped potential for a nice tan. His eyes are a dark brown, almost black, and sometimes take on a crimson tint given the right lighting. His hair is dark auburn and straight, though frequently in a teased mess he styles with toothpaste and/or maple syrup. He's been poked fun at as being a "pretty boy", but he doesn't see it.
Devan is considerably scar-ridden between childhood abuse and fighting. He has four cigarette burns on his right arm and three on his left, along with a six-inch, somewhat oval-shaped burn scar across his upper left back around the shoulder blade. One four-inch scar lines his left side coming toward his front from a knife wound, and another slightly shorter one comes across his torso just under his ribs from where the same knife skimmed him. On the back of his right calf even rests a circular scar from a bullet wound.
Devan wears black slacks, a black blazer over a white dress shirt, and sneakers that were once gray-blue but have devolved into such a muddy brown color it's nearly impossible to determine what color they originally were.
Inhuman Abilities:
- Immunity to pain: Devan does not just have a high pain tolerance, he literally does not feel pain,
anywhere
. However, he does feel temperature, so a burn is probably the closest he gets to pain anymore. On one hand this can be an advantage because he can keep getting up in the midst of a fight like a zombie, but on other it also works as a disadvantage because he does not always recognize how serious a wound is, or sometimes will even forget about it. Regardless of not feeling pain, injuries still take effect on him; a bullet in the leg, for example, will damage the muscle there and steadily wear down his mobility, a hard hit to the head can daze him or knock him unconscious, or enough blood loss will make him dizzy and eventually knock him out cold, too.
- Agility: Devan has incredible speed, which frequently takes opponents off guard due to his often lazy demeanor. He can move nearly in the blink of an eye, his dodges making him into a ghost and his punches like the strike of a snake. However, this does not mean he's a good runner; though his legs are capable of carrying him about fast enough to disappear, he can only run that fast in the short term, and abusing it will wear him out quickly.
Theme Song:
Cavalettas - The Mars Volta