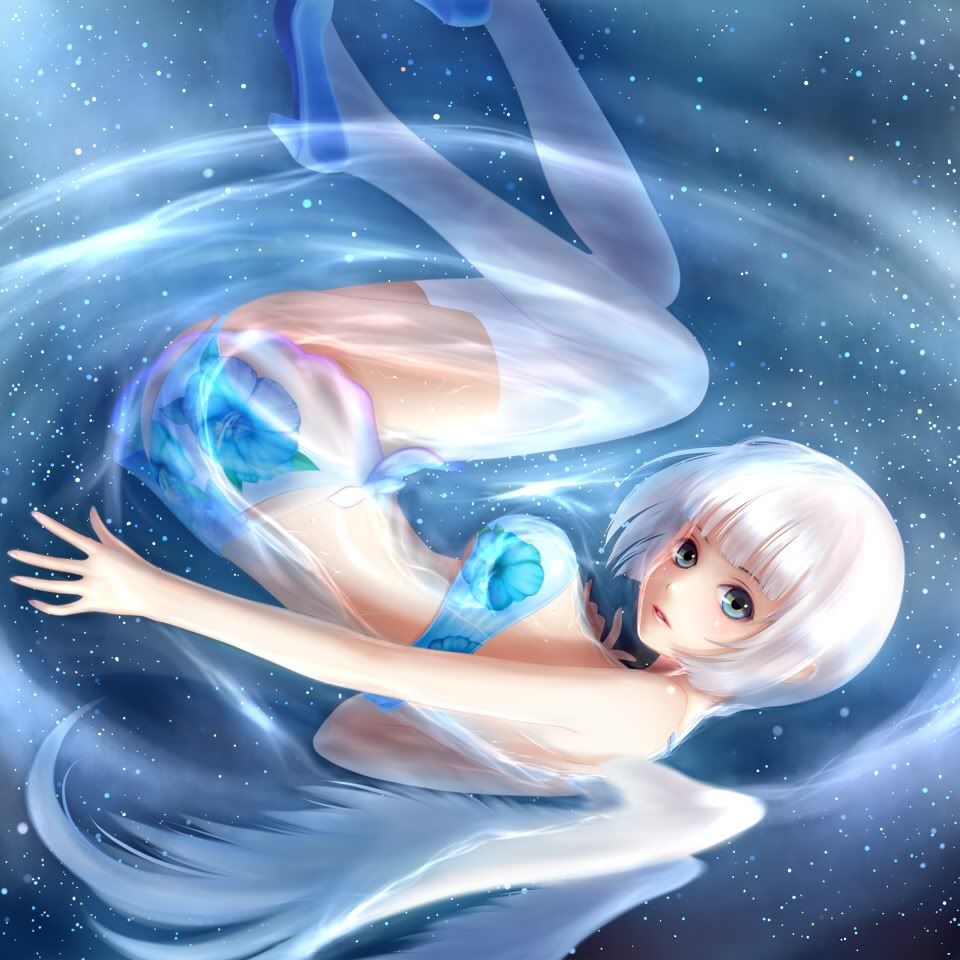 Appearance:Emilia is a small five foot one, with a slim and slender figure. She has short snowy white hair, with bangs , with light colored grey eyes and the eyelashes of a doll - long/dark/beautiful. She is pale, so pale it seems she has never seen the sun, but it seems that she has beautiful skin. Her features look dainty, and she appears to be extremely fragile. The expression on her face is usually solemn and sad, airy, or dreamy. Like her head is in the clouds - unless there is something going on of course. She wears a lot of white dresses or clothing, things that could blow in the wind, as well as pastel colors. On her back she has a large tattoo of wings - which she didn't even know was there at first. Her movements are graceful like that of a dancer, and though small and slim her body is tone. She appears innocent, no, she radiates innocence and purity. She also appears to be very naive. She looks to be about two years younger than she really is as well.

Name: Emilia Rae Marlen
Nickname: Emi & Rii or Riri
Age:Seventeen
Role: Tamer
Partner: Devan Miyamoto
Inhuman Abilities:

- The ability to summon and manipulate the elements, wind, water, fire, earth at will. She is also able to do the following like manipulate things when she sees them, this applies to darkness, light, ice, lightning, poison, metal, blood. However, she cannot summon then, they must be manipulated and she can only use what is around her, as opposed to her other elements. The elements in which she can summon cannot be used concurrently, the ones she can only manipulate can, but that takes up more energy to stack the different elements. The only exception, is light and darkness, no sane person would use those together.

- Using her voice (singing) or an instrument, Emilia can manipulate situations around her, it depends on the type of song in which she sings or plays what she is able to do, they are as follows:

- Heal: This heals wounds around oneself (sadly, not oneself), one must be singing or playing a happy song in order to do this, mortal wounds like for example if someone was stabbed and it hit a vital organ and the dagger was removed - it will do nothing for that.
- Pain: This causes mental pain for those around her, they feel it as physical pain however, it can be light, or to the extent it brings someone to their knees. This leaves no physical wounds.This is accomplished through a song of great melancholy.
- Enhancement: This enhances all the senses and reflexes of those around her that she sees as an ally, smell, taste, sight, touch, hearing. This also enhances things like general reflex speed and movement. (This is accomplished through a song of battle or intensity)
- Changing of moods: This manipulates people's moods, and while she sings or plays it, she is able to see their aura and literally watch their mood change. This is very good in calming any person, or well, doing anything else with their emotions. Seeing one's auras also allows to see those whom are hidden or ill.
- Life link: Almost like it is made for she and her assassin, this allows her to link herself to Devan, and feel the pain that he's feeling, that way she knows if he's wounded and how bad. This looks like a semi transparent pink light that wraps around the wrist of each person and follows them wherever. The link can also be hidden, given more energy, but it leaves a mark of a ribbon / tie on the wrist. This has horrible drawbacks though, mortal wounds, can cause physical damage to her, just not as bad and would heal quickly. Hypothetically, she can link to more than one person, but she doesn't wish to test those waters, ever. (This must be a love song.)

(Vocal sample: Emilia's Singing)

Weapons: It wouldn't be rare for a tamer not to have a weapon, however, Emilia wanted to be 'useful', and armed herself.

- Long chain whips, witch spikes on the ends: These whips actually connect to shackles on her wrists, that she isn't able to remove. They are retractable.
- Dual silencer hand guns: These are typical hand guns, which have a silencer on them, shots are unable to be heard.

Personality: Emilia is a very big hearted individual. She is very sweet, treating everyone with respect, and courtesy - as often as possible. She's kind, and caring to the point it seems intrusive or abnormal, motherly, almost. She is very intuitive and picks up on the feelings of others easily, sadly the people she is around nowadays never seem to change. She's someone who is extremely loyal, and honest, and her loyalty to someone or people may sometimes know no bounce. She's sacrificial, and would definately throw herself in front of someone like Devan, in order to save him, even though he can surely take care of himself. She is someone who tries to see the best in everyone, even if it wasn't there, tries to see good qualities, that perhaps she makes up in her mind. But sometimes, it just isn't there. Maybe it is because she truly wants it to be. A lot of the time she spends trying to protect everyone, make everyone happy, make sure they are content - it's like she doesn't know the situation she's in, the type of people she's with, and that her efforts are going to nothing. She is a very protective person, and she will take care of her own, she would surely die trying to do so, with ten bullets in her she would crawl covered in blood to the enemy or the 'finish line' and 'finish things.' But Emilia, she really is a softy, while she is rugged physically, she is emotionally fragile, and crys at what peopel say is the drop of a hat. She really is emotional, she tries to hide it many times, especially now. She is also posessive, sometimes in a scary way, but she just worries about others, this brings to she worries so often, more often than not she is stressed out. She feels like she must live up to the level of the assassins and not just the tamers, and feels like she is in the way. She truly dedicates herself to Devan, and not only is there to 'tame' and assist him but keep him safe. She tries and tries to figure the boy out, thinking, hoping there is someone good in there, somewhere. Emilia is a very soothing individual most of the time, she knows the right thing to say many times, and is very understanding, and tries to never judge people. She is perhaps one of the most open minded people in the world. The girl is also brave, or perhaps just stupid, but it's like her bravery or stupidity always know when to shine - though they are not always appreciated.

There is another side of Emilia however, that is very rude, sarcastic, hard headed, stubborn - well, she is always stubborn, she will always do and get what she wants. She can borderline sadistic and get very vengeful holding grudges until the end of eternity, get really rebellious as well. This is only when Devan seems like he is injured or in danger or when she herself is truely afraid of a situation and doesn't know how to handle it. She is not the extent of the assassin's personalities, though. But this only happens sometimes, not everytime those situations present themselves. And unfortunately, she sometimes doesn't remember till later. It seems this side is aware of her other personality, and sees what that personality does, but not vice versa.

Theme Song:

- Amanda Lee: Euterpe
(This song represents her true feelings of everything that is going on.)

Wild flower blossoming
I beg of you tell me this so I know too
Why do people fight?
They all act as if it's right
Don't they know
That's no
Way to live

Valiant flower blossoming
What can you see?
When ...you look down on me
Why can't people say
That they're sorry for the way
That they fought
I thought
We once could




When the sky has cleared
And rains have passed
I still won't forget the past
You are not alone on your own
I remember you back then
Trembling in front of me
Crying deep inside silently

When you see loved ones withering
What do you do with your remaining time
When your leaves can't speak a word
And your thoughts cannot be heard
How do you convey your love

Ahh

When the summer's sun is hiding and
Winds are harsh against our backs
Everything seems to overlap

I'll sing in your memory
All the times you've spent with me
We've lost your name but I'll sing for you

(The following songs are subtitled videos.)

-Rin/Len: Black Executor
- Passion: Playback
(Lol, for this actually being me.)

Anything Else?Emilia has a fear Devan will get greatly wounded or die because he cannot feel pain. Often time she keeps an eye on him because of this. Even if she hates the blood shed. If she is unsure, she will cast put a life link between them.