Sergio Dashkov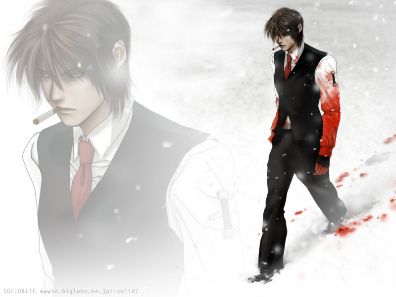 Nickname: Dash; War Machine
Age: 23
Role: Tamer
Partner: Lindsey "Link" Monosawa


Weapon Mimicry Sergio can convert inorganic matter to mimic numerous weapons: guns, rifles, explosives, knives, swords, etc. He can even mimic a tank, becoming just as durable and resistant as one with the bursting firepower. By absorbing any form of inorganic matter, Sergio is able to use this ability. The more mass an object contains, the deadlier the weapon will be. His fingers can become as sharp as knives, lasers can fire from his eyes, and he can self-detonate without sustaining injury. Sergio can only mimic weapons he has been introduced to. The best way for him to mimic a weapon is to absorb the weapon itself, and this includes absorbing rounds. Once he has absorbed a weapon, he can mimic that weapon for as long as he can remember it. Currently, the list of weapons he has mimicked:

Small arms (revolver, pistols, magnums, etc.)
Knives (booey, hunting knives, and kitchen knives)
Katana (the only sword he has absorbed)
Grenades (fragmentation, flash, smoke, and incendiary)
SMGs (most sub-machine guns)
Mini-guns
Rifles (includes automatic and sniper)
Whatever isn't listed here, he has yet to mimic. Yes, in the description it mentioned lasers and tanks, but he has yet to absorb such weapons. These were the numerous weapons he was tested with before the rebellion.

Inhuman Perception Perception – the process of attaining awareness or understanding of the environment by organizing and interpreting sensory information. Sergio resides in a mental bubble recorded to have a circumference of 22m. Like a third-eye, any being that enters his Area of Perception (AoP) becomes a focal point of sensory information. He can see them without needing to lay eyes on them, he can anticipate their next move seeming always a step ahead, and he can judge the person's depth, which explains why his accuracy is exceptional. The area around him becomes mapped within his mind, permitting him to make speedy judgments whether to make a quick exit or to find an area of advantage.

Weapons Sergio is a weapon, and thus one would think he wouldn't carry any, but he does. He doesn't carry them in the form of weapons, but miscellaneous materials. He can only use his powers as long as there is inorganic matter he can absorb. If there isn't, then he's just as human as you and me.

Personality Sergio is quiet but can always be found doing something whether it's cooking, cleaning, smoking, or going for a walk. He keeps himself busy for he can't fathom sitting around and doing nothing. He doesn't know what to think of his team that he had escaped with. The rebellion seemed like a dream, and to this day, he couldn't believe it happened. Was his life now real? Was this how it was meant to be? Cigarettes and music put his mind at ease. He'll have his mp3 player in his ears, blasting various music from around the world. But walking...he walks to learn about this new world that was different from the facility. He could walk forever for there is always something to learn and discover. His life isn't perfect for his past often attempts to chase him down, but if it is to be perfect, then he has to adjust. He has to stay one step ahead.

The man is fearless, having looked death in the eye multiple times. If he was to die today, he would welcome it without fear, but it is because he doesn't fear consequence that makes him a lethal killer.

His partner, "Monosawa," is pretty wild, and often times, the other members of the group scold Sergio for keeping a loose leash on her. Because they're all killers, he's sure that they can deal with it for not even Sergio can stand her presence. She is just crazy. If there was one aspect that linked them as partners, it would be if situations ever got dire, Sergio would always come to her aid. No one is allowed to harm or attempt to kill her. Anyone who attempts to do so will become his enemy.

Theme Song Sick Puppies - "You're Going Down"

Anything Else? He doesn't like when people touch his cigarettes or use them without his permission.

He works as a bartender at a bar called Leeroy's to keep a decent income for the warehouse. This is the money he uses for grocery shopping and whatever else he may need to live his normal life.