Name: Victor Evangelo
Faction: Angel's although he prefers to work alone
Race: Demon
Age: 250, although he appears in his early twenties
Height: 5'11
Weight: 185
Eye Color: Blue
Hair Color: White
Description: Wears a blue cloak that is trimmed and lined in gold. Underneath he wears a fancy vest, nice shirt, and dress pants all midnight blue in color. He also wears long boots of brown leather. He carries a katana with a scabbard, he chooses to carry it in his hand as opposed around his waist. In his true form, his significantly larger than his human form. Further he gains black armor that pulsates with blue light, the veins of blue oscillate down to a heavy pair of gauntlets on his fists, and greaves on his shins and feet, he uses these for powerful hand to hand combat when he feels the opponent cannot match him as a swordsman. He also gains a helm that emulates a demonic head, with forward swept horns that veined with red and blue. In this form he carries an oversized zweihänder which pulsates with blue energy in place of his katana. He wields it effortlessly.
Abilities:
Transformation - He can transform between his human and true forms
Human form - In his human form he has increased speed and strength compared to real humans. He is so fast that he can literally catch bullets with his katana. Furthermore he can slice his blade so fast it sends a razor sharp blade of air at enemies to distant to attack up close.
True form - He has embraced his dark heritage giving this form extreme power. He is significantly slower in this form, being the speed of a standard human, although he can wield his zweihänder as a normal person would a longsword. He can charge the sword with demonic energy giving his attacks a magical effect. His increased power gives him the ability to teleport short distances, giving him the ability to close the gap between enemies to far to attack with his sword.
He is an expert swordsman
Iaido - In his human form he uses his katana and scabbard in the traditional Japanese Laido form. Utilizing quick slashes and blunt attacks with the scabbard. If he were to obtain another sword he would use it in place of the scabbard in combat.
Dark Slayer - This is the name he gives his combat style in his true form. He embraces his dark side utilizing their power to make heavy powerful attacks.
Equipment:
Yamato - The katana that was passed down to him by his father. It is said to be the sharpest sword in existence.
Personality:
Victor is calm, cool, and collected. He is quiet and prefers swords over guns, since he considers firearms unworthy of a "true warrior". However, his quietness is not due to a lack of self-confidence; it is because he never shows fear for anything. Interestingly, despite his cold persona and ruthlessness he is an honorable warrior (aside from his dislike of guns in general), he despises fighting dirty and he refuses to attack his opponents from behind. Unlike most "angels" he chooses to embrace his dark heritage, drawing strength from who he is. He does fight for the same cause as the Angels, the destruction of demonkind, but he does so not to protect humans, but for his own selfish needs. He almost never fights in his true form, choosing instead to challenge himself in his human form. If he fights you in his true form, consider a great honor as he feels you an opponent worthy of fighting on equal grounds. His honor is the most important thing to him besides avenging his family and he will never battle in a dishonorable fashion.
History:
Victor's father was a general in the demon army at the time of the human uprising. Victor's father embraced humanity, leading the humans in battle against the demons. Although they were successful, the battle cost him his life. He left two mementos for his sons, Yamato, Victor's katana, and Muhon, a longsword that was given to Victor's brother. A few years after his father's death, Victor's mother and brother were attacked and killed by demon's seeking revenge for their defeat at the hands of his father. Victor survived the onslaught and was left with only Yamato, the location of Muhon is unknown. After the death of his family Victor trained day and night to get strong enough to wipe out every demon on the planet. He even went so far as accept his dark heritage as a part of himself (which resulted in the drastic change in fighting styles between his human and true forms). He hopes to become as strong if not stronger than his father and trains to reach that goal constantly. He is searching for Muhon, his brother's sword in the hopes that it will increase his strength.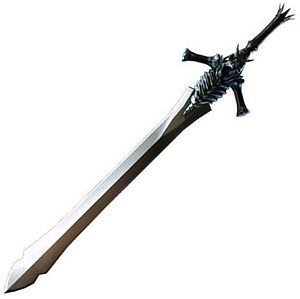 Muhon, his brother's lost sword
Extra Fluff/Other: He does not seek out demons unless he finds out about a particularly strong one nearby who might have information about high ranking demons, or the location of Muhon. He does however accept requests from humans or "angels" who need someone of his expertise to eliminate demons, he claims it's his occupation, but rarely charges for his services.