The Ringmaster [Lucio di Morte]
Role
Ringmaster
Gender
Male
Age
27
Years at Di Morte
His entire life
Ability
Unknown if he even has one - but he has to have one, right? After all, what kind of Ringmaster would he be if he was susceptible to the abilities of his exhibits?
Personality
Charismatic and seemingly friendly, he makes sure nobody gets a hold of his real name, just in case. Careful, cautious, Lucio is very aware that his father's collection is not something to be trifled with. Yet, nonetheless, he is capable of handling them well. A nobleman, bred to sway the public and born to lead, he fits the role of Ringmaster very well. He knows how to speak, he knows how to get people to do what he wants.

Yet, he also knows how to be violent. He knows when to threaten with their lives. He knows when to bribe. A strange man, he swings violently back and forth between almost two different personalities. The front. A simple, handsome, mysterious stranger with a harmonious voice, who speaks without fear and smiles as easily as his neighbor. The back, dark and jealous, scrutinizing and wary of everything around him. Not many know him as the latter. All know him as the former.

Little to none are aware of the fact that the Ringmaster does not truly 'feel'. What he feels are echoes of what could be passed off as emotions. He looks down on his exhibits and his performers, because he knows what they have gone through. Maybe he's jealous of them, what with all the time his own father spent focusing on them, instead of his own son.
Brief Description
Tall, slender, with long dark hair and a hidden face, he wears his mask at all times. But underneath the mask, they can all see the deep, dark, seemingly endless pools of black that are his eyes. They seem to know all, they seem to see all. He usually keeps his hair in a neat ponytail at the nape of his neck, but other times, he lets it loose. Usually, a small smirk is present on his lips. He wears a cape sometimes - just for effect.

He stands at 6'0". Not particularly intimidating when he stands next to some of the larger and bulkier exhibits, but there is strength in the Ringmaster's stance. He is all angles, little to no curves at all in his body.

A tone of voice as soft and silky as satin, which can be turned into harshness that cuts like blades. The Ringmaster carries with him a coiled whip, always ready. But he never uses it on the performers or the exhibits. He knows control. He always wears a pair of dark leather gloves. He never takes them off, unless it is to wash his hands or to sleep.
Likes
Watching others squirm
Staring those that think they can stand up to him down
Being in his own cabin
Sometimes walking among the exhibits
Power
Strength
The admiration of others
Money
Speaking to the general public
Pretending to be someone he's not
Being in the know
Being the one behind everything
The sound of a violin
Scotch
Candlelight (all the lighting at night for the circus is done by candles.)
The smell of parchment
The colors black and red
Di Morte
Dislikes
Ignorance
Overemotional people
Being compared to his father
Some of the exhibits/performers - especially those that are not scared of him (there's maybe....two. If that at all.)
Other circuses trying to rip off Di Morte
Fakes
Having no scotch
Sleeping
The cold
Silence
Knowing too much
Headaches
Cherry flavored medicine
Medicine in general
Seeing the faces of his performers/exhibits
Getting to know people
Rainy days
A small crowd
Strengths
Being the Ringmaster
Weaknesses
A deep love of scotch and other fine alcohols
Mask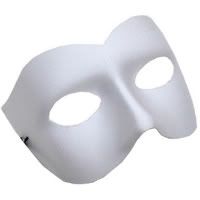 Even the Ringmaster must wear a mask. The plain whiteness of it tells as much about the Ringmaster as any of the circus members might know. Very...very...little.
History
Born into Di Morte, the Ringmaster was the son of the creator of Di Morte. As a young boy, he had always been fascinated by the strange people his father collected and showed off to the general public. He had been on good terms with quite a few of the exhibits, often sneaking into their cages and whatnot in the middle of the night to talk to them if they were having troubles falling asleep. But then...things changed.

For some reason, one night, the Ringmaster's personality seemed to invert. He never answered the calls of the exhibits with smiles and laughter anymore, no longer went willingly out among the aisles of exhibits, no longer applauded eagerly the performances he knew most of them struggled with day after day. Something...had happened. Not three years after this, the old Ringmaster passed away.

He was eighteen then. He had already learned the art of taking care of the exhibits and the performers and now, nine years later, the Ringmaster has perfected his technique. If they do not know his face, there is a sense of mystery surrounding him that makes them want to listen to him. If he does not see their face, he will not form connections with them - they will see him only as their Ringmaster.

Yet, sometimes....this strategy does not work. He found alcohol when he was twenty. He's been consuming it ever since.
Crush
Hard to say. It's doubtful he has one.
Side
....well.....I dunno. The Ringmaster is with the Ringmaster.
Other
-- will edit --