The
music
of my heart always returns to the same sound.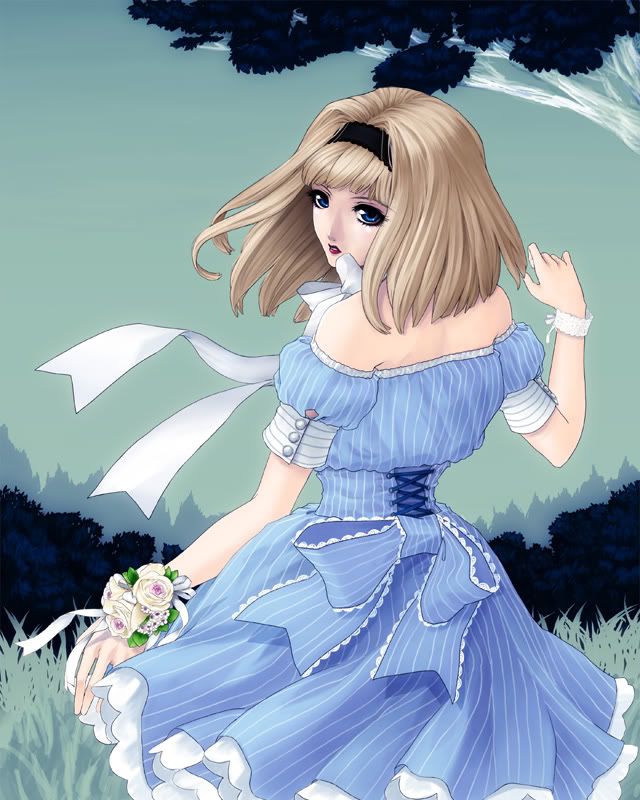 Pouty lips, long eyelashes, and a doll-like appearance
: Charlotte is the opposite of what you would consider a student attending Karma High to be. She sticks out like a sore-lolita thumb, and doesn't look to be able to even throw a decent punch. Such an assumption would be quite correct. Weighing in at 108 pounds, her stature comes to a mere five feet and two inches. And while these physical conditions are not in the least battle-worthy, they are at the very least flattering. Her petite frame is sweet ivory and smooth as the doll she looks so much like, easily bruised. She is a dancer, and it shows in her ballerina figure. Sun blonde hair is cropped to her shoulders, with bangs that hang just over her thin eyebrows. Her eyelashes are thick and long, and flutter over dark blue doe eyes. Her thin nose and small, pink heart shaped mouth are just like her mother's, as is the shape of her face. Her hands are long and dainty, and her feet small. She has always taken great pride in bearing such a strong resemblance to her mother, who was a world class ballerina in her own time. A lady of the arts, that is who Charlotte strives to mimic.

Her sense of style has always seemed to be full of flowing dresses and lace, think of things Alice in Wonderland and Dorothy from Wizard of Oz would wear. A ribbon headband usually adorns her hair, and a simple necklace or bracelet. The craziest her hairstyle has ever gotten is maybe curling it a bit with her curling iron. As any teenage girl, she does wear make-up from time to time, mascara or red lipstick, but that is about it. Impeccable hygene has always been of the utmost importance for a presentable appearance. Again, it is in mimicry of her mother's looks, and she was an elegant woman with simple tastes.
Name:
Charlotte Moira
Age:
16, her birthday is the first day of school though.
Fighting style:
none! That's sort of a bad thing...
Weapons:
Her pencil is pretty sharp. D:
Personality:
Practical and sensible, Charlotte is often the voice of reason. Her common sense is realistic and fact based. And for most people like this, that would mean being self-righteous and so sure of yourself. That would be the case if it weren't for Charlotte's decidedly existential views. She knows that there is quite a bit she does not know, but she is not silly enough to believe others blindly when they try to shed light on the subject. She likes to affirm things for herself, and keeps a skeptical mind until doing so. For things she could really not care much about she doesn't bother with anyway, and the truth on the subject simply does not matter to her. This cut and dry logic can seem rather cold coming from her lips, but her actions tend to be contrastingly warm and kind spirited. She is thoughtful and considerate, and will in fact help you out silently if she sees you having trouble with one thing or another, though will come up with some excuse for doing so as to mask her good deed. She prefers to be viewed in only the most strict and lady-like sense, her head tilted proudly and hands folded neatly in front of her lap. No nonsense for this young lady.

While Charlotte decidedly prefers the backseat in a group of people, she finds that often she is forced into leadership. She, unlike most people her age, has a sense of order and forward way of thinking. She knows how to get things done, and if she is unsure she isn't meek about finding out how to do it. Her efficiency with this sort of thing doesn't allow her to sit back while the group shuffles about. In other words she can be a bit of a busy body. Luckily for others she is also patient and uncompetitive, so if people have a hard time, she has no problem explaining something thoroughly or moving slower. But there is one thing she won't stand for, laziness. If someone isn't pulling their weight, she'll lose patience quickly. If she's willing to over-exert herself for the sake of another, she doesn't see why they can't at least pay attention and do the work. So forget what I said before, she's a super busy body.

She seems like a goody two shoes who thinks the rules are actually laws. In part such a thing is true, but it only applies to her. Other people can break the rules as much as they like, cheat all they want, and do whatever. But Charlotte holds herself to a certain standard of over-perfection, and would become quite upset if she were accused of wrong-doing.

Charlotte is used to moving around a lot, and has been to a few countries, mostly around Europe. While she is colloquial in French and Italian, she is not familiar with any eastern languages, which she plans to become well versed in since her father does not plan to be moving after coming to India, the growing industry plans to revolutionize the way business is done…or some hogwash like that, the bottom line is she's there to stay. But as a person who has been around she is quite cultured and knowledgeable of different beliefs and ways of life. She respects all of them deeply, and although she herself is not religious, she keeps an open mind to such things.

As for her interests, Charlotte worships the arts. Music, dance and painting or drawing immediately catches her interest. It has been one of those things that being worldly has helped nurture. Her mother was a Ballerina who got to travel around with a troupe to many countries and perform before she settled down and gave birth to Charlotte. Charlotte has never known her mother, and so art is a way she can feel close to her, a way she can let out all inhibitions and express herself. Her most prized items are her ballerina slippers and violin, with which she spends her free time using. She also is sure to sample the native forms of dance and music in the country she so happens to be in. She is excited about India.

But Djinns, Dark Goddesses and kung-fu are things she assumed were reserved for poor cinema. Since it would seem that is not the case, she will find her surroundings to be ridiculous, there is a panda teaching the philosophy class for the love of all that is common and logical! Charlotte enjoys the ordinary, and she doesn't think boring is so bad, why must girls insist on falling for sparkling vampires, why must everyone wish to be an astronaut? She never saw anything wrong with becoming a productive member of society. So Dad…what sort of school did you send Charlotte too?
Friends:
The down side of moving around a lot is probably her social life, of which she pretty much has none. She is usually a person of interest in foreign schools, being a foreigner and all, but she soon moves on once she forms a friendship. At Karma High she is hoping to have people a tad more permanent.
History:
Charlotte's mother, Nina, was a Ballerina in an Italian dance troupe that traveled the world and dazzled thousands. Until she met Donovan Moira, the love of her life. She retired and married him; a couple of years later became pregnant. Unfortunately there was a car accident, and the doctors managed to save little Charlotte, but not the mother.

And so little Charlotte was left to be raised by her father, an executive businessman who traveled around quite a bit, this led to some rocky moments in their relationship, the problem being that he was gone most of the time. But at the very least Charlotte's nanny kept her company. Charlotte does love her father very much though, as silly as he is, she knows he acts like a clown to try and get her to smile, which she does her best to not oblige. Charlotte mothers him quite a bit, along with the now very old nanny and housekeeper, and he is a thankful man for it.

This is the first school Charlotte will be attending that is a boarding school, and the only person more nervous than her about it is her father.