Name: Felix Murdock
Nicknames: None
Age: 17
Description:
Felix is around average height and has little bit more weight on him than someone his size. He has dull blonde hair and steel blue eyes. His skin is a bit pale and his body is very lean and rather defined.HE often wears a sky blue hoody with black loose pants and running shoes. HE is never really seen without his sterling white beanie. He usually wears a heavier black jacket over the Hoody, he seemingly always wears heavier clothing. Some people think that it is psychological, htat he wants to feel protected.......or maybe he's just old all the time. When he works he rolls up th ehoody sleeves and wears an apron over it. KNow matter what he wears, he never goes anywhere without that beanie.
Digi-Partner: Lunamon
Any notable achievments/history?:
Felix really didn't have the greatest of childhoods. His mother died in child birth, so he never knew her. He spent the early part of his life always traveling with his father, who he thinks was a stage magician, but no one famous. Unfortunately he died of a brain aneurysm when Felix was only 4 years old, so he doesn't remember much about him. After that, he was thrown in the American foster care system, which is it's own hell. He was bounced around state care facility and crappy foster homes who were just looking for child support money from the government. When he reached his teenage years, he lived in half-way homes for boys. Through all of his state care, he was bullied and beaten a lot. though, it never really seemed to phase him and never made a peep to anyone.
When he turned 16, he had saved up enough money from his job to buy a tiny little studio apartment for himself. He worked as short order cook at a mom and pops Japanese restaurant called Ryosho's. He earned the respect of the family that owned the shop and they often invited him over for a proper dinner. Their son, who worked as a waiter, even got him into Aikido, which the family owned a studio attached to the restaurant. Aikido was good for him as he never really had much strength and it was designed to defend yourself and keep from harming your opponent.
Any notable gear: Other than his beanie, a small notepad that he can usually be seen writing in. Many botany books and usually a pack of cigarettes.
Anything else I missed?: He has the crest of Kindness
Other: His beanie was a gift from his dad.
Digimon:
Name: Lunamon
Nicknames: Lu-lu
Appearance: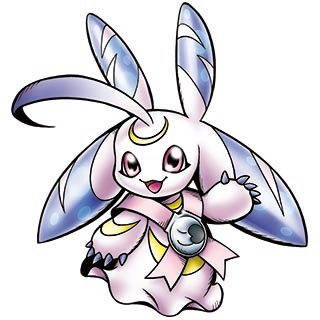 Attacks:
Lunar Claw
: Scratches with claws filled with the power of darkness
Tear Shot
: Concentrates power in its forehead antenna, then fires a ball of water at the opponent
Lop-ear Ripple
: Spins many times with its ears, generating a vortex of bubbles which entraps the opponent.
Other: Though appearing very naive in most situations, Lunamon has wisdom beyond her years. She can be a little aloof at times, but is always ready to show kindness. Among the two, it seems Lunamon takes more initiative and is the one who often spurs Felix to action.