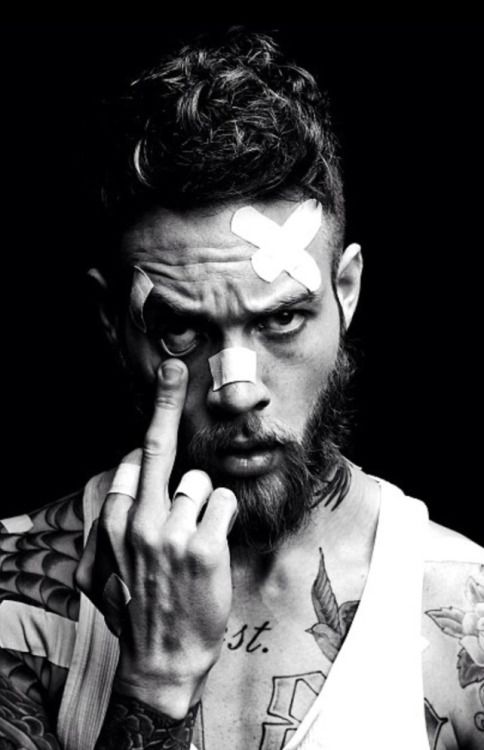 "Just let me know when you decide to write me off"
Roads Untraveled - Linkin Park
|
Thrive - Switchfoot
|
The Devil Within - Digital Daggers
---
---
FULL NAME
Simon Randall Bates

NICKNAMES
Bates | Most people that don't know him call him this- is pretty easy to spot a Bates boy from a mile off.
Baby Bates | He's heard it, he hates it, don't ever fucking call him that to his face.
Fag, Cock Jockey, Bear | He has heard most of them, even though he has been with numerous women as well as men. Doesn't bother him anymore, for the most part.

AGE
22 | October 31st

GENDER
Male

SEXUAL ORIENTATION
Homosexual | Once upon a time Simon was inserted in the opposite sex, and he still finds women attractive- but he just never ends up going home with one.

ROLE
Modish Mastermind

NATIONALITY
American
---
---
---
---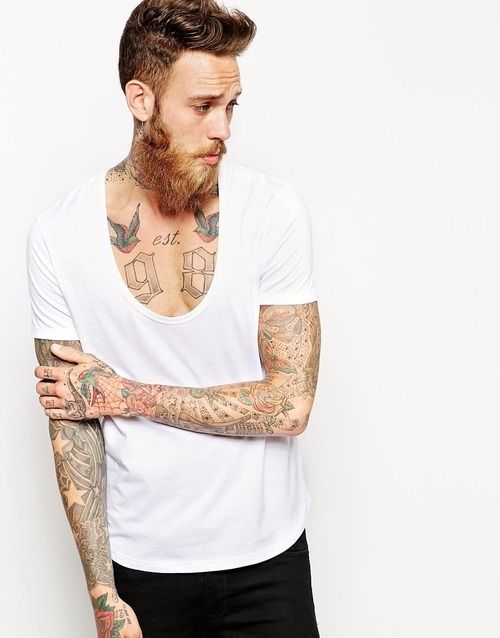 HAIR COLOR
Dark Blonde with hints of red in his beard.

EYE COLOR
Green

HEIGHT
6'3"
   
WEIGHT
186 lbs

TATTOOS
Other then his beard, Simon's tattoos is probably the most prominent thing about him. He got his first tattoo around 15, (when his father started letting him partake in the family business) which developed into a healthy addiction that he could never scrap. Now almost covered from head to toe, Simon's skin is worth well over $50,000.

STYLE
Clothing is important to Simon. Its probably the most gay thing about him- he hates not being dressed, even at home he looks like he just stepped out of a magazine. Thankfully he has the money to keep up his expensive tastes; though Simon always has a knack for looking like he doesn't spend thousands on his clothing. Basic tees, polos, jean or leather jackets, levi 511 or black skinny jeans, or a nice suit is what he can usually be found in.
---
---

---
---
Charismatic | Charming | Sweet | Loyal | Passionate | Anxious
LIKES|LOVES
| Clothing- an obsession
| Weed- only thing that keeps him sane
| Cigarettes- for when he can't have weed
| Sex- the real addiction
| Tattoos- each one tells a story
| His Mother- his rock, he doesn't mind that he's still her baby
| Sushi- favorite food of all time
DISLIKES|HATES
| Hard Drugs- just can't handle them himself, he doesn't mind other people using
| Violence- he loves Gunner, but he wished the guy would chill out sometimes
| His Dad- he doesn't feel like he has ever had a real relationship with him
| Being Left Out- his family tries to protect him, but it drives him crazy
| His Episodes- his most humiliating crutch, he hates when people find out...

Simon is a sweet and loving gentlemen to anyone he meets. He oozes charm, likes flirting and messing with people, and usually always has a partner or two to go home with. Despite his sexual and lewd nature, Simon is actually a well loved person. People respect him not only for his family name, but for standing out as the kind and innocent side of the family. Although he partakes in the business side, Gotti never appointed his youngest son a real job. Yeah, Simon went along to buisness meetings and dinners, but he was more a cheap date, a woman that smoothed things over when the mood shifted. But Simon spent most of his life being ignored by his dad, so he takes any opportunity he can to involve himself.

To most people, Simon seems like a well rounded, calm, collected, and sensitive young man. He smiles, opens doors, stands up when a woman comes to the table, and dances- but most of this is only accomplished under a heavy sedation of weed and ciggeretes. Simon actually has acute panic disorder and anxiety over everything. His panic often leads to bouts of rage, though he can usually calm himself before he hurts anyone. He is highly secretive of this, only his mother and those very close to him know. Although he knows that it isn't that big of a deal he finds the idea of his father or Dominic finding out to be one of the most terrifying things in the world. Not only had did he turn out to be the gay, but he hates violence and now he gets extreme anxiety and panic- he sees himself as the biggest let down to the Bates family line.
---
---

---
---
FAMILY
Gotti Bates | father
Carmine Bates | mother
Dominic Bates | older brother
Gunner Bates | older brother
Julia Bates | older sister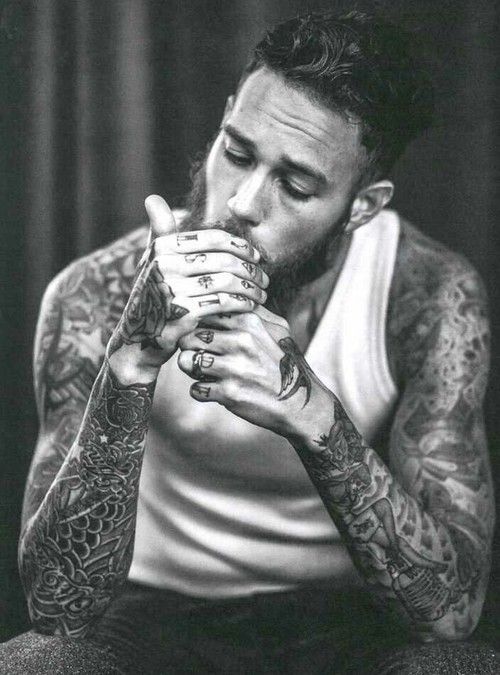 By the time Simon was born, the Bates families wealth and power was flourishing. He stepped into a life where everything was handed to him- education, money, clothes, relationships, and power. Because it was the only thing Simon ever knew, he was happy with it. He liked getting everything he wanted and he abused it wholeheartedly. He never really learned the concept that money needed to be earned because he did not exit when the Bates were still earning there place. Spoiled as he was, his three older siblings never let him become too much of a whimp- Dominic with his gruff authority, Gunner with his brash fists, and Julia with her snarky ways. He never disrespected his father or mother, though he was always much much closer to her. Gotti was always too busy for his youngest son- but Carmine had a soft spot for her baby and coddled him constantly.

Even though he knew there was a rough side to the family business, Simon was not included in any form of the family affairs until he was in high school. Dominic and Gunner ran the show mostly- Simon was always the annoying brat that got in the way. He hated being left out just as much as he hated not getting his way- so when he was 15 Simon snuck in the back seat of a car to a seemingly routine meeting. Things turned sour at some point and Simon watched with wide eyes as Gunner beat the shit out of a man in an expensive suit, blood and split flying. He watched Dominic calmly pull out a gun and point it at the other man, watched his brothers scar the piss out of these two hard ass looking drug lords...and he was hooked. He wanted in, from that moment on. Gunner and Dominic caught him, of course, he was way to excited when they got back in the car to contain himself. But it was only a matter of time before Simon felt the itch and joined in the family business.

Simon was soft though. He had been raised differently then the other boys- the lap of luxury. He did not have an impressive and powerful presence like Dominic nor did he have Gunners strength. But Simon could talk. Maybe it was all these years in a prep school, maybe education really did make a difference, but Simon had a way of making people like him. He was a cute kid with a sweet attitude that screamed harmless, so thats what he pretended to be. The Bates have a reputation for being violent- Simon upheld the opposite for the public. Gotti or Dominic would bring Simon along when they were trying to have a quiet, personable meeting with there clients. Simon liked being useful, he liked that he was helpful to the family and that his dad was finally taking notice of him.

His sweet personality is a stark contrast to his egotistical side, the side that likes sex and women and men. Most people adore Simon- in more then one way. He was always handsome, the Bates family known for being a good looking bunch, but with Simon's open and inviting personality he always had people hanging off him. Mix that with the fact that he came out as openly bisexual in high school and you have a lot of attention. Simon never really had to worry about people picking on him for the gay thin- Gunner was enough of a deterrent for that.

Despite all this though, Simon's charisma is mostly a role for his father, a role he plays very well and manages to hide from most of his family. It started in high school- Simon would get episodes, some sort of panic attack that both terrified and filled his body full of rage. His mother could help him with them sometimes, but other times he had to simply beat the ever-living shit out of anything he could get a hold of. He wasn't a good fighter- Simon never really learned how to properly throw a punch- but during his episode he would punch till his fists turned bloody and his knuckles cracked. He went to therapy in secret with his mother, tried drugs- medicinal and pharmaceutical. Weed helps him mostly, stronger drugs make him freak out more- which means Simon is often smoking in order to make himself feel calm. It isn't like he is in constant danger of freaking out, but the idea of blowing it for his family or revealing himself makes him constantly on edge. But as long as he continues to self medicate, Simon is able to mostly keep himself in check...
---
---