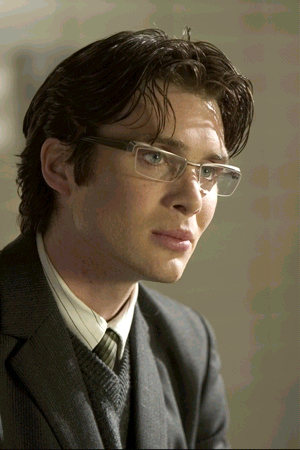 Name:
Connor Charles Jones; otherwise known as Charlie, CC or Doctor Jones.
Age:
36 years and three months today.
Gender:
Male
Appearance:
Connor is a somewhat handsome man for his age, standing at around 5'10" tall and weighing about 160 to 170 pounds, depending on whether or not he has forgotten a few meals in his research. He keeps his hair slicked back or tied in a loose ponytail, and his eyes are perpetually hidden behind a pair of glasses. He isn't the most in-shape man ever; although he exercises somewhat regularly and eats well, he isn't the epitome of a masculine figure, and in fact can seem rather thin and feminine in profile. He remains pale despite the tropical sun, and burns somewhat easily. He usually dresses fairly well, in light fabrics and pale colors to keep the heat away, and usually maintains some sort of headgear.
Sexuality:
Straight.
Species:
Human.
Likes:
- Xenobiology
- Cryptozoology
- Life Sciences
- Chai tea
- His books
- Kayaking
- Cabaret jazz
Dislikes:
- White meat
- Death metal
- Words with too many harsh syllables in them
-
Maaaagiiiiiic~
Personality:
Connor is a very dedicated, very goal-oriented person with a deep and passionate love for all things scientific. He is a meticulous researcher and field scout, with special skill in deductive reasoning and a very logical, straightforward mind. He speaks quickly and in clipped, short bursts of dialog delivered infrequently between glances at whatever he's working in. He seems to be a very flighty man with a short span of attention, but he is really just very focused on what he's doing, and doesn't have time for the outside world. Unfortunately, this can put a strain on his family dynamic. It seems that he sometimes puts his duty as a scientist before his duty as a father and a husband, but the truth is that he really does care about his family--he just becomes caught up in his work and sometimes forgets to make time for them. He does believe the mermaids are here somewhere, but goes out of his way to avoid the mission statement given to him by the government--his studies are kept as non-intrusive, non-invasive and harmless as possible.
Strengths:
Logical and intelligent, dedicated worker, meticulously organized, well-versed in scientific and cultural knowledge, passionate about his "do-no-harm" work ethic.
Weaknesses:
Overclocked worker, impatient, can be misinterpreted as rude or cold sometimes, poor sense of time, poor ability to communicate feelings with wife and children leads to lack of connections and sometimes forgetting important facts/dates (i.e. anniversaries, holidays, sometimes birthdays)
History/Background:
[In progress]
[/b]Other:[/b] Presently N/A