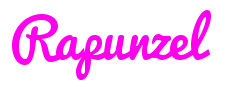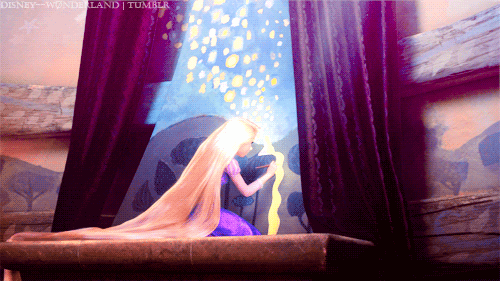 Name: Rapunzel
Nicknames: She doesn't have any nicknames, and prefers people to call her simply Rapunzel, though, if close enough to her, she may allowed different variations to her name.

Gender: Female
House: Ravenclaw - 9 Pineapple
Movie: Tangled
Physical Description: Rapunzel is characterized by her extremely long, golden hair. Rapunzel has 70 feet of magical golden hair infused with power from the sun which enables her to heal others and reverse the aging process. Rapunzel's hair is complemented by her luminous green eyes and cute freckled nose. She has thin brown eyebrows and naturally pink lips. Rapunzel wears a purple dress that seems to be slightly too small for her. It's sleeves puff at the shoulders and her bodice laces up in the old fashioned way, emphasizing the slimness of her waist. Her skirt is flowy but ends mid-calf rather than being floor length. Rapunzel goes barefoot, having spent the entirety of her 18 years protected inside the tower. When returned to her life as a princess in her family's castle, she wears a beautiful crown set with brilliant gemstones

Likes:
-Antiques & Vintage Items objects like these truly show structure which she absolutely adores, as someone who is very much into the vintage style, she finds the history by little items fascinating and so is always spotting something old around.
-Poetry it doesn't take much to make her smile, but a good poetry certainly will. It doesn't matter what genre, tone or layout, she loves them all and secretly writes her own, though this is never shared.
-Animals she is very much a animal lover, all different animals ranging for all shapes and sizes, as someone who grew up alongside pets, she feels the need to have an animal around her or with her at times as she feels truly comfortable with them.
-Music which of course is something she loves so much. Ever since she was small, very much like her poetry, she transports all her feelings and experience into lyrics which in some sense is like her version of a diary. She believes it evokes such strong emotions that sometimes you can help but feel it. She has a tendency to start randomly singing, or humming odd tunes, anything really.
-Art Rapunzel doesn't have any preferences when it comes to the medium, though sometimes she just chooses according to her moods. But the classic pencil or pen really is something she carries around and so you can see her drawing and sketching away, usually people or the surroundings around her.
-Night time very much an night owl, Rapunzel usually likes to stay up and watch the stars, though this doesn't always work for her favour as you can see her sleeping in class sometimes, however, she finds the night time sky beautiful, and is really interested in astronomy.
-Chocolate like every girl, at least the majority, Rapunzel is in deep love with chocolate, somehow she can never get enough the delicious treat and so has a bit of a sweet tooth. She is always seen as having some sort of sweet with her, just to make her day a bit better if something happens, though if you really want to impress her, you might just have to get her something sweet.

Dislikes:
-Violence or any sort of aggression though this is pretty self explanatory, as a little child who wasn't very used to seeing any some sort of violence, she has completely hated it and sometimes is afraid of it, though she doesn't show her disgust properly, she sometimes has a tendency to flinch if she think she'll be harmed in any sort of way, though this has merely become a reflex.
-Small spaces as someone who cannot handle herself even in an elevator, this does mean she has trouble around overcrowded places or even tiny rooms, as much as she tries to think positively in unavoidable situations, she can't help but slowly feel trapped and scared.
-Awkward conversations or moments though she is very socially awkward, she literally begins to stutter and turn bright red when put in an awkward situation. As someone who is just naturally quiet, those around her seem to dismiss her quite easily so she doesn't always have to worry about being put under the spot light, though occasionally, if she feels uncomfortable, she will try and make an excuse just to escape.
-Loudness or much rather just not being able to hear herself think, to avoid this, she tries to keep away from 'too loud' places and sometimes just wants to be alone, she finds if she is around loud surroundings for so long, she'll get easily frustrated and annoyed.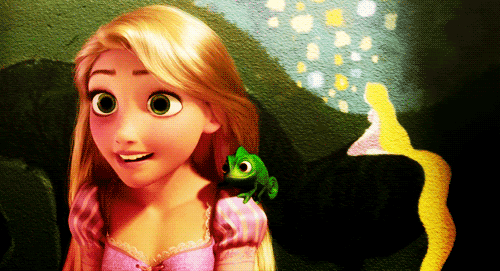 Interest:
- Singing/Music
- Astronomy
- Art
- Reading
- Baking

Equipment: Rapunzel doesn't carry much around with her, as someone who has always had very little possession, she tends to pack light and keep only those things precious to her. She sometimes carries around her sketchbook, but not always. She also carries around a small rusty pendent and pocket watch, which seem old and grey, though the pendent is always hung around her neck and the pocket watch always in her pocket.
> Pascal is certainly not a piece of equipment, but is somone who she carries around with her all the time, her only dear friend from which she had as a child, he is the only one who she has ever known and loves him dearly, though he has the tendency to be a troublemaker and overprotective.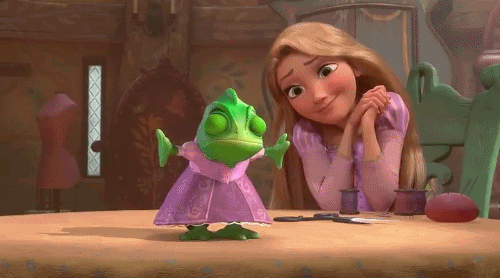 Personality:
Rapunzel is known to be the quiet girl who rarely is social. Only a few people have cared enough to try and find out more about her, though she is always easily dismissed or just classed as anti-social. She has spent her entire life as a wallflower or at least till this point, the person who has never been bullied because she was never noticeable enough to be a target, which she, as a young child believed was a trait that was worth having and so continued to live her life hardly noticeable. She became used to it, not loving it nor hating it as she decided that was how she was viewed and she couldn't really change it. However she tried, she always was terrified, in secret of fading away, being forgotten and not memorable.
She has never been the sort who could easily believe in higher authority. But she never did like those who had too much authority, as it just pushed them to abuse the power they had.
Despite this fear of fading away, the girl never reveals a desire to be noticed, acting as though she has completely accepted this stage in life- after all, there are perks to being a wallflower. She sees things that others don't, and understands those things.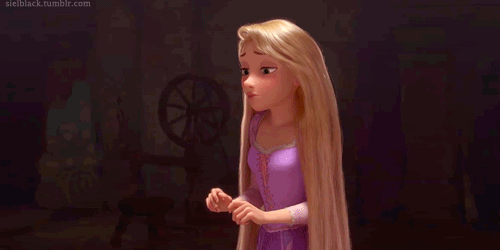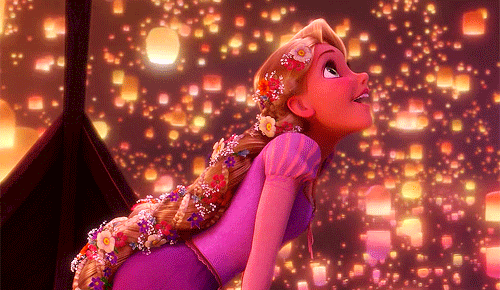 Rapunzel is a pessimist in a way, though if asked, would simply just state as a 'realist', as someone who has seen life clearly without the mask of 'fake' she knows that there are people in the world who can hurt and never own up to their actions, can live without the consequences and sometimes even pretending to be someone else. These people are the ones who scare her the most, and so usually tends to stay by herself with the very few friends that she has. She knows what she can achieve and what she cannot, knows what's the difference between dreaming and actually having a chance at that in reality. Nonetheless, she is a secret dreamer. Which she shows through her art.
She is a hopeless romantic, and reads a lot about true love and soul mates, though is discreet about her feelings. As someone who one day hopes to fall in love and get married, she feels like sometimes it's necessary for her not to always think so hopeful and so can be sometimes harsh on herself.
Rapunzel is very much a shy girl who just loves to blend into the crowd. But as someone who is so socially awkward that she cannot even ask for assistance in a shop, she has learnt to be more independent and sometimes goes as far as trying everything in her power to do anything but ask for help, so you wouldn't exactly call her a social butterfly. She gets awkward easily and hates being in social situations where she has to get to know people and 'small talk.' She is horrible when it comes to making decisions on the spot and cannot handle pressure or stress.

History: An elderly woman named Gothel witnesses a single drop of the sun falling to the ground, sprouting a magical flower with rejuvenation abilities when one sings to it. Centuries later, the Queen of a large kingdom falls ill while pregnant. Her guards locate the mysterious flower, hidden by Gothel, and bring it to the Queen. The flower heals the Queen and she gives birth to a girl named Rapunzel, who comes to inherit the flower's magical powers through her long golden hair. That night, Gothel comes to the palace and attempts to use the princess's hair to heal herself, but discovers that cutting it destroys its power. She subsequently kidnaps Rapunzel and isolates her in a tower, raising Rapunzel as her own daughter. Every year on Rapunzel's birthday, the entire kingdom sends floating lanterns into the sky, longing for their princess to return.

However, somehow a letter was able to be sent to her, telling her about this school of 'magic' that she didn't even know existed, however, she knew that her Mother Gothel wouldn't allow her to leave and so didn't have high hopes, but in her surprise, the headmaster himself convinced Gothel to let Rapunzel to go and study. Meaning this will be the first time she is going to step outside and see the outside world. As someone who was quite uneasy about having to go outside after so many years of solitude, she had a dream, which a kind, old man, with a large white beard told her a story about a brave young man, and so, she felt, with the old man's words, she could step outside and try.