Hades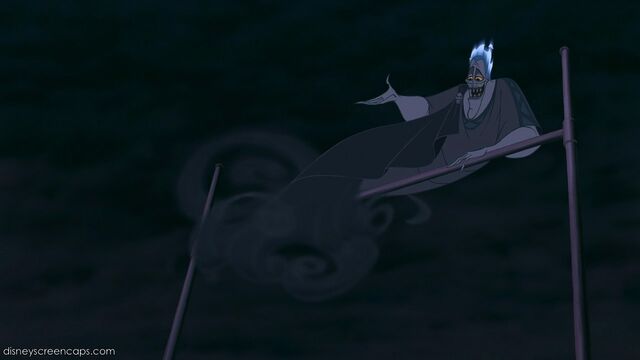 Basics
Name/Alias:
Hades
Age:
Exact age unknown, presumably at least several thousand years
Gender:
Male
Origin:
Hercules
Likes:


Making deals

Power

Aphrodite

His dog Cerberus

Underworld martinis

Dislikes:


Zeus

The majority of the Olympian deities

The titans, though that doesn't mean he's above using them, assuming they ever come back from space

Doctor Facilier's "friends"

The idiocy of most of his minions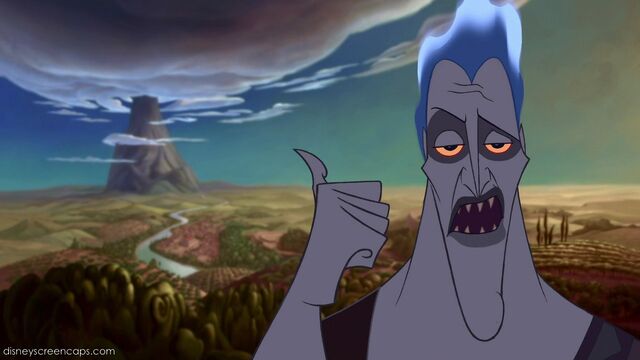 The Bare Necessities
Powers/Abilities:
As an actual god, Hades is in possession of a number of abilities that are nigh impossible to mach, with the obvious exception of other gods. Even then, he's still pretty far up there in terms of power, surpassed only by Zeus and possibly Poseidon. Among these abilities are immortality and the power to make deals with mortals. In addition, he seems to be able to pick and choose exactly how solid his body is, strangling his minions one minute, and turning to smoke the next. Hades also appears to have great pyrokinetic ability, strong enough to accidentally scorch a large stretch of forest in a fit of rage. Due to his role as Lord of the Dead, Hades has access to virtually every soul to have perished, at least in his own world (his jurisdiction outside of that being a little unclear), providing him with a massive undead army. Finally, he seems capable of teleportation and ignoring gravity, though the latter is likely a result of an early mentioned ability.
Strengths:
Aside from his godly powers, Hades is also a talented manipulator, and has managed to gather a few allies from his own world, the most notable being the Fates. Also, Hades is one of the few villains not to display the fatal flaw of arrogance.
Weaknesses:
Hades has a rather explosive temper, both literally and figuratively. He also seems partially bound by the Olympian laws against direct interference with mortals, else he would have just killed Hercules personally. As a result, he's forced to rely on his minions for a number of things that they probably can't be trusted with. Also, while he is quite strong compared to most mortals, he is one of the weakest deities in terms of physical strength. He did, after all, almost have his finger broken by an infant Hercules.
Fears:
Hades doesn't really have any fears per say. He is however, clearly repulsed by the mortal souls that reside in his domain, and their touch disgusts him immensely.
Quirks:
Hades notably seems to have a Brooklyn accent, which is surprising because not only has he never been to Brooklyn, but Brooklyn does not even exist in the world from which he originates. Also, the fire that is his hair seems to react to his emotional state, becoming a more prominent darker blue when he's excited, and flaring into red and orange when he becomes angry.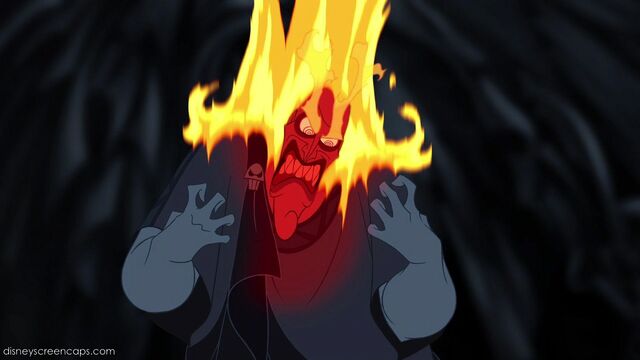 Deeper into the Rabbit Hole
Goals:
To take down the other Olympian deities and rule Mount Olympus.
Significant Relationships
Hades relationship with his family is described bellow. He also has his minions Pain and Panic. They aren't terribly intelligent, and sometimes will lie in order to avoid his wrath, but at least the two are usually smart enough to be loyal. His primary interest in his fellow members of the Coalition is whether or not they would be both willing and able to oppose Maleficent when/if it comes down to that. He acknowledges that there are other threats to be found amongst the others, but he currently sees Maleficent as being the most dangerous, both in terms of combat, and likelihood of betrayal. A being of supreme evil does not tolerate equals for long.
Family
Hades' family are the Olympian gods and goddesses, along with the titans and the occasional demigod like Hercules. For the most part, he hates them all, and, as of his alliance with Maleficent, most of them realize this, and the feeling is now largely mutual. Except Hercules. Because he's dead.
Personality:
Hades' smooth, fast-talking, mannerisms are reminiscent of the slickest of used chariot salesmen, both in oily slyness, and in effectiveness. He is a scheming entity, and even when his motivations for making a deal are obvious, the recipient tends to accept regardless, as he approaches them at a time when they'd be willing to pay almost any price for whatever it is they happen to want. For the most part, Hades is a laid back kind of guy, talkative and caustically humorous. He does however, have a very short fuse, and does not react favorably to being angered. Thankfully, his outbursts are usually rather short. He also does seem to have a certain degree of restraint, as he seemingly has never blown up at one of his fellow Olympians, even in spite of his burning jealousy.
History:
The God of the Underworld has been around for quite some time, so the quick version is all that we have room for here.
Hades' life started out much the way it intended to carry on, when he was eaten by his father Kronos mere minutes after his birth. Of course, being immortal, this didn't actually kill him, but it certainly wasn't pleasant. On the plus side, he did get to grow up alongside his brother Poseidon, and a rock that Kronos had been tricked by their mother into swallowing instead of Zeus. Just a being of smoke and fire, trapped in a stomach, which by the way are not known for their spaciousness, with a being of water and a baby-sized stone. Fun times.
Thankfully, Zeus eventually remembered his less fortunate brothers, and returned to force Kronos to disgorge them. With this accomplished, the great and powerful Zeus proceeded to defeat their father and the rest of the titans all on his own, and cast them into Tartarus. Yep, all on his own. His newly-freed brothers just stood there and watched in awe of the mighty Zeus. Yep... that's what happened. So, with that dealt with, Zeus reluctantly adopted the role of king of the gods at his brothers' request. His first wise and unquestionably fair judgement, was that he was to preside over the earth and the sky, the seas would be delegated to Poseidon, and favorite brother Hades would get the best job of them all: to live in the Underworld and take care of all the dead people. Hades was in awe of his brother's generosity.
But on a more serious note, Hades eventually snapped and began planning to take over Mount Olympus. Long story short, he made Zeus' son Hercules mortal, something for which he was never caught, but was stopped by him anyway. He was also tossed into a river of mortal souls. Not terribly pleased with this turn of events, Hades was eager to accept Maleficent's offer of partnership and, with the help of Jafar and a third party, genies grant wishes to mortals not gods, he sent his lovable scamp of a nephew on a little vacation. To space.
However, despite assisting in eliminating Hercules, Maleficent still hesitates to help Hades in making a move on the rest of the Greek pantheon, making Hades the only villain in the Coalition not to have been helped toward reaching his initial goal. At this point, Hades no longer trusts Maleficent, or to be more acurate distrusts her more than he did initially, and is subtly evaluating others who might side with him against her if necessary.