K
r
o
n
k
Basics
Name/Alias:
Kronk
Age:
Late-twenties-ish? Maybe? Even Yzma doesn't seem to have bothered to find out.
Gender:
Male
Origin:
The Emperor's New Groove
Likes:


Cooking

Jump rope

Birdwatching

The occasional cup of coffee

Dancing

Dislikes:


When people show depreciation for his cooking

Excessive negativity

Excessive self-centeredness

When his job causes conflict with his sense of morality

Being confused

The Bare Necessities
Powers/Abilities:
Kronk is incredibly athletic, more so than should be possible for a normal human without magical assistance. His shoulder angel and devil also seem to rarely be able to provide him with information that he shouldn't logically be able to have access to. Whether this is indicates that they may actually be real, or if it might just be a (possibly schizophrenic) shot in the dark remains to be seen.
Strengths:
As stated above, Kronk is very strong, and highly resistant to damage. It also seems that most things simply fail to phase him, regardless of how weird they are. Kronk is also an amazing chef, with a wonderful recipe for spinach puffs, a world class jump rope champ, fluent in several languages, including Squirrelese, and possessing the survival skills of a veteran squirrel scout. Finally, while he may not have much true combat experience, he did do some wrestling in high school.
Weaknesses:
Kronk isn't the brightest bulb on the Christmas tree. Notable offenses being making his own theme music while trying to avoid detection, being quick to assume that any comment is about the subject he's currently on, and the occasional inability to distinguish people's voices from one another, even when they sound nothing alike. On another note, he's rather easily roped into things, and a little too helpful for his own good. Then there's his loyalty to Yzma. While he initially followed her because it was his job, he still hasn't quit even when her orders oftentimes conflict with his sense of right and wrong. The thing that has kept Kronk sticking by her regardless, is his realization that he's the closest thing she has to a friend.
Also, Kronk's weak ankles prevent him from being very good at interpretive dance, despite two semesters worth of lessons.
Fears:
The only thing Kronk really fears is disapproval.
Quirks:
Kronk, when faced with a moral choice that requires some thought, has an odd habit of speaking with his shoulder angel and devil. This is odd because he not only sees them appear before his eyes, but also talks to them out loud. Whether they are actually there, but remain invisible to everyone but he, or he is just more unhinged than one would gather from an ordinary conversation with him, or some combination thereof, is currently unclear.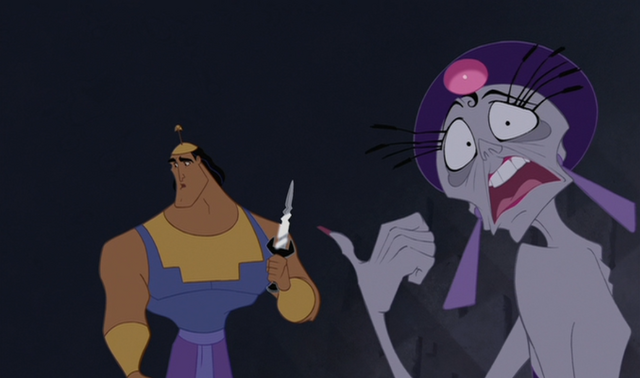 Deeper into the Rabbit Hole
Goals:
Kronk's current goals are whatever he's ordered to do, but someday he'd like to find a nice girl, fall in love, and settle down. He hasn't quite realized yet that the world that he's helping to create will have no room for such dreams.
Significant Relationships
While Kronk has made some friends across the course of his life, he doesn't currently spend much time with most of those people, as circumstance prevents it.
He hasn't seen his father in several years, both because the man never seemed to be terribly proud of Kronk's talents and interests, and because Kronk now no longer lives within a reasonable distance of the village he grew up in. For the latter reason, he rarely sees any of the friends he made growing up.
Even so, being the nice guy he is, he's managed to make friends with several of the palace guards, despite the severe attitude they are made to adopt. While it is rare that both he and they have time away from work that isn't occupied by sleeping or other such necessary things, they still try to have lunch together on occasion.
The person that Kronk has recently spent the most time with, as one might expect with his job description, is Yzma. While he realizes that the woman is clearly unhinged, and that's coming from someone who's not only not the sharpest knife in the drawer, but also talks to tiny versions of himself dressed up in little costumes to make moral decisions, and her motives can at times be very questionable, he can't help but feel sorry for her. The only living person she seems to have known longer than him is the emperor, and he didn't hesitate to fire her on a whim. Whether she realizes this or not, Kronk believes, from what he's seen, that he is the closest thing she has to a friend.
Family
Kronk's only remaining family is his father, assuming of course that he's still alive. Kronk hasn't heard from him in quite a while, but he believes that he is.
Personality:
Kronk is a loyal, kind, ad helpful young man, if rather naive and childlike in some respects, in addition to just plain being foolish sometimes. A rather blunt person, nuances and niceties are often completely lost on him, and any attempt to be subtle them on his part, while at first seeming successful, will then be elaborated upon for the purpose of clarification, which of course ends up making his attempts at saying things inconspicuously... well, rather conspicuous. In a similar vein, he is rather terrible at lying, though others strangely tend not to notice this most times, realizing that he isn't telling the truth
only when relevant to the plot
at the oddest times that seemingly are no more obvious than usual.
History:
Kronk's past before he began working for Yzma is largely unremarkable. The primary points of interest being his two semesters of Miss Nalca's interpretive dance, his time in the squirrel scouts, and his early interest in cooking, though at that point it was mainly baking. His father approved only of the second of these, and even then not that much, at least that's what Kronk has managed to gather. He also did some wrestling in high school. After he began working with Yzma however, Kronk's life took a turn for the peculiar. He was first a mad science assistant, then a conspirator, then an assassin, a... actually, he doesn't quite know what his role was as Yzma's assistant when she ruled the empire the first time, a mode of transportation doubling as a translator and traveling companion perhaps? Finally, he had been a temporary turncoat when Yzna had insulted his spinach puffs. He did however, once the matter was resolved, manage to work out a deal with Kuzco so that Yzma, now a cat, was neither executed, nor imprisoned. Instead, she aided him in teaching a new troop of squirrel scouts.
However, it would seem that was not to last as, with the magic of Maleficent, Yzma regained her human form and, with an army of demons, retook the empire, this time far less subtly than the previous one. Surprisingly, the old woman had neither Kronk, nor the fat man, nor even Kuzco killed, instead imprisoning Kuzco, leaving Pacha where he was, Kronk got the sneaking suspicion that she'd forgotten about him entirely, and, most surprisingly of all, gave Kronk back his old job as her assistant. Recently, Yzma has been made aware, likely by Maleficent, of a group of rebels, and she has sent him to be a spy. Kronk already has reservations about this mission, but has, for the moment, complied.