MALEFICENT
Basics
Name/Alias:
Maleficent
Age:
No one knows
Gender:
Female
Origin:
Sleeping Beauty
Likes:


Ruling all of Creation

The usefulness of the Coalition

Making curses

Winning

Being the Mistress of all Evil

Dislikes:


Heroes

Good Fairies

Princes

Defeat

Being snubbed by people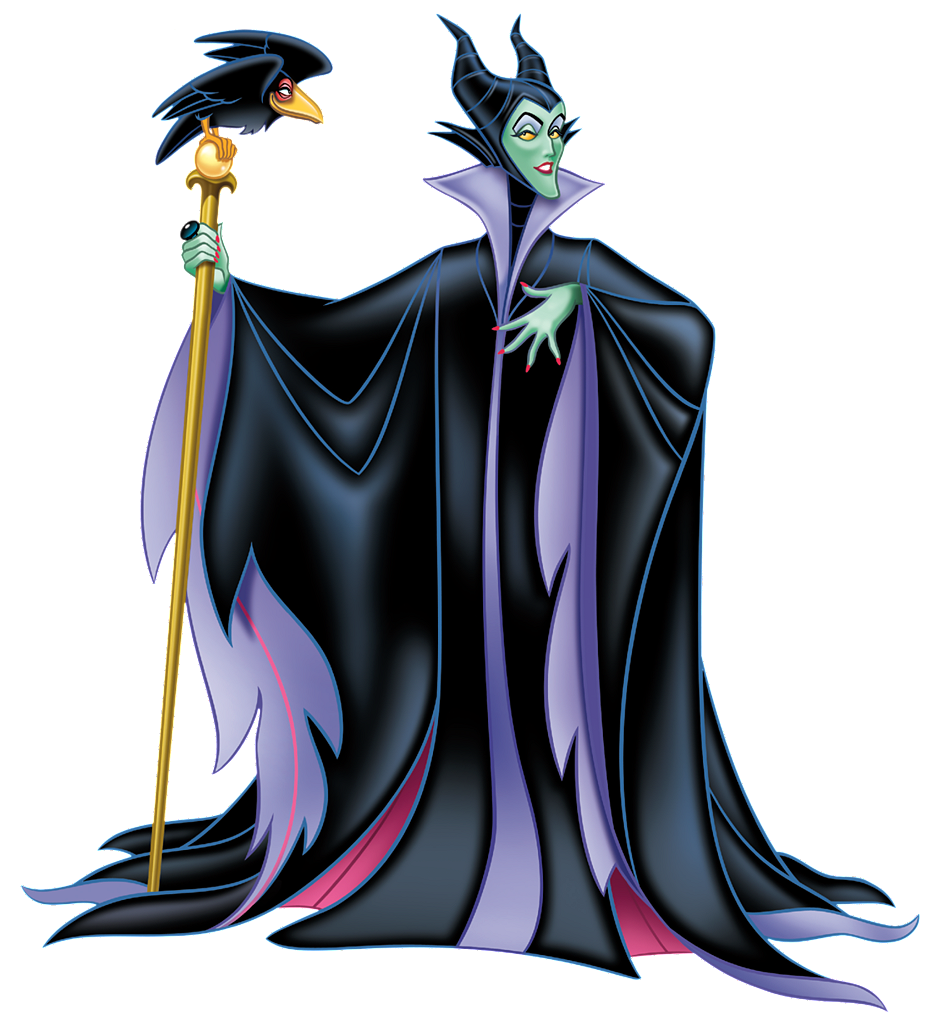 The Bare Necessities
Powers/Abilities:
Maleficent has a variety of powers and abilities, mostly revolving around Magic. Her dark powers know no bounds, allowing her to do countless wicked deeds. Among her most powerful abilities would be her ability to turn into a fierce and powerful Dragon.
Strengths:
Maleficent is one of the most powerful sorceresses in all Creation, and she is especially good at making curses.
Weaknesses:
If Maleficent has a flaw, it would definitely be her arrogance and overconfidence. And at times, she does not always take the easy solution out; sometimes she prefers to play with her victims, instead of outright killing them, which has led to her downfall before.
Fears:
There is very little that Maleficent fears. She is the Mistress of all Evil, and one of the most powerful beings in the Multiverse. Nothing in existence scares her...except, perhaps, beings more powerful than even she.
Quirks:
Maleficent doesn't have very many, if any, quirks.
Deeper into the Rabbit Hole
Goals:
To conquer the multiverse, and reign forever as the Eternal Empress of all Evil
Significant Relationships
Maleficent does not have very many relationships. At the moment, she has a 'relationship' of sorts with Jafar and Hades. With their help, she created the Coalition, and started to forge her Eternal Empire. However, she does not trust either the genie or the god at all; she fully expects them to betray her at some point. And when they do...she shall be ready.
Family
Maleficent does not have a family, nor has she ever really had one. She is above such frivolous, mortal trappings.
Personality:
Maleficent is cruel, petty, and vicious. She doesn't have an ounce of goodness or kindness in her. She might be somewhat cordial to her allies and servants, but even then she isn't always successful; more often than not, she acts rather smug and condescending to her allies. And she is worse to her enemies above all; she will not hesitate to torture her enemies through a variety of means, mostly involving putting curses on them. Maleficent is also very petty, and takes great offense at the smallest slight or refusal.
History:
Much of Maleficent's history is unknown, and she likes to keep it that way. At one point she put a curse on the Princess Aurora, a catalysis that ended up leading to her near death a decade or so later. Fortunately, Maleficent clung to life, and recovered in the shadows, content to wait and plot out her revenge on those who had sought to strike her down. It was during this healing period that she discovered the existence of the Multiverse, and how to traverse from world to world.
After Maleficent had sufficiently recovered, she struck, unleashing her rage and fury upon those who had nearly destroyed her before. Once her enemies were dead at her feet, Maleficent took the time to unleash her armies across the world, effectively beginning her Eternal Empire.
Once her own world was properly subjugated, Maleficent started to send copies of herself across the Multiverse, to expand her Eternal Empire. On two separate planes of existence, she came across the god Hades, and the genie Jafar. There, she struck a deal with the both of them, and began the Coalition of Evil. With the help of Hades, she traveled to the afterlives of many different worlds, seeking like-minded folk who would act as her agents. Once she found them, she made deals with them, and using a combination of her own Magic, Hades' powers, and Jafar's genie prowess, she resurrected them all back to life, and gave them (or most of them, at least) an armada of demons to conquer and pillage their respective worlds.
At the moment, Maleficent and her Coalition have largely succeeded in their goals, which pleases Maleficent to no end. She can already see fractures forming in the Coalition, and knows that the status quo will be challenged soon enough, but Maleficent is more than confident that she can hold the Coalition together for an appropriate time. Besides, what else does she have to worry about? The heroes of countless worlds are all dead; the only real threats to her Dominion left are the Greek Gods that rule over Hades' plane of existence, and even they will fall beneath her, once the time is right.