Megara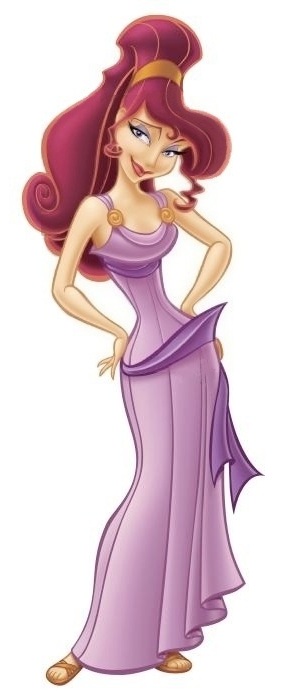 Basics
Name/Alias:
Megara
Age:
19
Gender:
Female
Origin:
Hercules
Likes:


Hercules

Her freedom

Sarcasm

Bravery

Perseverance

Dislikes:


Hades

Heights

Flying

Manipulative people

People who give up easily

The Bare Necessities
Powers/Abilities:
Meg has little in the way of recognisable powers or abilities. That was Hercules' domain being the demi-god in their relationship and all that. She's in fairly good shape and has the average physical strength and stamina of a woman of her age and build.
Strengths:
The biggest thing Megara has going for her is her street smarts; she's not one to let you take her for a ride. She's also brave and a loyal friend.
Weaknesses:
Meg lacks the physical prowess of other heroes and her combat abilities are seriously lacking. While she may try and put up a good fight, she won't get very far against anything other than a training dummy. She also has weak ankles.
Fears:
Flying, failing in her goal
Quirks:
Very sarcastic, talks fast
Deeper into the Rabbit Hole
Goals:
Avenge Hercules' death
Stop the villains taking over the Multiverse
Significant Relationships
Hercules(deceased)-boyfriend
Prince Adonis(unknown, don't care)-ex-boyfriend
Hades- She had formerly sold her soul to Hades but now has her freedom back
Family
Meg's family is unknown, but she now counts Hercules' family as her in-laws of sorts. So Zeus is her father-in-law, Hera her mother-in-law and so on and so forth. Seriously though, Hercules has a huge family.
Personality:
Meg is without doubt on of the more outspoken heroines around. She says exactly what she means and refuses to sugarcoat anything. She has no issues with using her femininity to her advantage in any given situation and often resorts to flirtation and flattery in order to get what she wants. Meg is a largely independent person and hates having to rely on other people for anything. Getting one up on Meg is pretty difficult as many people have found out to their expense. While she may not shine academically, Meg certainly has her wits about her and always has a quick comeback, which are usually very sarcastic. Megara has a more cynical outlook on the world than others in the multiverse.
History:
When she was younger, Megara sold her soul to Hades in order to save her then boyfriend, Adonis, who then repaid her by leaving her for another woman. heartbroken, Meg entered into a life of servitude to Hades, acting as a reluctant pawn in his plan to eventually rule over Olympus. She was trying to persuade the River Guardian to join Hades when Hercules swooped in and 'saved the day'.She was initially dismissive of Hercules, having promised herself not to get involved in another relationship, but when she realised that this Hercules was trouble for Hades, she began to warm to him, even showing concern when he faced the hydra. While it was obvious that she had feelings for Hercules, she refused to acknowledge them. Hades later used Meg to stop Hercules interfering in his plans by giving up his strength for 24 hours. Hercules made the deal on the basis that Meg wouldn't get hurt. Long story short, Meg did get hurt, Hercules got his strength back, saved Olympus. The Meg died and Hercules saved her soul from Hades.
Having both acknowledged that they had feelings for one another, Hercules and Megara ended up in a relationship and everything was ticking along nicely until Hades decided he'd had enough of the River of Death and wanted revenge on Hercules. Which he got after wishing for Hercules to be sent to space. The Gods managed to keep Hades and the alliance out of Olympus and Megara was drawn into the multiverse wide effort to stop the alliance succeeding.