Pacha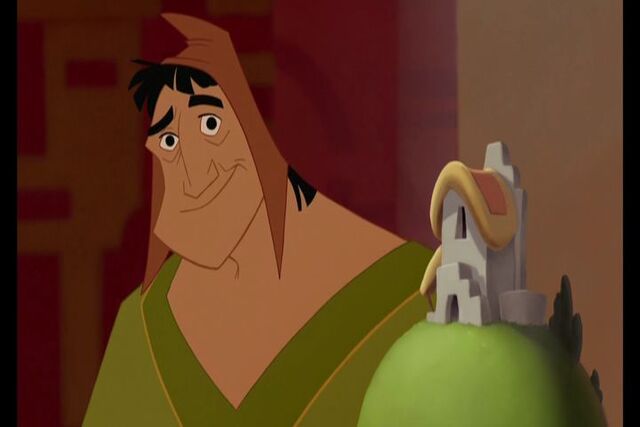 Basics
Name/Alias:
Pacha
Age:
Unknown exactly, presumably at least in his late twenties, given the apparent age of his children
Gender:
Male
Origin:
The Emperor's New Groove
Likes:


His family

His village

Kuzco

Llamas

Pillbugs (to eat)

Dislikes:


Selfishness

Scorpions

Yzma

The way Yzma is currently running the empire, even though it isn't that much different from how Kuzco used to

His current indecisiveness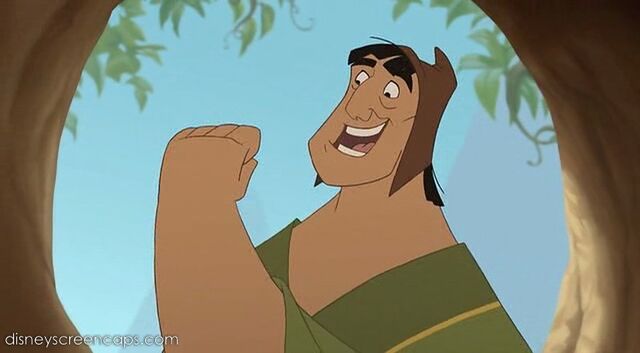 The Bare Necessities
Powers/Abilities:
Nothing really, aside from having the patience of a saint.
Strengths:
Pacha is sort of a big guy, though this seems to be more the way he's built than fat or muscle. He also seems fairly good at problem solving, has decent survival skills, and at least passable archery experience. Finally, while he's no Kronk, Pacha is fairly fit, able to run for a surprisingly long time.
Weaknesses:
Pacha's combat prowess is not great. His fighting experience is pretty much comprised of one brawl he got into with an emperor-turned-llama, and the time that he got shoved off of the palace wall by an old woman. Pacha is also rather altruistic, and still believes that there is good in everyone, even now. As such, he's likely to be the first to accept any claims of reformation, real or feigned.
Fears:
Pacha is afraid that harm might come to his family, or, to a lesser extent, his village.
Quirks:
Not much, aside from his habit of talking to animals, non-sentient ones that aren't capable of replying that is.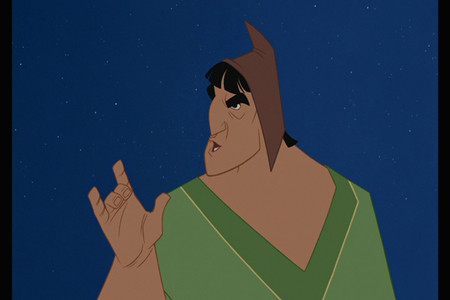 Deeper into the Rabbit Hole
Goals:
Pacha isn't quite sure what his goal is now. He'd like to try to rescue Kuzco, but is worried about what might befall his family and village if he does.
Significant Relationships
Pacha cares deeply about his family, and feels responsible for his village, which has elected him as leader. He has also become friends with the former emperor Kuzco.
Family
Chicha, his wife, and his children Chaca, Tipo, Yupi, in descending order of age.
Personality:
Pacha can be described as a responsible family man, and a loyal friend. He is integrous and always keeps his word, often to a fault, though he does seem to be willing to fib to spare someones feelings. A decent man, he unfortunately tends to expect everyone else to share this trait, though obviously not nearly as much as he used to, what with the takeover of the kingdom by Yzma and her demonic army. Even so, they haven't actually fared that poorly, and he still manages to retain the optimism and the belief that people are inherently good that he was raised with.
History:
Pacha comes from a long line of llama herders and farmers, and his family has lived in the house they currently occupy for eight generations. His life wasn't especially unusual before his run in with the emperor. He became respected in his community and was elected village leader, the most notable duty this carried being that he would be the one to speak for the village in matters that required. Not long after, he met his wife Chicha, and the two were eventually wed. By the time he was summoned by Emperor Kuzco, the two of them had two children, and a third well on the way.
After his adventures with Kuzco, Pacha's life went pretty much back to normal, with the notable exception of now being friends with a, significantly better, Emperor Kuzco. Sadly, this was not to last, as Yzma acquired help from the Coalition of Evil and regained both her human form and the empire. She then proceeded to capture Kuzco, turn him back into a llama, and toss him in prison. Exactly why she has overlooked Pacha and his village is currently unknown to him, and while he believes he owes it to Kuzco as his friend to at least try to rescue him, he is also afraid of what the consequences might be for the people he cares about.