Rapunzel
Basics
Name/Alias:
Rapunzel
Age:
20
Gender:
Female
Origin:
Tangled
Likes:


Flynn/Eugene

Pascal

Her parents

Maximus

Making Friends

Dislikes:


Mother Gothel

Death

The Coalition of Evil

Being trapped

Liars/Manipulators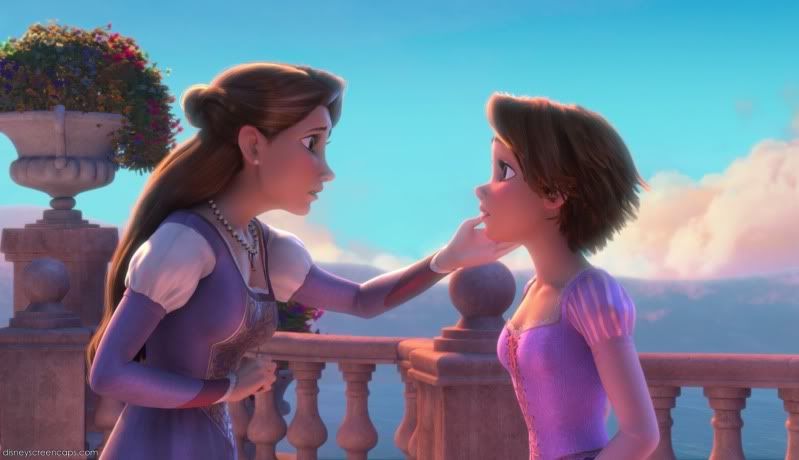 The Bare Necessities
Powers/Abilities:
At this point in time, Rapunzel doesn't have any powers, per say. She used to have magic hair that could heal the sick, dying, and wounded, but that's gone now. Rapunzel does have other abilities, but they don't pertain too much in the ways of combat.
Strengths:
Rapunzel is an excellent painter, quite acrobatic and physically fit, good at a variety of house-hold chores, and she can be pretty deadly with a frying pan. Other than that, though, she's quite limited in her abilities. She certainly isn't a fighter as well, though she can bean people with a blunt object if she's given the opportunity.
Weaknesses:
Rapunzel has quite a few weaknesses. She isn't terribly strong, can't really fight, and she used to be rather naive and innocent. Rapunzel hopes to work toward removing those weaknesses though, especially in regards to fighting. She wants revenge on Mother Gothel, and nothing will stop her in ascertaining that goal.
Fears:
Most of Rapunzel's fears have been realized very recently; losing her husband, Eugene, losing her new parents, and seeing Mother Gothel come back to life. The only thing left that she really fears, and that hasn't been realized, is her fear of death.
Quirks:
Rapunzel's become a much more somber and depressed person as a result of recent events, so her quirks are rather subdued these days. Still, Rapunzel used to be quite the naive and innocent person, which of course has changed. She also tended to be very excitable and took a lot of joy in new experiences. She also has a habit of making friends with animals, most prominently in the cause of Pascal the chameleon.
Deeper into the Rabbit Hole
Goals:
Rapunzel seeks to avenge the deaths of her husband and parents, and kill Mother Gothel. She also wishes to free her kingdom from the tyrannical rule of the Coalition, as well.
Significant Relationships
Rapunzel formed a friendship, of sorts, with a local gang of mercenaries, who all turned out to be quite nice and pleasant men, surprisingly. Though Rapunzel hasn't seen or heard from any of them since the Coalition's invasion, and suspects them to be dead.
Her most significant relationship was with Flynn/Eugene, the man who inadvertently rescued her from her old life, later becoming her husband as well. Rapunzel loved Eugene dearly, and even though he is gone now, she'll never forget him.
Family
Rapunzel has, or had, two separate families, of a sort. For the majority of her life, she was raised by Mother Gothel. Rapunzel thought Gothel cared for her, and loved her, and perhaps a part of her did...but their relationship was shattered the moment Rapunzel found out Gothel had kidnapped her from her real parents, and did so because she wanted to use her hair to keep young forever. After that, Rapunzel could never really forgive "Mother" Gothel.
A short time later Rapunzel came into contact with her real parents, the King and Queen of a local kingdom. They all bonded quite fast, and Rapunzel came to love her new family very much over the next two years. She may not have been with them during her childhood, but Rapunzel soon made up for the lost time.
Personality:
Rapunzel is a spirited, smart, clever, kind, playful and a very adventurous girl, and for a time she was a bit naive. However, she is not afraid to stand up for herself or others when the situation calls for bravery. She is quite daring, and charismatic, as well. However, Rapunzel isn't quite as cheerful as she used to be. The deaths of her husband and family have shattered her previous, more happy persona. Still, she tries to live on with herself, and tries to retain some of her old nature.
History:
Rapunzel has had quite the extensive history, to say the least. For most of her life she was locked away in a tower, with her "Mother", until shortly after her 18th birthday. Fate intervened, in the form of Eugene Fitzherbert. After a series of events, Rapunzel traveled with Eugene to see the lanterns that were always let go on her birthday. Following another series of events, Rapunzel learned that she was the Lost Princess; the stolen daughter of the King and Queen, kidnapped by Mother Gothel when she was less than a month old. This resulted in a falling out with Gothel, and ended with the near-death of Eugene, the actual death of Gothel, and the loss of her magic hair.
After this, Rapunzel traveled with Eugene to meet her real parents. Shortly thereafter, she was accepted into the royal family, and things ended happily ever after.
Or, not.
Two years after Rapunzel had reunited with her family, Mother Gothel inexplicably came back from the dead. And with her, came an army of demonic beasts, that quickly invaded her kingdom. And thus, Rapunzel's life as she knew it ended. Her parents and her husband died in the resulting massacre, and she barely escaped with her life. The only friend Rapunzel has left is the horse Maximus, who is the very being responsible for her continued safety.
Rapunzel is devastated and in great despair, almost unable to go on. But one thought keeps her going through each day: revenge. It might take her a long, long time, but one day, she will have her revenge, and kill Mother Gothel for ruining her life once again.