Shan Yu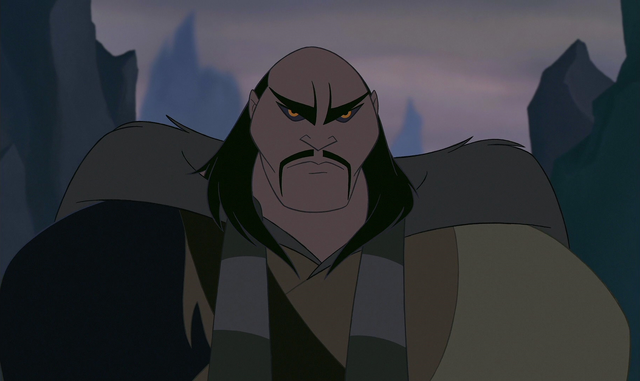 Basics
Name/Alias:
Shan Yu
Age:
Unknown exactly, presumably at least late twenties
Gender:
Male
Origin:
Mulan
Likes:


Hayabusa

War

Conquest

Games

Fighting worthy opponents

Dislikes:


Cowardice

Losing

Fa Mulan

Fireworks, considering, not that he won't utilize them

Most technology more advanced than China's; guns are so... impersonal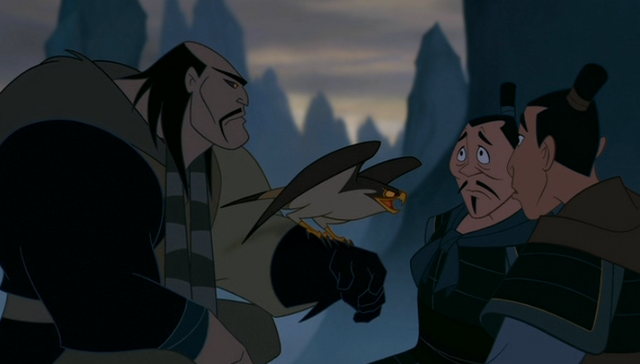 The Bare Necessities
Powers/Abilities:
Shan Yu's strength and athleticism are nearly supernatural, as he has proved himself capable of slicing through large pillars with a one-handed sword swing, and jumped straight up around forty feet and through a tile roof. His endurance is similarly impressive, surviving being buried under an avalanche for several hours, before clawing his way out seemingly no worse for wear. His powers of perception are also a little eerie, as he's able to quickly figure out, form a doll, while mounted on a horse, that there is a village nearby, and that the imperial army is waiting there for him and his men, all this within a matter of seconds. Quite frankly he's just clever in general. Finally, while he may not have received any particularly formal combat training, Shan Yu is a dangerous combatant, armed or not, displaying extreme lethality every time he fights.
Strengths:
In addition to his own considerable abilities, Shan Yu is backed by the Hun army, a force that, under his leadership, wiped out the bulk of the Chinese army (twice) without suffering significant casualties. His falcon is also extremely well trained, acting as an early warning, a means of retrieval, and even a combat partner for its master.
Weaknesses:
Shan Yu is extremely confidant in both himself and his army, though arguably this is not unjustified. He is also nearly incapable of backing down from a challenge, whether real or imagined, and tends to force himself and his men to abide by various "rules of engagement", depending on what the challenge was. To their credit (or maybe not), his men don't seem to mind this.
Fears:
While it might not be a fear, Shan Yu does have a decided dislike of fireworks.
Quirks:
Nothing not already mentioned, unless of course him being fairly quiet counts. Given how most of the other villains act, maybe it does.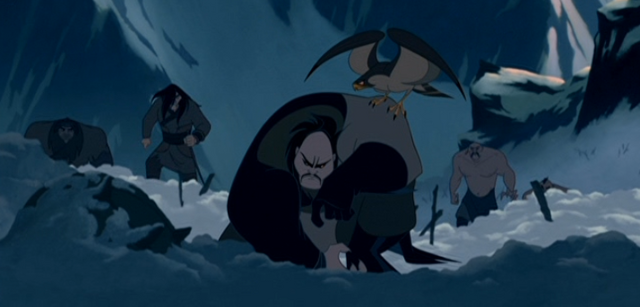 Deeper into the Rabbit Hole
Goals:
To get stronger as a warrior, to take on greater challenges, and complete his revenge for his previous defeat.
Significant Relationships
Shan Yu shows no true affection, something he'd probably see as weakness. He does, however, seem to enjoy the company of his falcon Hayabusa. He also has an interesting relationship with Fa Mulan. On one hand, he views her as a worthier opponent than most, though it does irritate him how much luck tends to play a part in her victories. On the other hand, she did kill him, and more importantly prevented him from killing the emperor. Either way, he intends to kill her when he gets the chance.
He also intends to eventually eliminate the leading Triumvirate of the Coalition once they've settled the matter of the remaining heroes. This isn't because he has anything against them, though given their personalities he might, but rather because he sees their immortality, or near immortality in Maleficent's case, as a challenge, much like the Great Wall built by the emperor of China. He isn't stupid though, and has no intention of attacking them head on, or even making these intentions known, until he's certain he can accomplish it.
Family
Shan Yu has no living relatives. It is whispered amongst some of his men that he killed both his parents and older brother mere moments after his birth, though this is, obviously, complete poppycock. Probably.
Personality:
While his people survive by pillaging and plundering, as well as sometimes having a habit of doing so for no reason at all, Shan Yu is more than merely sadistic like many of his fellows, and leads them to attack not only out of need or murderous whim, but to prove his strength. It's a bit more complicated than a simple show of dominance however, as he does this not when any direct threats are made, though this tends to receive a similar reaction, but when what Shan Yu decides as a challenge is made. This can be as simple as the construction of a large wall enticing an invasion, to the use of the word immortal resulting in an attempt at deicide. Furthermore, he tends to take these challenges on to the fullest extent, deliberately allowing the Chinese army to become aware of his invasion, and choosing to confront them directly, rather than simply go around.
Aside from his odd "challenges", Shan Yu is inspiring to his men, and cruel and frightening to just about everyone else. He appears to have a rather dark, and twisted sense of humor as well.
History:
Shan Yu was apparently infamous even before his invasion of China, but it was one of the greatest challenges he took on. Despite this, he was very confidant about his and his army's strength and superiority, and indeed didn't even seem to entertain the notion that they might not emerge victorious. This was displayed when he allowed news of his whereabouts to to reach the emperor not once, but twice, the first of which being n the wall, and the second being when he allowed a scout to escape to deliver the message. He also deliberately confronted the entirety of the Imperial Vanguard head on, rather than simply go around them.
As they approached the palace however, they ran across a group of freshly trained soldiers, led by the then Captain, Li Shang. They had the group vastly outnumbered and, let's face it, completely outmatched, but were defeated when one of the soldiers cleverly used a cannon to start an avalanche, which buried the entire Hun army, and killed all but six of them, Shan Yu himself included. This was assumed to have wiped them out, and the soldiers were gone by the time the survivors recovered.
Displeased with this turn of events, Shan Yu lead his team into the Imperial City, where they proceeded to stealthily make their way to the top of the palace, before kidnapping the emperor, and withdrawing inside. Shan Yu attempted to force the emperor to bow to him, thus conceding defeat and declaring Shan Yu the winner of their perceived "game". When the old man refused, Shan Yu tried to kill him, and would have succeeded were it not for the actions of a ragtag team led by the soldier from the pass, the woman Fa Mulan. Mulan herself managed to end his life with the help of her unseen friend Mushu, by hitting him with a large rocket, sending him flying into a tower filled with even more fireworks. Shan Yu was killed in the fiery explosion that followed.
Some time later, he was revived by Hades at Maleficent's request, and offered an army of demons or the undead with which to conquer China. Shan Yu refused, instead requesting that his army be revived instead, so that he could do things as he had initially meant to. His first action after being restored to life was to send his falcon to retrieve his sword from the Fa household. This accomplished, he and his men quickly claimed China as their own, not terribly difficult after they had taken the Imperial City, and Shan Yu had forced the emperor to bow to him, something that was accomplished by breaking his shins.
Shan Yu now largely delegates the ruling of the country to those among the Huns both capable and inclined to do so, Shan Yu himself only fitting into the first group. He spends most of his time now wandering the worlds with a small squad of his best men, trying to root out the few heroes who remain.