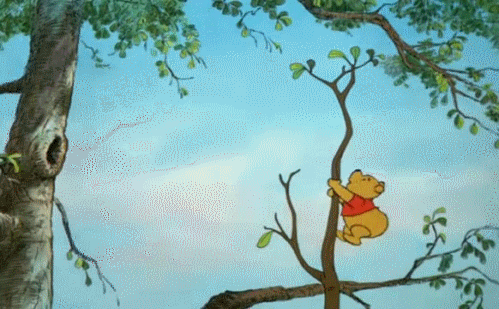 Nicknames:
Winnie
Age:
16
Disney Movie:
Winnie the Pooh
Birthday:
May 17
Gender:
Male
Sexuality:
Hunny-lover. Oh you mean people-wise? Why would I care? Anyone's fine.
The only memory left:
Getting stuck the whole of a tree and having both my arms and face covered in delicious hunny.
Likes:
Hunny
My friends
Helping my friends
Balloons
More hunny
Dislikes:
Bees
Empty honey pots
Getting stuck
Thinking too much
Running out of hunny
Fears:
Bee stings
Starving to death
Personality:
I'm… what's the word… slow. I guess. My friends really like me. So I guess I'm really friendly. I'm nice, kind, amiable… wait what do you mean those are all the same thing? Whatever, you get the idea then right? I am also really optimistic. I mean, why be all depressed about something when you can just try and do something about it. If you don't try, nothing's going to change right? When it comes down to it, I can be courageous and dependable. Otherwise I'd much rather sit down and devour some hunny. What? You don't spell "honey" like "hunny"? Well. You can spell however you like. I'm not criticizing you am I?
All in all I'm a good friend to have and an easy person to get along with. I'm not judgemental and I definitely won't make assumptions.
Biography:
Wynn was enjoying a new pot of hunny he had just "borrowed" from Rabbit's house when suddenly he felt his story book being dropped. At first he thought someone had accidently went flying through the pages or something, because occasionally he himself had screwed up some text and went flying to another page. This time however, the shaking wouldn't stop and before he knew it he was knocked out and woke up on an unknown island.
When Wynn woke up on the island his first instinct was to look for something. He didn't know what, but it was probably hunny. It was the only memory he had after all. He wasn't used to the body he had. It felt strange. He had five moving digits on each hand, and he wondered how he lived life without them before.
He's enjoying the island so far. There's always a supply of hunny, which was good enough for him. Also he felt like he wasn't really missing any of his friends by being here. It was as if they were here with him. He was enjoying this new life. There was a lot of other people, and he's slowly starting to get to know them all.
Anything else?
Oh, did I mention I love hunny?
Password:
Disney's Magic