---
---
---
This world could be peaceful if there was no war or no fighting, But I'll get back to you after a nap.
~~~
Normal || Last Resort | Papa Roach ||
Angry || Monster | Skillet ||
Emotional || My Song | Amanda Lee ||
Rampage ||Unravel | Amanda Lee ||
~~~
---
---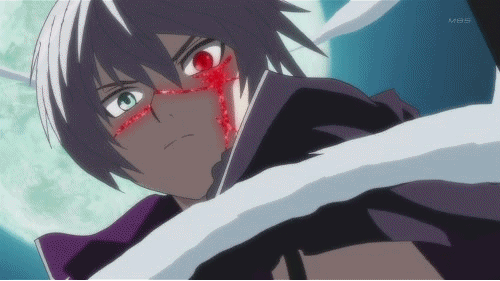 ♔ Full Name ♔: Zero Okami
♔ Rank ♔:Alpha
♔ Age ♔: Looks 17
♔ Gender ♔: Male
♔ Faction ♔: The Order
♔ Sexuality ♔: Heterosexual
♔ Nationality and Place of Origin ♔: Unknown
---
---
♔ Physical Description/Clothing Preference ♔:Zero has fluffy ghost white/silver hair, with heterochromia eyes, his right eye is green while his left with a dark red. Porcelain-white skin and usually wears a black sleeveless shirt with a black hood, zipper down the middle, and a red cross in the front. In addition, he wears a pair of black combat pants with a black belt and black combat boots. Alexander wears black gloves with red trim, has his left ear pierced. and a large scar on the left side of his face shaped like an inverted Eastern Cross.
♔ Personality ♔: Although he often appears dimwitted, Zero is actually highly intelligent and clever, and can easily fool any one with his appearance. Despite his generally positive nature, he angers easily when awakened from slumber (which is usually sleeps all the time unless a job as to be down.) and since his bloodtype is AB, most of the allies believe that he has a split personality (i.e. Dark/Nice Zero).

As one of the leader of the order, Zero refers to his fellow allies using the "-chan" honorific. He also serves as a mentor-figure for the order. However, he does not believe in babying people, and not even Gamma who is also a leader of the order, typically does not offer his advice unless he is approached first. He harbors an insatiable appetite, as if he is found awake it would have some kind of food or snack with him.
Zero is born under the star sign of Pisces, the Fishes. The positive traits of this sign are imagination, kindness, compassion, intuition, sensitivity and selflessness; the negative traits being escapism, idealism, a weak will, over-sensitivity, pessimism and indolence. Since he is born on the 29th of February, leap-day, Zero is considered a "leapling" and only celebrates his actual birthday once every four years, giving these qualities a lesser influence on his personality. Even at his age Zero has Eidetic Memory, also known as perfect memory. Eidetic memory is an ability to recall images, sounds, or objects in memory with high precision for a few minutes
♔ Special Talent ♔:bottomless pit apatite (also known as his stomach),
able to sleep for days straight, 

♔ Arcane/Physical Powers ♔ :Electricity charge - Zero is able to turn his own magic into electricity. With this he able to do Kanmuru (also known as god speed). With his hair, hands and feet changed into electric type aura, Zero's Kanmuru ability allows him to react and move his body at speeds that would normally be impossible. This ability changes Zero's magic into a field capable of transmitting all electrical impulses from his brain in a straight line directly to the part of the body he wants to use, completely bypassing his nervous system. It is made up of two parts: Speed of Lightning, the ability to move his body according to his own will, used to travel long distances at high speed, and Whirlwind), the ability to sense his opponents movements and have his body react automatically, which he uses to evade enemy attacks with flawless speed and timing. Kanmuru can only be used for a short amount (about 30 min. or less depending on the state of health Zero is in.) of time before needing to be recharged.
♔ Primary Weapons ♔: Ryūketsu no kama - Also known as bloody scythe. This scythe is made and forged by the welders own blood. The scythe starts off as a small peace of demon steel. the wielder will grab the peace of demon steel and wait for the steel to absorb the blood and grow to form a shape that fits the wielder. The dangers thing about the scythe is that it shall draw a lot of blood all at once, Enough blood to kill the wielder at that point. Zero heard the legend of the scythe and set off to find it. After finding the scythe Zero grabbed the demon steel and at once he felt the demon steel starting to absorb his blood at a fast pace. The scythe then was starting to form. After the scythe has taken its full form to fit the shape that fitted Zero, he was still standing and wieling the scythe in his hands.
Ryūketsu no kama shares the same bottomless pit of hungry as Zero, but Ryūketsu no kama hunger for blood. A single cut from Ryūketsu no kama will mean death, as Ryūketsu no kama will drain the blood of Zero's enemies from that single cut. If Ryūketsu no kama shall be damaged in battle, it can heal it self by absorbing the blood of the fallen enemies or it can drain Zero blood to heal it self.
---
---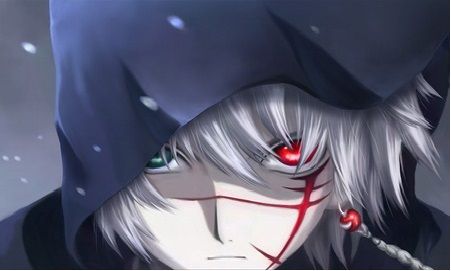 ♔ Likes ♔: Naps, sleeping (like a lot!), and food, and some times fighting
♔ Dislikes ♔:being woken up from his nap, being defeated, and minor being told what to do
♔ Talents ♔: Sleeping, Eidetic Memory, can indore a lot of pain
♔ Flaws ♔: Gets lazy fast due to wanting to sleep
♔ Fears ♔:Not being able to get another nice good nap
♔ Secrets ♔: His history of who he is
---
---
♔Bio ♔: Zero past is a mystery to the people of the order. It has been about 5 years since Zero showed up and rose though the ranks to make it to leader. The main reason Zero has claimed the title Alpha one of the leaders of the order was due to his strength. Every one wonders what Zero true age was, but when ask Zero just says, "It's a s-e-c-e-r-t," Smiles and then changes the subject. Even due to all his sleeping and eating, Zero kepted up with his role as leader and is known to be one of the best along side Gamma of course.
♔ Other ♔: Zero can easily be won over by someone offering food or sweets to him