God
God Name:
Palchard (Pilchurd, Pillcard, Picard, Pilchor, Pilcock, Philock, Pilfor, Palchol, Palchon, Pakkon)
Title:
The God of Mischief, Cruelty, and Deception. Patron Deity of Liars and Criminals. The Trickster, The Deceiver, The Inflictor, Underhand, Blackhand, He Who Laughs At Pain, King of the Black Carnivale
Gender:
Male
Alignment:
Chaotic Evil
God Appearance:
Personality:
"So, you would like to get to know me? Then you must be as mad as I! That or you're an absolute fool, I don't mind which! Either way allow me to tell you how great and important I am. Sure, sure, the others would say I'm atrocious! Deceitful! They'll also say I'm a Vile, Villainous, Violent Vilifier! Ooh, quite the alliteration! Makes ya wonder if the Gods are po-ets and they just don't know-it! Oooh, a rhyme this time! AGAIN!! I should become a bard and travel the land, regaling others with my baleful ballads! No? Hm, perhaps you're right being a God I can force others to sing songs about my cruelty and cunning. Anyway, off with you! As much as I like talking about myself, I find it boring if the other participant adds nothing to the conversation. Really, you mustn't be so quiet! Life is meant to be obstreperous, tumultuous, uproarious! Do you understand!?"
Opinion of mortals:
"Tiny lives, filled with tiny dreams and tiny minds. I do oh so love it! Nothing quite like tricking mortals into doing horrible things for you're own amusement! The best part is, there are those that praise me for it! Worship me for it! These are the people I like to give a guiding hand in to populating the world with delinquency, malfeasance-y, and indecency! After all being a God is a lot of work and I need my deviants to help spread my will!"
God's Domain:
Palchard lives within a strange, mind-bending reality known as Mania, where the sky is green, the clouds are yellow and the water is black. The ground is often a dark purple, with disorienting forests that contain bare trees, contorted into unnatural poses. The area is largely mountainous, with equally disorienting ranges that are jagged and even fragmented, with pieces of earth floating in mid air. In the Land of Mania, nothing is as it seems. The land often likes to trick it's visitors by casting convincing illusions that are often disturbing.
Palchard lives within a palace known as Castle Deliria that is built atop the tallest, steepest, and most twisted mountain in all of Mania. Castle Deliria is built in an awkward fashion that defies normal logic and convention. Within the building, rooms appear randomly as long, incomprehensible halls and stairwells appear in-between.
One may find townships within the Land of Mania, the buildings are also made in a twisted fashion. The populace of these towns are impish or ogreish as all beings have a black sense of humor. Their favorite time of year, however, is when the Black Carnivale comes to town. A depraved and devilish version of the great circuses of the normal world. This then ensues a wild time of revelry and entertainment.
Avatar Name:
Gulbrand the Goblin King
Avatar Appearance:
Personality:
"Immortal and Nefarious, I am the true representation of my Lord, Palchard's cruelty and malice. I command both fear and respect from my, otherwise, demented Goblinkin! I am strong but also cunning and calculating, an enemy you would do best to not earn. We Goblins may be viewed as ugly and vulgar but I am above that! You would understand this if you were to look upon my visage, both regal and terrible!"
Magic Abilities:
Goblin Fire
: A magical ability that creates a wicked flame immune to water and smothering. Can only be stopped with magic.
Transform
: Gulbrand has the magical ability to alter his appearance quite drastically. He can appear as an entirely different race or even appear as an animal.
Illusions
: Gulbrand is able to cast illusions that befuddle and beguile the mind.
Teleport
: Gulbrand is able to appear and disappear at will. Although he is limited to a small range of about 100 ft.
Fireport
: A mixture of Goblin Fire and Teleport, Gulbrand is able to summon a portal made of fire to transport him across vast distances. The portal does not work however if one uses it to enter areas highly guarded with magic. It also has a limit on distance as well. It also takes time to cast, making it a bad option for a quick getaway.
Summoning: Imp
: He can summon an Imp from the Land of Mania to aide in his actions.
Summoning: Barghest:
Can summon the wild fiend from the Land of Mania.
Summoning: Ogre:
He can summon an Ogre from Mania to assist him.
Summoning: Jabberwock:
The ultimate summon. He can call forth the strange dragon found in Mania.
Poison Craft
: Can create poison using magic.
Telepathy
: Able to communicate with his followers telepathically.
Nilbogism
: A "gift" he grants to his chosen that reverses adverse effects into curative ones. For example a strike from a sword would normally injure will instead heal. Yet on the downside remedies, healing spells and potions causes harm to the individual.
Hero(es):
Malgrim Red-Eyes
Rank/Reason:
Warchief. Perhaps the toughest Hobgoblin in the Goblin King's forces, Malgrim commands not only vast military forces but also governs territories underneath the Zoadian banner.
Personality:
Stoic, fearsome, and cruel. He is everything a Goblin should aspire to be.
Hero(es):
Krillock the Red and Mangore
Rank/Reason:
Warchief. Barghest. A deadly duo, Barghests are wild fiends found in Mania but as a gift for Krillock's impeccable service, Gulbrand summoned one forth as his companion.
Personality:
Krillock is arrogant and boastful but a tough warrior. Mangore, being a lupine-goblinoid hybrid, acts little more than an animal but does hide a certain degree of intelligence.
Hero(es):
Badhoc Slave-Master
Rank/Reason:
Warchief. Known for his warrior slaves called the Reborn, Badhoc is the top military instructor available to the Goblin King.
Personality:
An oddly well-traveled, worldly Hobgoblin, Badhoc has ventured beyond the Goblin lands to experience other countries and cultures. Taking the knowledge he's gained, Badhoc returned and rapidly became one of the the top Warchiefs in Zoadia. Badhoc's a shrewd and merciless warrior who has a knack for instruction and slaving.
Hero(es):
Holshank the Crafty
Rank/Reason:
Military Commander. A Hobgoblin born with an enlarged cranium. Holshank was abnormally intelligent but an incredibly fierce warrior. His cunning and skill landed him as a top commander in the Goblin King's hordes.
Personality:
Intelligent and fiercely loyal, he serves Gulbrand with savage devotion. He does everything he can to please both his Lord and God.
Hero(es):
Zubor Giant-Killer
Rank/Reason:
Champion. Among the Bugbears, Zubor was the largest of his kind. Using his incredible strength and durability he slew a Giant, making him an icon amongst the Goblinoids.
Personality:
Brutal, Bloodthirsty, and Proud, Zubor is hungry to prove himself in battle and loves to take trophies for himself. Whether it be gold, concubines, gear, or status.
Hero(es):
Ickit the Warforger
Rank/Reason:
Engineer. Ickit is a smart Goblin that's skilled in weaponsmithing and design, thus making him one of the major engineers in the Goblin hordes.
Personality:
Standoffish, stubborn, and demented. Ickit constructs cruel and dangerous weaponry in the hopes that one day they shall be used in warfare.
Hero(es):
Lord Eberion Kelbourne
Rank/Reason:
Crime Lord. Under the guise of a Human nobleman, Eberion is more than just the lord of a fiefdom, he is a lord of crime. Using his wealth, influence and connections, he helps to control all criminal activity within the hearts of Human empires.
Personality:
Meticulous and methodical, sly and duplicitous, Lord Kelbourne rules his Criminal empire with an iron will.
Hero(es):
Glekin the Chanter
Rank/Reason:
High Shaman. Having a strong connection to the dark spirits of the earth, he sees them as agents of Palchard and thus invokes them to embolden and empower the many Goblinoids.
Personality:
Fervent and fanatical, he uses his beliefs and oratory skills to enforce the Goblin King's doctrine with a religious flair.
Hero(es):
Dorduken Wolf-Tamer
Rank/Reason:
Raider. A Hobgoblin that is the master of the Mount and Spear. Dorduken has an affinity with the wild wolves and wargs of the land. He helps to capture these beasts and tame them for use as war mounts.
Personality:
Sadistic, loves to inflict pain, misery and destruction. Whether it be a raid or a battle, Dorduken will be there to shed first blood.
Hero(es):
Sarna War-Mother
Rank/Reason:
Matriarch. Sarna is a She-Gnoll that's known for her pack of viscous Gnolls. While not Goblinoids, the Hyena-like race is favored by Palchard and thus Sarna does her best to represent this Mad God.
Personality:
Viscous and feral with a wild cunning.
Hero(es):
Kafka the Mad
Rank/Reason:
Pyromancer. A combat mage specialized in fire magics, Kafka has an affinity for being crazy and is well-known and feared in the Goblin hordes.
Personality:
As his title suggests, he is mentally unstable. Even so he can follow commands given to him as he carries them out with frenzied glee.
Hero(es):
Kaeva the Shadow
Rank/Reason:
Assassin. Quiet and deadly with a dagger, her approach is one that goes unnoticed by most until it is too late. This has made her one feared servant in the Goblin King's ranks.
Personality:
Mysterious and mission-oriented, a woman of intrigue, she feels a degree of pleasure on sneaking up on unwary foes and stabbing them ruthlessly in the back.
Terrain Preference:
The Goblins are known to live in dry, grassy, badlands with jagged mountains serving as their back drop. Their towns and cities are testaments to Goblin ingenuity, covered in metal, wood, and smoke. Despite the machinery one may see, the very designs of these places seem haphazard at best. Then there are some that live underground, deep within the mountains, mining for resources to fuel the horrid Goblin war machine.
Name of Kingdom/Empire:
The Kingdom of Zoadia
Capital:
Earthrend
Major Cities:
Greskine
Port Hatchet
Deephold
Society:
[People]
Goblinoids
- The main populace of Zoadia and Palchard's mortal race. Typically the other races hear the word Goblin and tend to think of small, green, irritating ankle-biters. While Goblins are that and more, Goblinoids however is a term for a wider range of beings. Goblinoids include Goblins, Hobgoblins, and Bugbears.
Goblins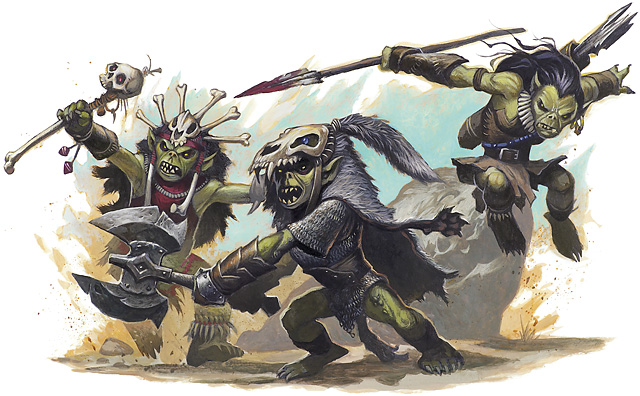 The common race seen in Zoadian society. They are small in stature but make up for it in deviousness and cruelty. They are mischievous, vile, creatures that love to cause pain to others and sometimes to each other. They also have a knack for ingenuity and love to build and construct machines and objects that reflect both their intellect and malevolence. There are some Goblins that are known to be down right mad and have no sense of preservation whatsoever. These Goblins often are made into suicide bombers in times of war, because...well lets be honest, they would probably blow themselves up anyway.
Goblins perform a wide range of duties in Zoadian society. They are engineers, alchemists, soldiers, assassins, miners, smiths, builders, spiritual leaders, sorcerers, and government officials. So long as a Goblin is smart and willing to work they have a place in society. Those that are a bit on the dumb end, well even they have their place as test subjects, cannon fodder, and target dummies.
Hobgoblins
Taller, stronger, and hardier than their smaller kin, if Goblins are the backbone then the Hobgoblins are the head. Hobgoblins are militaristic, stern, no-nonsense beings that don't fancy mischief like their Goblin cousins. Yet they are as cruel as they come often seeking blood and conquest to bolster their ranks and power. The Hobgoblins drive Zoadian society towards war and expansion, often being the guiding hand over Goblin invention and creation. They serve not only as the bulk of the Goblin Army, but also as it's top commanders, strategists, and warriors. They are mostly generals or top government officials in society.
Bugbears
Bugbears are the largest and the strongest of all the Goblinoids. This race is both kin to Goblins and Giants representing the best of both races. Strength and size mixed with cunning and ambition. Bugbears are known to be excessively violent at times finding any job, outside of combative roles, as boring. So Bugbears mostly are soldiers, guards, and mercenaries. Though there are some that find content in physical labor and are found doing the many manual jobs in society. Bugbears also have a strange fascination with fame and often seek challenges to enlarge their status in society. They often become champions of their people dealing in feats of strength, survival, hunting, combat, and warfare.
____________
Gnolls
Living on the fringes of Goblin society are the other favored race of Palchard, the Gnoll. Based on the cruel and sly hyena, the Gnoll personifies mischief on a more primal level. The Gnolls have a natural instinct and cunning but fall short in intellect compared to Goblins. The Gnolls are more tribal and are not suited to the large, industrial cities the Goblins live in. The Gnolls have their own system of government based on Patriarchs and Matriarchs of Packs. They ally themselves with the Goblins but dislike their tendency to take advantage of them. Yet they are fierce and loyal warriors with a skill for raiding or ambushes.
[Economy]
The Economy of Zoadia is based mainly on industry and war. Goblins are avid miners that burrow deep within the earth to search for minerals and ore. The main currency of Zoadia is Gold and Silver and Precious Stones. The Goblins own a special mint where they create crudely shaped, gold coins called Bits. The highest value Bit is the Piece, which has the visage of Gulbrand branded on both sides. The lowest value Bit is the Niblit, which is also the smallest coin. There are also silver coins.
The big economic factor of Zoadia is industry, whether it be in construction, weapons, or technology. The Goblins build large mills and foundries that spew large amounts of pollution and waste. Since waste does become a problem at times, the Goblins have built dumps to toss away materials that couldn't be reused or recycled. Do not be fooled, the Goblins are no environmentalists but they are cheap and frugal preferring to over use materials to the point of dilapidation. Hence why their products seem haphazardly made at times. Yet the Goblins are always constantly building and advancing their methods to create bigger and better products.
The second biggest factor is warfare. The Goblins are a war-mongering society that largely deal in the building of arms and siege technologies. Goblins build these war machines in hopes of conquering more land and adding that land's resources to their own. The Goblins are not always stingy with their weapons and do seek out opportunities to sell their arms to other races at war. Of course Goblin Tech is notorious for being unpredictable and shoddy, leading many to believe that the Goblins are inept as weaponsmiths. The truth is that the Goblins like to give their hand-me-downs before they sell their new wares. They usually do it out of humor or spite but also because they're parsimonious. Of course gold is a big persuader and enough of it will make the Goblins more willing to trade their better arms. It is in these instances that Goblin Tech shines and makes other's aware of their capability.
Since the Kingdom is split up into divisions of land called Territories, each Territory generates wealth based on whatever resources the land may have. All wealth made must be given to the King who places it inside the Sovereign Hoard. From there the wealth is redistributed back into all the Territories. All trade agreements are made by the King with help from the Chief Hoarder. Warchiefs cannot make trade agreements with other nations but can make suggestions or inputs if their land's resources is the object of trade. Whether or not this will be considered is ultimately up to the King. All Warchiefs and their Territories start with a standardized grant. A Warchief may be awarded more wealth for him and his Territory based on land gain. They may also be awarded more wealth from monies earned from their Territory's product or resource.
[Politics]
Goblin politics aren't known for their breakthroughs in diplomacy. They aren't the most compromising or the most cooperative and are definitely not known for peaceful resolutions. Yet the Goblins understand the values of deals, barters, arrangements and treatises and will respect certain documentations. It really depends on whether or not these things interfere with their interests as a nation and as a race. They may be prone to war but that are not obstinate. They are easy to bribe and can be bought off for a time. Yet they do not take perceived slights and inconsiderations lightly and will end certain agreements if appeasements aren't made.
The Goblins are not opposed to alliances in times of war. So long as their assistance is richly rewarded, they can be quite the powerful ally to another nation's conquests. They are also not opposed to open trade depending if relations are good and the participating nations have something they want. In the end Goblin politics is very self inclined. If their wants are not being made they have the inclination to break relations, and even betray their allies in lieu of better offers. This doesn't always make the Goblins the most reliable ally and their tendency to be suspicious of others places further strains. Caution should always be met when dealing with the Goblins.
Goblin government is first and foremost an autocracy. The Kingdom of Zoadia is ruled by the Goblin King and all final decisions are made by him. Yet since Zoadia may in fact hold multiple regions at any given time, Gulbrand has allowed some of the power and responsibility be shared. These come in the form of Warchiefs. Not only do they act as the commanding generals in times of war but also serve as governors over designated regions dubbed Territories. While the Warchiefs do lord over these provincial governments, that said office's power can be revoked at any given time by the Goblin King for any reason he deems fit. The Warchiefs primary duty is to subjugate and enforce the laws and rule of the Goblin King over their charted Territory. The Warchief may impose additional laws over his Territory but only if it does not conflict with previously established laws. All new laws must be notified to the King for approval before implementation.
The Warchiefs may in fact hire aides to further compartmentalize responsibilities for better effectiveness. These range from Chancellors, to Ambassadors, to Secretaries, and Adjudicators. The Warchief may also have war aides, like Commanders and Lieutenants. Then Commanders hand down positions to lower ranks such as Brigadiers, Captains, and Sergeants. Sometimes a Territory may be quite vast and in order to ensure that the King's will be done, Warchiefs may divide their Territory into what is known as Wards. These portions are controlled locally by a Warden and these Wardens are appointed by the Warchief. When it comes to specific towns or cities, they are run by a municipal leader called a Chief. Chiefs are appointed by the Wardens provided they are approved by the Warchief.
A peculiar power the Warchiefs own is the ability to wage war themselves. Since a Warchief has his own standing army, he has the capability to do so. This usually occurs when a Warchief wishes to expand his Territory, but he can only declare war if approved by the King. A Warchief however cannot wage war against another Warchief. A Warchief may aide another Warchief in their endeavors but usually at the cost of sharing any land won. If the Goblin King wishes to declare war then all Warchiefs and their forces must focus their efforts on the King's foe, regardless if a Warchief is currently at war. If that does happen then the Warchief must cease all action and retract his troops, giving up any new land won in the process. If a Warchief loses his personal war he is stripped of rank and if his Territory is lost, it must be reclaimed. All forces must assist in the reclamation and once reclaimed the Goblin King appoints a new Warchief. If the Goblin King wins his war the new lands go through registration, then divided up into Territories, and finally a Warchief is appointed for each new Territory. If invaded without any provocation from either a Warchief or the Goblin King, all forces must assist in repelling the invasion. Then all forces will follow up with a counter-invasion.
Other:
Despite not being made by Palchard, the God does have a fondness for Humankind. Their openness makes it easy for him to corrupt them to his way of thinking. So his name is often associated with criminality since Palchard encourages trouble-making and rule-breaking.