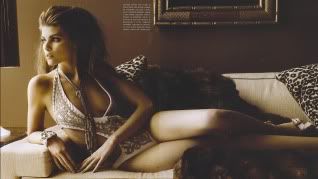 Name:
Gabriella Francesca Marino
Age:
20
Gender:
female
Race:
Caucasian-Italian
Socio-Economic Status:
you could say she is wealthy
Where You're From: Rome, Italy
[b]Where You Live Now:
The Moretti's Mansion, Milan Italy
Family:
Father-deceased
Mother-deceased
Brother-working for the Division
Relationship Status:
single
Hair:
Light brown/blonde
Eyes:
hazel
Height:
5'8''
Weight:
122lbs
Clothes:
a wide range of clothes but usually she wears shorts, tank top and black leather jacket. Her hands are most of the time covered by a pair of black tight leather gloves. Gabriella wears tonnes of bangles around her wrists, hooped earrings and boots. Her nails are usually coloured black and she applies dark eye make up around her eyes.
Likes:
fast cars, motorcycles, guns, alcohol, lollies, the night, music,
Dislikes:
girly girls, authority, Moretti's enemies, rules/law
Fears/Addictions/Disorders/etc:
Smoking-when in stress she tends to go through a number of cigarette packets, Sweets-enjoys her lollies a little too much.
Power:
Sniff
Level of Control:
has mastered her power very well, is able to located people or objects over a wide distances. Her powers work much better when she has access (able to touch or smell the scent) to an object with has come into contact with the subject.
Alignment:
With The Moretti – Against Division