The eternal parents had two semi-immortal* children. They were named Drago and Unaco. Drago was what we call a 'Dragon' and Unaco was what we call a 'Unicorn'.
(Semi-Immortal*-They lived longer than most of their kind and are more powerful, but still eventually die.)
Unaco was very beautiful. She had white fur and silver hooves, horn, and eyes. Her mane, tail, and featherings* were pure white. (Featherings*- The tufts of hair aroud a horses hooves. A clydestale has white feathering around its hooves.)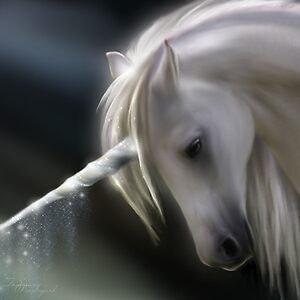 Drago was a large reptile-like creature. He had a huge green scaly body with obsidian claws and spikes running down his back. His teeth were razor-sharp. He had huge bat-like wings. His eyes were green colored.
The two children began to battle. When humans appeared, they continued their battless in seclusion. Eventually, humans found out about them and tried to interfere. This caused the children to get very angry. They wiped out all of humanity, except for a lucky few survivors. They continued their battles for many years. They each bore children of their own to attempt to get an advantage over the other.The battles are forever... they will
never
stop. The children will wage battle and wars forever.
This is your world. You can be a unicorn, a dragon, or a human survivor. Here is a basis of how they look now:
Humans:
(They have highly advanced technology and have become one with nature, much like native americans, but whith more technology.)
Dragons:
(There are many different appearances for dragons now.)
Unicorns:
(Yes, some have wings but these are VERY rare so I'm only allowing 1 for whoever wants it, I'll also have one. This one has a tiny horn, some do.)
CHARACTER SKELETONS:
Human:
Name:
Age:
Weapon: (Bow&Arrow, sword, gun, knife, ect.)*pick two*
Equipment: (meds, rope, ammo, arrows, ect.)
Personality:
Description:
Pic:
Dragon:
Name:
Age: (Dragons live for a loooong time...)
Breath: (fire, water, ice, storm, air, earth, acid, lava, ect.) *Pick 2!!*
Personality:
Description:
Pic:
Unicorn:
Name:
Age: (Unicorns also live for a looong time...)
Power: (Unicorns have powers according to their element. Flight for air [winged ones are always air] unicorns.)
Description:
Personality:
Pic:
Now, If you read all of this, put 'Lemon Twist' in your character sheet.
Characters:
-You can only have 3.
-No controling other people's characters.
-I prefer anime for the humans' pics.
-Don't kill other people's characters please...

OOC:
-No fighting in OOC
-Keep OOC posts to a minimal once we start it.

Other:
-No over-powered characters.
-Romance is great, but keep it PG.
-Write 'Krazy13' somewhere on your character sheet if you read this.
-HAVE FUN!!!!!!!!!!!!!! :D
Taking place in...
1 posts here • Page 1 of 1
((OOC: Please, we need members... HELPP!!!!))
---
1 posts here • Page 1 of 1
Arcs are bundles of posts that you can organize on your own. They're useful for telling a story that might span long periods of time or space.
There are no arcs in this roleplay.
There are no quests in this roleplay.
Here's the current leaderboard.
There are no groups in this roleplay!
Welcome home, Promethean. Here, you can manage your universe.
Arcs are bundles of posts from any location, allowing you to easily capture sub-plots which might be spread out across multiple locations.
You can create Quests with various rewards, encouraging your players to engage with specific plot lines.
Settings are the backdrop for the characters in your universe, giving meaning and context to their existence. By creating a number of well-written locations, you can organize your universe into areas and regions.
Navigation
While not required, locations can be organized onto a map. More information soon!
There are no groups in this roleplay!
By creating Collectibles, you can reward your players with unique items that accentuate their character sheets.
Once an Item has been created, it can be spawned in the IC using /spawn Item Name (case-sensitive, as usual) — this can be followed with /take Item Name to retrieve the item into the current character's inventory.
Give your Universe life by adding a Mob, which are auto-replenishing NPCs your players can interact with. Useful for some quick hack-and-slash fun!
Mobs can be automated spawns, like rats and bats, or full-on NPCs complete with conversation menus. Use them to enhance your player experience!
Current Mobs
No mobs have been created yet.
Locations where Mobs and Items might appear.
You can schedule events for your players to create notifications and schedule times for everyone to plan around.
Add and remove other people from your Universe.
The Forge
Use your INK to craft new artifacts in Dominance. Once created, Items cannot be changed, but they can be bought and sold in the marketplace.
Notable Items
No items have been created yet!
The Market
Buy, sell, and even craft your own items in this universe.
Market Data

Market conditions are unknown. Use caution when trading.

Quick Buy (Items Most Recently Listed for Sale)
None
Discussions
Most recent OOC posts in Dominance
Well, this appears to be very dead and never started. :/ I'm gonna give it up I think...
Yes you can, the 2 parents spent more time with Unaco than Drago so he got jealous, I'll let you decide who's good and who's bad because the dragons see themselves as being good and the unicorns see themselves as being good, it depends on the human (wether or not they favor dragons or unicorns or are neutrual), humans just kind of do their own thing (some hide, some stay in the open, ect.) Sorry i wasn't clear, i got anoyed because i tried to make this like 5 times but everytime something would happen and i would have to start all over again :/ I'll probably fix it later. :)
May I create a human?

Also, what is the central conflict? And what are the standpoints? Are dragons evil and unicorns good or vice versa? How do the humans feel about the creatures? Are the humans hiding from them or are they out in the open?