USC 117 Cmdr. John Shepard
Name: USC 117 Commander John Shepard
Age: 27
Role: United Space Corps Lieutenant, Commander of the 13th regiment Marine Corps platoon "Spartans" aboard the USC Valhalla
Cybernetics: Lt. Shepard has received extensive gene therapy early on his military career as he began to stand out form the average trooper. The therapy he has undertaken has increased his strength, speed, agility, reflexes, metabolism, healing, auditory, visual senses to the peak of human potential. During his short time working Black Ops under Omega N7 Squadron, Shepard received further enhancements in the form of Heavy Bone Skeletal Lattice Weaving which reinforces the skeleton with a synthetic weave, bones can be made almost unbreakable. In the event of bone trauma, medi-gel conduits allow for bone regenerations in a matter of days. To supplement his peak physical strength allowed through his basic gene mods Shepard received a Heavy Muscle Microfiber Weave modifications to his muscular structure in which perforating the muscles with micro-fibers increases overall strength and decreases the potential for muscle damage from exertion granting him significantly enhanced strength past the standard human capabilities.
Appearance:
in armor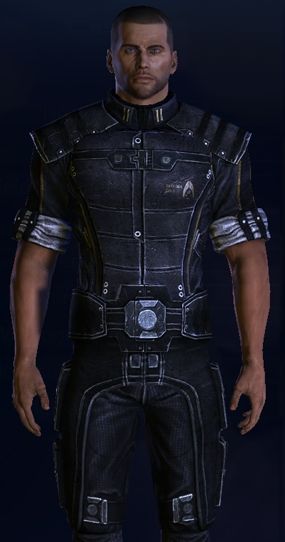 Background: Born an orphan in a large metropolitan city on Earth John Shepards early life seemed pretty bleak. It was either a short life, cut down by one of the countless gangs that ran through the under privileged squalor where he grew up or beat the odds and make something of himself. It was then Shepard began a long career of doing the impossible. He kept his nose clean as best he could until he was old enough to enlist. In basic he proved himself to not only be a dutiful soldier but a gifted commander who refused to accept defeat and had an uncanny ability to inspire loyalty in those who served with him. Yet it was John's uncanny ability of survival that truly got him the attention of his superiors. When given men at his command Shepard could do the impossible and for that he was groomed for command early on. Only one thing ever slowed his meteoric rise in rank and that was a small snafu with an cadet he trained with who earned his trust only to betray it later on when it was discovered that she lied about her application putting Shepard in the compromising position of being brought before a military tribunal to answer questions about the incident. Despite the momentary hick up Shepard refused to allow this slip up to sully his reputation and career and accepted a long standing offer of promotion on a distant start ship. Their he thrived and quickly built a name for himself where, like in basic, he proved that time and time again when all else failed he didn't. He led his squad through hell and back and they loved him for it. After leaving his first starship he was assigned to black ops Omega N7 Squadron for deep space undercover operations. There he really got a taste for the hardest battle space had to offer and became built a skill base few can rival. While he was incredibly gifted in black ops Shepard had reservations about their invisible missions that were swept under the rug. After leaving black ops his most notable military accomplishment is the Battle of Serenity Valley where pinned down without rations, ammunition or reinforcements Lt. Shepard sustained minimal causalities to his unit while they staved of enemy assaults for the better part of a week. On the 6th day USN air support arrived to find not only the presumed dead Lieutenant alive but his squad none the worse for wear and the fortified location still in USC hands. Shepards heroics at the Battle of Serenity Valley has made Shepard something of a war hero to the other marines as well as the men and women back home. He has recently been transferred to the Valhalla where he has been put in command of the USC 13th regiment Marine Corps Platoon known as "The Spartans".
Personality: John is a military man through and through. He is a loyalist who not only believes in the USC but in what they represent. He advocates getting the job done right the first time and abhors cutting corners just to make things easier. While not one to bend to the political swaying of high brass he follows orders and expects the same out of his men. The hand full of times he has disobeyed orders were in order to either protect his squad or innocents which have only further enamored people to his reputation.
Quirks: Shepards few quirks involve his love of classical literature and poetry as well as his fascination with history in general. In particular he finds the western expansion of the United States and Viking lore particularly interesting.