Name: Dieane'Ra
Nickname: Ra


Gender: Female


Realm: Towering trees and a world of dark skies dominate this being's plane of existence and she soars through it in her average form – that of a very large crow. Due to the area's heavy shrubbery and dense vegetation, her claws and beak are sharper and slightly more curved than that of your average crow, and her size allows for her to eat slightly larger prey. The forest is one of 'peace', there is no fighting besides that of the natural order. It is a world that Ra loves, a world of no responsibilities.
---
---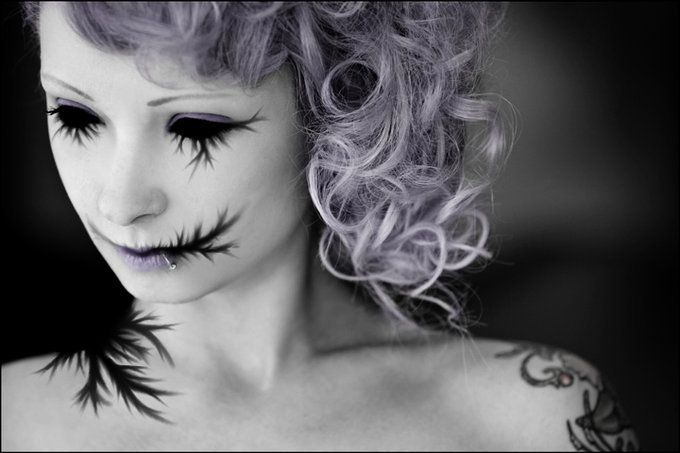 Appearance: As a humanoid, Ra is of medium height and very slender. Her appearance as a human is also birdlike, with sharp, angular features, wide eyes, and sharp teeth. The spirit looks to be in her late teens, with curling white hair and jet black eyes, no whites. She has dainty features otherwise, long fingers and long legs.
The most unusual aspect, though, is that she has not – or will not – completely maintain her human form. Feathers have popped up along her arms and the back of her neck, which may come and go at will, as well as having longer talons attached to her fingernails.

Personality: Brash, arrogant, prideful, vain.

Ra is not happy about being pulled from her realm to serve a summoner and, even worse, the summoner that has been chosen is a delicate little thing! As such this spirit is full of spit and vinegar, with little to no respect. She can also be shrew, demanding, and rude…But who knows if that's what she's really like.

(( My idea with that is she doesn't have a very large personality, besides thsoe traits. Animals don't think in the same was as humans, so she has to develop a 'real' personality that isn't colored by her objectivity to being summoned. ))

---
---






Stylized Appearance:-How has your Summoner's Style changed your appearance-*Wait to fill this out until Summoner has been chosen*

Power:-Due to the connection between your Summoner and yourself. Your power levels have increased and new abilities have been found. Try and have fun with this coordinating with the Style-*For altered Style powers wait until Summoner has been chosen*





Freedom…
Ra had freedom. The feel of air through her feathers as she glided along above treetops, never having to worry or fear. Here, she is strong. Here she is queen of her domain, eating whatever she wants, sleeping and resting, collecting whatever glittering thing catches her eyes. Playing with bones.
Then the tug. A nuisance. Yet, she shrugged it off, it did not matter to her, not to such a great bird of prey.
Where did my freedom go…?