---
---
Name: Saturday Evans

Age: 18

Gender: Female

Style: The sleepless artist

Conduct: Paint brush
---
---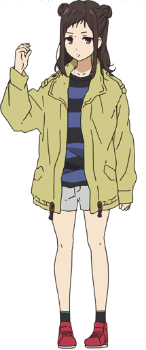 Appearance:
Saturday is quite short for her age only standing at five foot four and she is very touchy about it, her height, or lack there of, allows her be light weighing a meager ninety eight pounds. She has darker brown hair that reaches down to her shoulders which she ties up into small buns on either side of her head, her bands are choppy and short unable to cover to thin eyebrows and magenta colored eyes. Her skin is smooth and the color of peaches with thin lips that seems to always be tight and pursed like she wants to say something but won't.

Personality:
This is one of those girls that keeps everyone at bay, not letting anyone in, not even her family. She is strong as titanium keeping her thoughts and feelings to herself hiding her secrets like a clam hiding a pearl, seemingly selfish. Her stubbornness is pretty apparent and almost annoying at time but none more so than he sarcasm and wit which is dryer than a desert and just as unforgiving. Even with her wall of humor and insults she isn't emotionless, in fast deep down she really has a fondness for small cute things having to fight her self control every time she sees a puppy on the street. Because her life is so complicated she likes to keep things simple and will walk away from any sign of drama and she would keep her friends close and her enemies closer if she had either of those things.

---
---

Name: Button

Appearance: This little guy looks like a small ragdoll but as happy as can be with a constant smile on his face. Though he seems small he is quite heavy seeming to be filled with sand instead of cotton it's a mystery how he keeps his big head up, this aside he is just an all around cutie just trying to make the world smile.

Habits: Button is a small happy guy taking pride in his work trying to be as helpful as possible even though he cannot eat he loves to put strawberry jam in his mouth. He cannot speak just kind of makes noises, he is usually seen happy and bouncy though he does get tired at times taking naps then right back up to run around again.

Talents: He is good with most sewing and knitting as long as it is not to big of a job that he cannot reach it he likes to keep his work space clean and is as quick as a whip when it comes to this surprising even Saturday in his cleanliness.

---
---
Saturday grew up with a relatively normal childhood, well as normal a childhood one could have with the name Saturday. It wasn't until her younger brother was born that things took a turn for the worst, Saturday was only eight at the time when her mother because bedridden after childbirth. Her new brother was brought home and her mother was given her own room in order to recover, she had to live off a diet of soft foods and pills in order to retain a faltering health. Hey father was left to take care of the family and pay the numerous medical bills that continued to flow in.
In the middle of all this storm is Saturday stone faced and taking it in stride, with a brother that she blamed for all of her problems. But the worst was yet to come as her father lost his job after many years only to fall into gambling to get by. The problem was that he wasn't a good gambler and ended up losing everything, when he got into a crippling dept with the wrong people he split town leaving his daughter and son with no money to pay the dept. All of this happened when Saturday was fifteen, in order to make money for her family she started painting, sewing and knitting, anything to sell so she could make a couple bucks for her family.
It has been three years since she's been working on this and the end seems so far away, since her start as an artist she has become a self induced insomniac often spending days without sleep just to finish projects in time. She started to use her summoning skill in order to help get projects moving faster with a few extra hands, Saturday never wanted to be a summoner she needed to be a summoner. But just recently her mother finally died leaving her brother to be taken away by child services, she believes this to be the best thing to ever happen to her as she can now focus on paying off her debt rather than paying for medical bills and elementary school.