"The great do not yield simply because they face adversity. That is what my grandfather had taught me. Those who continue forward in spite of all are the ones who will see triumph in the end."
-Imagine Dragons - Warriors
Name: Shulkun-Yol Of clan Sul


Gender: Male


Realm: Shulkun come from the plane of Ignis, sometimes called the realm of fire by lesser minded scholars due to the high population of entities there that have affinity for the element of fire. Because of the name given to it the common misconceptions of mortals who merely dabble in summoning is that the plane of Ignis is a fiery molten abyss. The more learned though know Ignis to instead be a land of vast desert of golden sand where the sun never sets, occasionally dotted with cool oasis and towering jade and sandstone cities. And the rulers of this realm are the descendants of Sul, the clan of which Shulkun is a member of.

Now who is Sul you may ask? The answer to that would be the entity worshiped as a deity that has for ages hung in the sky above Ignis, the unconquered sun that never sets. Eons ago Ignis was a very different place. It was a lifeless world that was cold and dark, inhabited by spirits of shadow. Then at some point a spark of heat heralded Sul's arrival and he brought with him Light and warmth to the dead relam, chasing out the shadowy inhabitants in the process. Sul's magical light allowed for life to grow and even prosper despite the lack of vegetation and resources. However Sul had made enemies when he established himself as the new master of Ignis. The normal suspects were the now banished shadow beast that originally owned the plane, but occasionally there were other who Sul had stepped on the toes of in his rise to power and prominence. To combat the invaders that came to Ignis Sul sired several children to act as his chosen warriors to defend the relam and the other spirits that had flourished under Sul's Guardianship. These children in turn would sire more sons and daughters of their own and thus was born the Clan of Sul.
---
---


Appearance: Having multiple arms is a trait of Shulkun's family, and Shulkun himself is no exception to this in having six of his own in his normal form. Though his true form is very similar to that of humans there is more to the differences' besides the extra limbs. These come first in his eyes and hair which are both completely white, especially his eyes as they are without pupils. Further deviations are his contrasting skin tones between his golden limbs and torso, tanned a dark bronze color from a life spent under the unconquered sun of Ignis. Though these would be strange traits by human standards it is only mildly noteworthy on Ignis.

Beyond this though Shulkun himself has an athletic and well toned build of a man who take well and good care of his body through constant exercise. It would be easy to notice this as Shulkun virtually always bare chested and never wears a shirt. Ever. It's not that he lacks a nudity taboo its just that on Ignis there is a thought amongst its population that "if you've got it, flaunt it", with many thinking if one hides under layers of cloth it is because they are somehow ashamed of their body. Because of this Shulkun's wardrobe consist only of a sash and shorts.

Personality: Ignis has developed a vibrant warrior culture over the ages, peppered by beliefs of duty and honor, and the Clan of Sul is often at the forefront of that. Shulkun Yol is no different in that regard and has been raised since birth to carry his family's martial pride. Affirmative action, he was taught, to champion the cause and continue forward. To hesitate, he believes, is the actions not taken by the great and bold but rather the craven and meek. Shulkun therefore spouts greatly about how strength in all things is the great decider of all things and his belief of his family being paragons of strength.

It'd be easy to peg Shulkun Yol as arrogant and stubborn then by the way he talks, but there is something to keep in mind that could be the cause of this behavior. Shulkun is actually the youngest of thirteen brothers and the least distinguished. From a member of a clan with many duties and traditions who's members number in the hundreds it's very easy for one in his situation to feel unnoticed. Though his outward behavior might seem hot headed and prideful it stems from an inner feeling that he needs to prove himself less he dirty his family name.

What exasperates the problem is that his constant looking for ways to both better himself and validate his worth to his family has caused him to become somewhat isolated from others. This loner attitude means he doesn't have much social experience outside his clan which makes it hard for him to relate to others. Particularly women. His brothers all note that he is really really bad with women.
---
---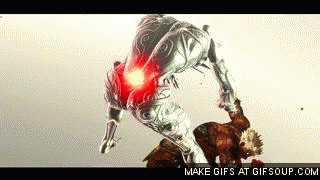 Summon Style: The Crippled Martyr



Stylized Appearance: TBA

Power: TBA

Mortal Disguise: Though his connection with his summoner allows him to change form Shulkun is resistant to 'diminishing' himself with take the form of a small animal. Instead he simply looses the extra limbs and makes a few superficial changes to make himself look more like a normal mortal.


-Feel to include reflections of the strange events happening in your Realm up until your Calling occurred. -