Age: It fluctuates, so it may seem. Basically, her age is unknown, and sometimes she seems to be flitting back and forth between time and space, due to her changing nature. This is true for all shape-shifting demons, to varying degrees.
Race: 6th Plane Shape-Shifting Demon
Eden has no original form. Being a Shape-Shifting Demon, she takes on imitations of others' forms. With every form comes a certain default mannerisms about them. For example, if she shape-shifts into an old lady, she gets certain behaviors, such as how an old lady talks, how they react to certain situations normally, and so on and so forth. But, she can't perfectly imitate the person she shifts into, for she only acquires the instinctive mannerisms, and not the others. However, with practice and keen observation, she can usually mimic their personality. She also can only shift into things that she's seen and touched, for she is unable to create her own forms convincingly. If she does so, the form only is a shell, and can be easily seen through for those who can see into the second plane. She doesn't want to risk it.
Here is some information about her demon species
Basically, the demons classify their spiritual powers into seven different planes in the universe, and each demon is ranked depending on how many planes they can see and manipulate. There are many things planes do, but these properties are only relative to the powers of Shape-Shifting demons.
The first plane is the most visible plane; the plane where normal people go about their lives. The second plane is where lesser shifting demons use their power. These shifting powers are weak, and their guises can easily be seen and potentially broken by anyone with the slightest bit of spiritual insight.
As there are more planes the demons can conceal themselves in, the more powerful they are, and the more real and diverse the shifted forms become. When it gets to fifth and sixth planes, it is very hard to detect if there is a demon within unless you have a considerable amount of spiritual power, and that means quite a lot-as in, only dragons, Angels, and other powerful demons are able to detect them, and when it comes to sixth plane demons, it's a bit vague. Seventh plane shifting demons cannot be detected at all, but that isn't an issue, for there are only two seventh plane shape-shifting demons in the world, and people know who they are, and they don't intend to meddle with humans anytime soon, though it's different for other types of demon, since concealment is the shifting demon's main trait.
Here are the human forms she uses the most: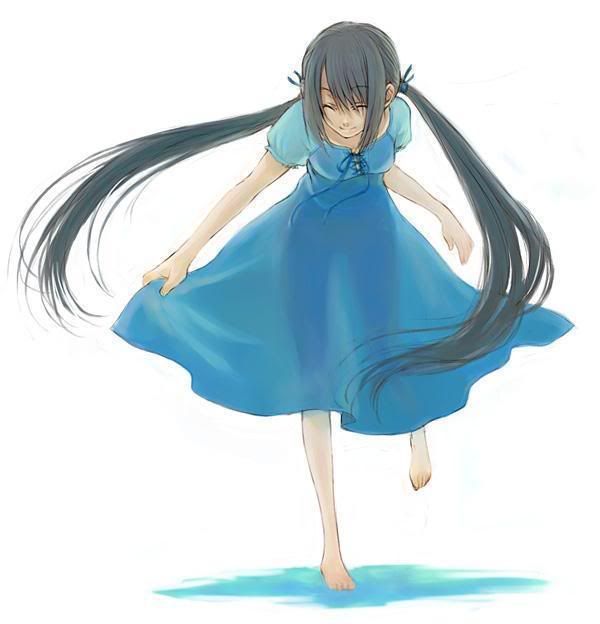 Her usual form is of a dark-haired young girl. In the summer, this girl goes barefoot in a blue summer dress, as pictured above. In the colder months, she adds the winter gear (hats, boots, coats, earmuffs, etc.) with a certain flower motif among it. This girl always bounces along the path high with spirits, and she loves to peruse through the streets in this form, and talk to people normally in this form. She also maintains an outside image of being another human who has spiritual powers.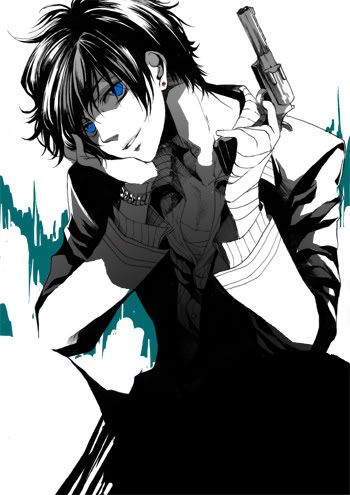 This is her preferred human humanoid fighting form. She normally doesn't shift into any other boys besides this one, since she prefers female forms. However, she has also found that it is to her advantage to fight as a male versus a female, since males generally are stronger, and more agile than females. She usually carries around a gun she's stolen from somewhere. She could create one of her own, but every time she shoots that gun, it uses up her own energy. This form is also mighty nice for making people uncomfortable, with the boy's strange blue eyes, almost white skin, and black black hair.