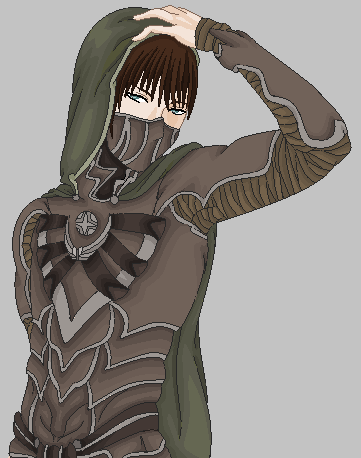 Name:Ryuukasu Narmolanya
Age:21
Height:6'0
Weight:165 Ilbs
Class: Rogue
SubClass: Assassin
Gender:Male
Sexuality: Pansexual
History:Born to a Dalish Keeper and Huntress; though he does not know if this is true or from the fact he his entire clan was massacred and himself sold as a slave in Antiva. A young Elf no older then five dalish tattoos upon his face already and but of course he was sold to one of the brothels due to him being an "exotic" elf, to help care for the 'workers' that was until himself was old enough to be on display. He spent the next five years like that, His tenth year in Antiva was when his life seem to really take spin, as one of his clients turned to be a part of the famous crows, since the man admired him such he was brought forth to be tested, he passed. Thus his training to be a crow began, and continued for next eleven years. His first actual mission was a trip to Orlais, a noble woman who had been causing issues for another noble; which regardless he was hired to kill her. His attitude towards it well, knowing nothing else but death in his life he did as he was told. After the job was completed though, something inside of him broke; maybe it was a sign he wasn't cut out to be an assassin? or maybe it was his morality and he was ready to be an assassin full time, regardless for now; he would continue his life amongst the crows another six months.
Ryuu at age twenty-one, one of the best Assassins the crows had to offer, and yet he hated the existence he had earned for himself, wanting nothing but to escape from this life. His wish coming true in the form of an assignment. They needed him to assassinate a noble who was visiting the capital of Ferelden; Denerim; and because of this, he had found his escape; taking the assignment gladly he left for Denerim almost immediately, but upon his arrival instead of killing the man, he left him a note "Be wary the crows want you dead" thus began his life as wanderer, or it would have if not for the encroaching blight.
Personality:Ryuu is well a charming, silver-tongued rogue to put it bluntly; having been trained to be in any situation by the crows has given him the natural ability to force out any type of personality that further helps hm complete his mission. Though in reality, Ryuu can be incredibly charming, and sarcastic; never taking things to seriously even when it's life threatening due to his life having been in constant danger all the time. He's very laid-back and tries to be funny no matter the situation, which seems to cause annoyance for some people who spend time around him. he can be vindictive and hateful, when pressed for information about his past, but most of the time he's just a mild-mannered former assassin.
Weapon(s) He wields twin personalized Dirks, as well as a Dalish longbow he had acquired through not entirely legal means
Race: Elf
Warden/Companion: Companion