---
LYALI TYR'ANEA
"If you choose to stand and fight, will you see it through…to the end?"
---
::Stand my ground – Within Temptation::
::Bring Me Down - Pillar::
::Scarlet – In this moment::
::War – Poets of the Fall::
---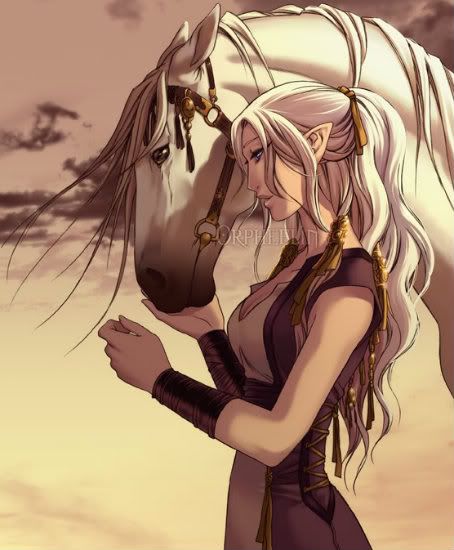 Nickname:
Due to the shortness of her name, Lyali doesn't have many nicknames that are derived from her first name. She has, however, acquired many names with her stay in the Elven Alienage in the town of Denerim. She does not like most of them, but if you are close to her, she might allow you to call her Ly.
Gender:
Female
Age;
24
Sexuality:
Heterosexual
Race:
Half-breed [Elf/Human]
Role:
Grey Warden.
Hair
-
Color and Length:
Her hair color is a bit odd for a half breed. It is a snow white color and reaches down to her lower back. Usually, she keeps it half up with her bangs loose. It is tied back with gold ribbons with a few scattered throughout her hair.
Eye
-
Color and Shape:
To explain the color of her eyes would be like to explain the colors that flicker through the rivers that flow down the streams and the waterfalls that crash against the stone bed floors. To put it simple, they are a deep blue with undertones of grays and dark blues. At one time they were a pure light blue color, but over the years they have darkened and have become sharper. Her eyes are shaped with soft lines and sharp edges. They always appear to be calm and serene, but behind the façade, there is all the violence acquired throughout her life. Her eyes are like reflectors, always able to peer back at you without the trace of some emotion. In other words, they are difficult to read.
Skin Tone:
Despite being of elf blood, Lyali has an ashen hue to her pale skin. It appears rustic with a peach undertone and a bit calloused. It is, however, well kept and smooth despite its appearance.
Height:
Because of the fact that she is a half-breed, Lyali is relatively tall despite her elven side. At best, she stands roughly 5'6 tall.
Weight:
135 lbs.
Overall Appearance:
Lyali was lucky to inherit her father's blood. She looks like an elf, with the long, delicate ears and soft features. Do not let this fool you for she is capable of being hard and calloused. Over the years of being on her own with the pirates, Lyali has acquired a few scars, most of them hidden. Along her side and ribcage area, she has a lengthy scar from when she fell overboard and caught a nail on her side. It is about as long as her arm and ends just below her hip. Another scar is located just below her left eye from where she was attacked by a Mabari hound. It clawed her face, but luckily, it only left two claw marks.
Personality:
At first glance, one might think that Lyali is a calm, collected individual who has her wits about and is a typical servant elf. This is only half true. The other half is a bit more…rugged. Growing up in the slums of the Alienage has given her a bit of a headstrong, tough-as-nails type of persona. She doesn't care about others and will usually abandon someone if only to save her own hide. Unlike most people, she couldn't give a damn about people's feelings and will always be blunt and truthful to a person. She says it builds character and gives people a backbone. She doesn't like those who cower and are overly emotional. She is rambunctious, difficult to handle and doesn't like being tied down to anyone or anything. Despite the smile that lingers on her face, it is not one of pleasure or her feeling proud. It is one of careful planning, and manipulation perfected throughout years of training. If you get on her bad side, she will not hesitate to bite, mutilate, or even rip your head off. She is violent when she is angry, so it is best not to anger her. Despite her violent tendencies, there are rare moments that Lyali is cool, calm, and collected. She will sit back and observe her surroundings.
This is to protect herself at all costs. She feels as if she lets her guard down, she will be vulnerable and that is something she does not want to tolerate. She let her guard down once before and it ended with the death of a man she grew to love. She has a straight-to-the-point kind of attitude and doesn't like when people beat around the bush. She will tell you how it is flat out. She isn't trusting: at all. If you think she trusts you, think again. She is manipulative and can be extremely persuasive. Despite this appearance, deep down, Lyali longs to feel something…a connection of sorts with another person. Whether it's a romantic connection or just a
connection
, it's something that she has longed for. Lyali isn't prone to doing something she doesn't like. If asked to do anything, depending on if it will benefit her, she will not hesitate to either shove something down your throat, or accept whatever it is that will benefit her. She also isn't one to be told what to do. She despises orders, and like the violent person she is, will not hesitate to quarrel with her superior. It's not that she doesn't like taking orders, it's because she has a problem with higher officials. She, however, will bite her tongue if it is someone she respects…like Duncan.
History:
Born on the cold streets of the Denerim Alienage, Lyali was raised in a small home that offered little to no comfort. She was raised with at least seven other elven children in her household and always quarreled with them. She never understood why she couldn't get along with the others, but she never dwelled on it for long. She decided that she did not need their approval nor did she need them. When she turned seven years of age, her caretaker told her about her mother, who was a human, and her father, her mother's slave. Apparently her mother fell in love with her father, but her father held no feelings for her mother. Lyali's mother, desperate to have Lyali's father, did everything she could in her position to make him love her…but he simply could not love a human, let alone his master. In the end, her mother raped her father, claimed that he raped her, and he was put to death. Nine months later, Lyali was born on the streets of the Alienage. At this time, Lyali thought it best to leave the orphanage and began a journey through the country. Her journey through Ferelden landed her in a few places, one of them being with pirates. She joined them and traveled around a bit, even as far as Orlais. In Orlais, she was abandoned by her crew and left to fend for herself. While she was in Orlais, she was captured and sold to a rather wealthy man. Instead of keeping her as a usual slave, he saw something in the fiery half-breed and decided to train her in the art of archery. She grew a liking to the art and would constantly practice whenever she had time after she was done with her chores. She would come to learn that this man was no ordinary man as he had a few others in his care that he took care of.
One in particular individual was a dwarven mistress. She was the only woman that Lyali grew to like as a friend. At the tender age of fifteen, Lyali began to grow an attachment to her owner, although she referred to him by his name, Ulric. She didn't understand why but she had a growing fondness to him. Perhaps it was because he was a patient man who put up with her personality, or perhaps she felt some type of kinship to him. When she confided in her dwarf friend, the woman simply laughed at Lyali and told her that Ulric was a half-breed. No one knew of it except for Auya. A little jealousy bubbled up within Lyali, but she let it go. When Lyali turned seventeen years old, she had the full intentions of telling Ulric how she felt, and who she was. Before anything could happen, however, a group of assassins attacked her home and managed to slaughter everyone. Lyali was lucky to have escaped barely with her life. If it wasn't for the white horse in Ulric's stable, Lyali would have surely been killed with everyone else. She was enraged after the massacre and swore to never allow herself to become attached to anyone ever again and swore vengeance upon the assassins. She managed to stowaway in a ship, hiding the large horse and herself, back to Ferelden.
When she landed, she had full intentions of going back to the Alienage, however, she was ambushed by a group of bandits that wanted easy money, and since she looked the part of an elf, they wanted her. Lyali, however, used this as a way of venting her anger and sorrow about Auya and Ulric. At the time, a group of Grey Wardens had been passing by and heard a commotion. What they saw was not something they were expecting. A group of men, all that seemed capable to take on a large animal, lay on the floor, beaten and bruised by an elven woman who stood amongst them. The only weapon she had was the bow given to her to use by Ulric. Duncan, the commanding Grey Warden at the time, approached Lyali with a proposition. If she were to join the Grey Wardens, she wouldn't have to worry about people trying to capture and sell her. She would be allowed a freedom of sorts. Lyali mulled it over, thinking of the possibilities that could come from such a pact. She didn't know exactly what a Grey Warden was, but as long as it wasn't a group of assassins, she would join them. At the age of twenty-three, Lyali went through the joining with seven other Wardens. She and two others survived, if barely. When the battle of Ostagar happened, a year later, Lyali once again was lucky to have survived, but was devastated at the loss of Duncan. He was the only human that Lyali trusted and respected…like Ulric.
Weapon:
This
bow
was given to her by Ulric before he died. She uses this more than anything else, but has a few simple daggers at her side along with a pair of
elven swords
given to her by Auya before she died.
Mount:
After leaving Orlais, Lyali returned to Ferelden with this beast. She received him as a final
gift
from her owner. His name is Raenefel. Sadly, he does not survive the battle of Ostagar.
Potential Interest:
No one at the moment…or ever. [Or possibly someone who is willing to look passed her violent mask.]