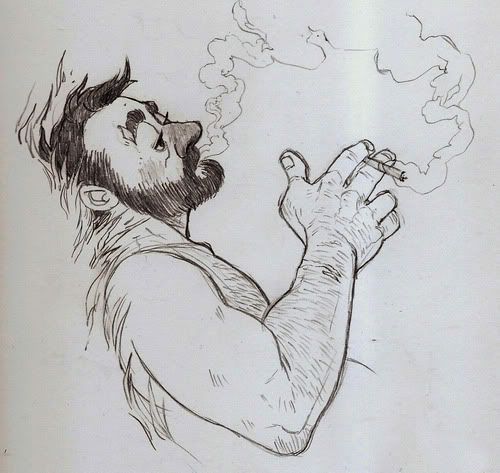 "Ah, um... I- I didn't mean to... Que asco de vida."
---
---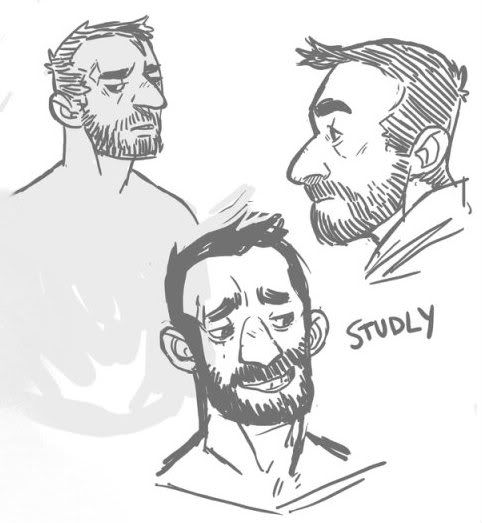 Name
: Adalberto Garza (Berto for short)
Pronunciation
: Ah-doll-BEAR-toe GARH-zah
Age
: 35
Race
: Human
Sex
: Male
Sexuality
: Homosexual
Height
: 6'9"
Build
: Berto is big and beefy, a hulking, cumbersome body that towers above others. He's got a lot of muscle, but he's no stereotypical body builder, nor the type to be seen flaunted as a model figure, but he has strength and fortitude out the wazoo.
Class
: Warrior
Specialization
: Guardian
Warden?
Yes
Appearance
:
When first looking at Berto, one could become intimidated, what with his scarred, bulky being and downset brows. He is a hulking mass of hairy dude, and carries himself with hunched shoulders and minimal movement. Because of this, it could be assumed that he's always brooding, but he's really not. It's almost like he has a terrible case of bitch-face, only instead of a bitch he's a seriously manly machismo warrior. He's not a particularly attractive guy, with a curved, largeish nose and drooping eyes and slightly receeding hairline, but he's not garrish. His skin tans very well (you can tell that he's the type who's never had a sunburn in his life), and his hair is of that somewhat coarse texture that indicates his Rivain bloodline. He is completely filled out, quite the little beefcake, his body almost like an overgrown dwarf's.
His hair would be extremely curly if he let it grow out, but he doesn't. He keeps it about as short as his facial hair, which is always, always, always there. He thinks his face looks wonky without his beard, and most would tend to agree. Even when he's scowling, his eyes remain gentle, a soft olive color that doesn't get any brighter than the dull color they are now. You can really tell that he's not a Starkhaven resident just by looking at him, and as soon as he opens his mouth, it just becomes all the more clear. He has really nice teeth, but he's missing his front left molar and you can see it sometimes if he smiles too big. His hands are calloused, large, and rough, and he rubs them together often as a nervous habit. It is nearly impossible for him to do delicate things with his worksman hands, crafts like painting and stitching completely lost on him. If he gets a splinter, he might as well be a goner.
He is a terrible dancer, and walks completely without grace and sophistication, sort of clomping around all the time. He tries to make himself look smaller, leading to his terrible posture, but it doesn't really work. ((No one's buying it, Berto.)) He's got tons of freckles, birthmarks, and scars all over his body. His mother used to call them constellations. The most apparent scar is the one on his face, mauling his right eyebrow.
(ehem, all image credits go to
prawn-z
who you should follow because they're great)
---
---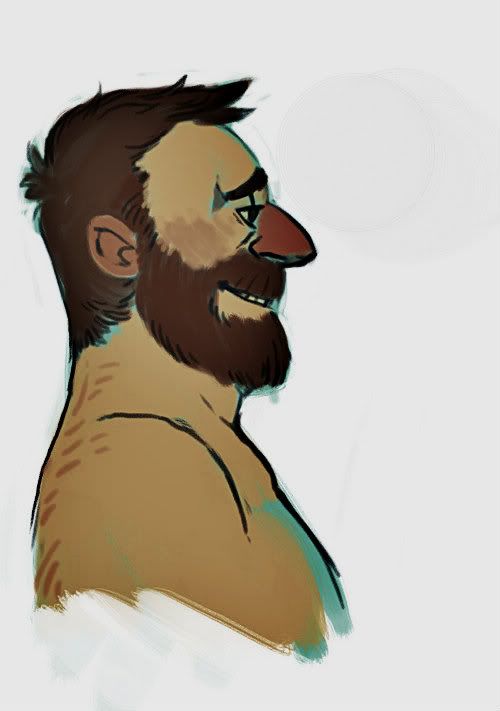 Demeanor
: Berto is a bit of a mouse in an elephant's body. He is an incredibly anxious person, filled to the brim with insecurities and worries, though his good intentions prevail through the murky swamp that is his social mishaps. He's always concerned with what others are thinking to the point where it's not even practical, having a knack for looking too far into simple comments and finding hidden semantics in the dumbest of things. He doesn't speak a lot, but when he does, his phrasing can be awkward (especially since he predominantly speaks Rivaini) and he's known to have his speech peppered with hesitant openers and stammers, "um"s and "ah"s hogging up at least half of his vocabulary. He is very easily flustered- humiliating him is one of the easiest tasks to do- and he blushes crimson red when he
does
happen to be embarrassed. He is extremely fretful; a casual greeting can be something that he will stress about for hours beforehand and weeks afterward, going over and over again in his head whether he'd said or done the right thing.
Funnily enough, you wouldn't guess this by looking at him. Outwardly, he appears stern, stoic, and strong. This is not by choice and certainly not a front he puts up to trick people. He simply has a terrible time expressing himself, and communicating in general, verbally, physically, or artistically. The thing that keeps him charming and likable is the fact that he is deeply, deeply compassionate. He is fueled with a thirst to help others; his very being yearns to assist, to protect. Furthermore, when he's comfortable, he's a very silly man, and you'll probably get to hear the sound of his booming, bellowing laugh. He can become extremely animated if he's around good company, full of sloppy grins and dumb jokes. He spirals back and forth between extreme optimism and pessimism, but it's generally the case where he assumes the best in others and the worst for himself. He's one of the most encouraging people you'll ever encounter if you befriend him.
When he's angry - which isn't as difficult as a feat as it may seem - he gets really worked up but has no idea what to do with it so he usually just sulks. Berto can be quite pouty, having mastered the puppy dog eyes completely. While he doesn't expect much, if said expectations aren't met, he will become incredibly disappointed. He doesn't enjoy getting complimented because he never knows what to say, nor does he really believe them. He is not a leader in the slightest, but will repel any direction unless given by someone he likes and trusts. He has a bit of a knee jerk reaction to getting told what to do. He is extremely protective and sometimes jealous, but otherwise a gentle, amiable man. Mostly, he's simply one of those types who seem to really give a damn about people, the kind who will go out of their way to do something nice because they
care
rather than because they
should
. Even if he may be fretful, he is also easily pleased. For as often as he magnifies every bad thing that's happened, he does the same for every good. That said, he's easy to like! It can be frustrating, however, to find that he doesn't like himself all that much at all. More than anything, he lacks confidence.
Fears
: Berto's only phobias are social ones. He is relentlessly brave on a battlefield and self sacrificial without hesitation in most other places, but as soon as you put him in a crowd of people, he's a bumbling wreck. Public speaking would probably cause his death.
Hangups/Quirks
:
Body consciousness plagues him fully, which is rather silly considering all the crazy feats he is capable of because of it. He wishes it were easier to hide and hates the fact that he has to duck to enter rooms or takes up an entire couch to himself. He envies the small ones.
Even though he adores them, he is absolutely terrible with children. He has no idea how to handle them, as he hardly knows how to interact with adults. He just kind of sits there.
Berto is entirely too gullible. This is mostly because he never lies (he has no reason to!) and assumes that others wouldn't feel the need to do the same.
He has a very, very heavy accent that he's unsurprisingly self-conscious of. When extremely distressed (or on the other side of the spectrum, completely comfortable) he's prone to speaking Rivaini.
Berto loves to eat, and enjoys cooking just as much. Actually, he prefers to bake and is damn good at it.

Opinions
:
The Chantry
:
"Ah..."
It makes him extremely uncomfortable; most religion does. Rivainis are not Andrastean and don't believe in the Maker, and Berto is no exception. He is a pantheists who believes in the Natural Order, like most of his culture. That said, not only does the Chantry make him uncomfortable for their extremely oppressive ways (on people who may or may not agree with their views) but people who are deeply seeded in the Chantry do as well, because he feels that they'll dislike him for having different beliefs. He is not angry or spiteful, but rather very awkward about the topic.
Magi
:
He nods simply.
A lot of times he's surprised this is a controversial topic. Mages are just a
thing
to him, not really something he thinks about. Sure, there are corrupt ones, but there are corrupts ones of everything. Rivainis have Seers, wise women who are mages that communicate with spirits, so he's used to that sort of thing. Sometimes you'll have to remind him that apostates can be persecuted.
Templars
:
He grunts and rolls his eyes.
Now, he isn't a hateful man, but... he rather hates templars. He can't recall one who hasn't been horrible. Spare Solvej, but she's hardly a templar in his mind. They're like the Chantry, only given swords and chains and
orders
that they follow no matter what.
Elves
:
"'Pends on the elf."
He finds their ears rather cute.
Dwarves
:
"...'Pends on the dwarf."
He hasn't met a lot of dwarves, but he's told that he's a lot like an over sized one.
Humans
:
"......'Pends on the human."
He is one. That's about all he thinks about them.
The Grey Wardens
:
"Yes?"
Berto is unwaveringly grateful for the security and home the wardens have given him. He's proud to be one, and generally likes all others.
The Mission
:
He shifts his eyes.
He knows he will probably die, but this is a mission that needs to be accomplished and he will try his hardest to achieve this. He is no coward.
---
---
Weapon of Choice
: A shield and sword, both of them extremely heavy. He uses his shield more than his sword, preferring to do blunt, dull blows that knock enemies to the ground rather than to tear into them with his sword. The shield was one given to him by his father, crafted by his great, great, great, great, great grandfather, and it is very beat up but sturdy nonetheless. He is very attached to it. His sword, however, was just something he'd picked up recently. It's useful but disposable.
Armor/Apparel
: Extremely heavy, extremely thick armor that offers all the defense it can. It is made of bronze. He thinks he looks rather silly in it, and he's always happy to be able to take it off to wear the less hot, loose, thin clothing around camps and in town. He's known to wear dumb looking capris at times.
Mount
: He has a huge, sturdy draft horse (really, what other kind of steed is going to support Berto?). She's completely black from head to toe, and is incredibly gentle. He usually has her in her own armor. Her name's Buttercup. If you make fun of him for her name, he'll just blush.
Level
: Ehem. 10. (
A burst of wind rockets passed me, whispering gently into my ear. "Conformist," it coos.
)
Skills
:
Guardian
: Guardian's Shield
Weapon and Shield
: Shield Defense, Shield Bash, Assault, Scatter, Safeguard
---
---
Place of Birth, Nation of Origin
: Rivain
Social Status
: former farmboy, fisherman, and sorta-kinda-pirate; current Grey Warden.
Personal History
: Berto was never really a pirate, but he might as well have been. His father was, while his mother used to be. That is, before she decided to bring a steady income to their family through working on the farm, doing most of the hard labor herself. Father Garza was an adventurous soul, and a very deeply irresponsible one to boot. He had wild fantasies about grand expeditions and his wife was just about the complete opposite, very much so a realist. Because of this, they fought a lot as he grew up, yet they also remained madly in love. While a lot of time was spent separated while he was off on voyages, they stayed faithfully together. Berto was an only child (an accident, no less) and he grew up mostly working on the farm for his mom. She was getting older by the time he started puberty and sprout up like a beanstalk, so he took up most of the chores. Both of his parental units advocated his training in strife for their various reasoning (his mom insisted that he not embarrass himself in front of the other boys, advocating him to punch the lights out of some of the annoying brats that ran around (mostly because she couldn't herself) and his dad simply for the "sportsmanship" and "artistry" in dueling) so he'd spar with both of them from an early age. Consider it "family bonding".
When he became a teenager, his father would persuade Mama Graza to allow him to go along with him on his adventures. His dad had never been away from Berto because he didn't love him; if he could have taken him on every trip, everywhere, he would have. At first, she was very hesitant, but as he grew older and incredibly strong, her qualms disappeared. Certainly, he could fend for himself, now that he had become so huge. Berto enjoyed the sea and loved the people, but he didn't do well with all the conflicts. Pirates were all very... abrasive people, and he would simply shy away from any uprisings that happened. Another unfortunate thing about pirates is that they tended to wind
you
in a great deal of trouble as well.
His dad had a habit of getting in terrible debts in taverns, and he was always unable to pay, so he'd call Berto in to save his ass (usually by running in, picking him up, throwing him over his shoulder, and hauling it out to the ship). Soon enough, he was kind of considered one of the crew, without actually being one. He was always "The Captain's Son", without much of a purpose but well liked nonetheless. When he became an adult, he was mostly just a fisherman. He lived by himself, and while it seemed lonely to others (when his friends would ask him why he didn't have a wife yet he would just sigh, haHA) he was pretty content with his solitude. While he likes people a lot, his introversion runs deep in his veins. He could spend time by himself and enjoy it thoroughly. He would consistently give his mother a lot of his money when his father managed to spend all of hers.
When he was twenty four, his dad came showing up at his doorstep out of the blue. They hadn't seen each other in a long time, so he was surprised but not unhappy. He explained to Berto that he was wildly in debt and was going on an expedition to win it all back. He asked him if he'd go with him "for old time's sake" and Berto, being the pushover that he was, obliged. They traveled to Orlais and the whole crew had went to the tavern nearby. Someone, he can't even remember who anymore, got into a heated fight with one of the noblemen also there. Suddenly, a huge bar fight began. He tried to stop their fighting at first, but at the result of his own strength, he had accidentally killed a man. The drunken nobility had jumped on his back, and Berto threw him off. He'd landed funny, snapping his neck against the counter. Though it was in self defense, the man had been an important one, and he was to be executed for murder, pegged alongside pirates.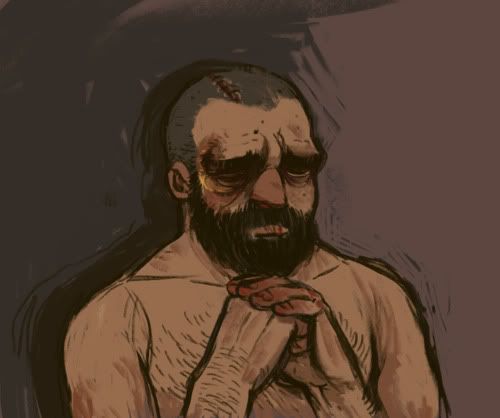 The night he was meant to be offed, he was offered to become a Grey Warden. Honestly, Berto was hesitant. He felt he deserved to die, heart heavy with a guilty conscience. When he explained this to the Warden, the man told him that was all the more reason why he should fight to save this world against the darkspawn. His father visited him in jail and, weeping for the first time Berto had ever seen, told him that he should accept the offer, as it was either join or die in his current predicament. While still despondent, he went through the ceremony and started his new life.
His father has since that day gone missing, under the impression that Berto didn't survive the ceremony. His mother in under the impression that both men are deceased and considers herself a widow.
Professional History
: Berto is quite good at what he does, honestly. He is a tank, luring in enemies and taking damage for the rest of the team. He has the perfect soldier's mentality, selfless and unentitled, and word of his good nature kind of spreads, though he's very modest about it all. He's most notable for having taking down a Broodmother almost entirely by himself, with the help from a couple apostate mages. No one had been expecting what resided deep within those caverns. He was only there because there were rumors of a couple darkspawn and he happened to be in town. It was easily one of the most horrific things he's ever encountered, and the scar on his face was a result of that battle. One of the mages died. He's saved countless men from their deaths, by he was not lucky enough to share the same fate.
Mostly, he's on this mission because everyone assumed he would be. He's notorious for tackling the harder jobs, both to spare others from having to, and because he actually enjoys challenges.
Idea for a Personal Sidequest
: Perhaps they could track down his dumb dad who's hiding in shame due to what he believes was the death of his son and force him to stop being a drunkard and return back to Mama Garza?