Credit
"Life is about lines. Where to draw them, when to cross them, and how others place them."
---
---
Credit
Name: Andaer Ophalion
Pronunciation: An-DAH-ir Oh-FAL-ee-on
Age: 43
Race: Elf (Dalish)
Sex: Male
Sexuality: Homosexual, largely uninterested.
Height: 5'8"
Build: Lean, but far from starved. Andaer has exactly what he needs to survive and no more. Excess is something he considers wasteful, and it shows. Of course, given his lifestyle, what he "needs to survive" is a decent amount of musculature (what most would consider a runner's build) and little extra fat.
Class: Mage
Specialization: Blood Mage
Master Class: Bloodletter
Warden?: No

Appearance: Andaer is not a particularly imposing figure. His form and body language do not convey that he has been a combatant in any number of battles, nor even exposed to any large amount of struggle. Rather, he seems to exude a palpable sense of serenity and equanimity, as though he were entirely at peace with his surroundings. This isn't to say that he lacks expressiveness; rather, he just doesn't seem to grapple with things the way others do.

As would be expected of a Dalish, his face is tattooed, primarily across the forehead and beneath his eyes, the strange, geometrical nature of them indicative of his devotion to Dirthamen, the God of Secrets, he who conquered Fear and Deceit. The latticework of the valaslin overlays an angular facial structure, typical of elvenkin, with particularly prominent cheekbones and jaw. There's a small white scar that cuts diagonally across the left side of his mouth. His eyes are a deep brown, and seem to have a permanently-resigned look to them.

His complexion, the tan indicating quite a bit of time spent outdoors, is possessed of a few age lines here and there, though the well-kept condition of his physique lessens the impact considerably, and it can be said of him that he's aged rather well, all things considered. His hair, shoulderblade-length, ink-black and kept most often in a tail, sports prominent streaks of silver-grey originating from the temples, but most of the rest is still as dark as it ever was. His posture is upright, and he can move incredibly quietly if the situation calls for it. The skin of his body is quite nearly crosshatched with scar tissue, something that he considers unsightly and generally conceals. His forearms, particularly, bear very regular scar patterns, a series of horizontal wounds marring the skin of both the right and left arms.
---
---
Demeanor: Andaer has something of a facile demeanor about him, as though he were eminently approachable and relatable, but at the same time, any amount of examination would also yield the impression that he keeps more secrets than the average spymaster. He is quick to smile, always listening, and incredibly calm in all but the worst of situations. In some sense, he's fatherly, even.

Despite that, there's something untouchable about him, and in his more unguarded moments, he seems to be half-elsewhere, as though paying attention to something that cannot be seen. In fact, he often is.

The operative word might be 'dignified.' Even when he's laughing or in the heat of battle, he never seems to lose some level of elegance and peace. This can make him seem either very soothing or unnerving, depending on the other person involved, but one certainly can't fault him for being impolite or unfriendly. It also often (and tragically mistakenly) leads people to assume that because he is not confrontational, he is not skilled at confrontation.

Just because he looks very disappointed when he has to kill you doesn't mean he'll hesitate for even a moment to slice into his arm and boil your blood from the inside.

Fears: Andaer doesn't have much left to fear. He is cautious by nature, because the downside to blood magic is that demons occasionally get the impression that you'll be okay with them possessing you. Not so, and he'd really rather not become an abomination. Having to deal with being called 'maleficarum' is bad enough.

Hangups/Quirks: Very appreciative of beauty in all its forms, and prefers to surround himself with situations and people that embody some unique expression of the beautiful or, as he might put it, the sublime. His definitions tend to be much more flexible and encompassing than others', though.

Opinions:
The Chantry: He's not particularly fond, though if they'd just leave him alone, he wouldn't have a problem. The austerity of Chantry tradition, he finds unappealing, but that's neither here nor there, really.
Magi: The Fade is a place of endless fascination for him, and the people that can interact with it are different from those who cannot, in a way that interests him. He doesn't believe that magi are inherently superior to non-magi, he just thinks that their abilities should be celebrated rather than reviled, for they are relics of a lost age, in a way.
Templars: Pretty much the same as the Chantry, really.
Elves: Once a Keeper's First, Andaer has a certain fondness for the People's way of life, but finds that it is not one he can fully embrace any longer.
Dwarves: Given the amount of time he's spent in the Deep Roads recently, he's gotten to know the Legion of the Dead quite well. Their rough mannerisms are a bit… much, sometimes, but he appreciates their honesty.
Humans: They come, it would seem, in many stripes.
The Grey Wardens: Andaer has great respect for anyone who can devote their lives to something as difficult and often thankless as staving off Darkspawn, but it wouldn't be his first choice of vocation.
The Mission: It is a noble thing, what these allies of his strive to do, and they are to be commended for it. He does not yet count himself as one of them, however, but he fully intends to help as much as he can until the time comes for them to part ways.
---
---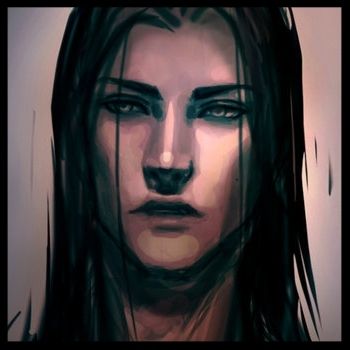 Credit
Weapon of Choice: He has a specialized dagger which is only ever used to let his own blood. Other than that, he carries a unique one-handed sword designed to function also something like a staff. Mostly, though, he incapacitates with magic and kills with the blade.

Armor/Apparel: Andaer is clothed mostly in black, dark green, and grey cloth, including enchanted gauntlets which hide his forearm scars. That said, because he needs to be able to let his own blood, he doesn't wear much in the way of armor, sticking mostly to thicker fabric over vital areas like the chest. His robes do not fall all the way to the ground; rather, he wears what might be described as a long, slitted tunic with breeches beneath, and soft, deer-hide boots.

Mount: Andaer travels with a halla named Seth.

Level: 17
Skills:
Master Class, Bloodletter: Sword Mastery, Pulse, Puppeteer, Cessation
Blood Magic: Blood Magic (Bloodlust), Grave Robber (One Foot In), Hemorrhage, Blood Slave
Spirit Magic: Spirit Bolt, Walking Bomb, Death Syphon
Entropy: Hex of Torment, Horror
Arcane: Mind Blast, Barrier, Crushing Prison
---
---
Credit
Place of Birth, Nation of Origin: The Dales (Orlais)
Social Status: Former First, now a wanderer/hermit.
Personal History: Andaer was born into a relatively small clan of Dalish, known primarily for their tendency to produce mages at a higher-than-usual rate. His mother was the Keeper of her clan, and his father a craftsman. From relatively early-on in his life, it was clear that he was supposed to be something special, and he was sent to another clan as part of an effort to preserve the use of magic among all of the Dalish. There, he was made the First of the Keeper for his talents and began his tutelage.

All Keepers know a little blood magic, but Andaer seemed to have a particular talent for it, which is of course quite worrisome in uncontrolled environments. Despite frequent interactions with demons, however, he was never possessed, and grew to be a person with considerable self-control and strength of character. He also grew more isolated from them clan and the rest of the world. He preferred to spend his time in the depths of the forest, meditating, and it was there that he came to the conclusion that his blood magic, contrary to the supposition that it was an evil thing, actually connected him all the more closely to the world around him, and granted him some primitive kind of empathy for other living beings.

If he'd had his way, his life would have been scarcely more than that, but as it happened, the pressures of his position did catch up with him, and eventually he was expected to marry, settle down, and prepare to take over his mentor's role as Keeper. While he'd nurtured in himself an appreciation for beauty of all kinds, the fact of the matter was that he had little interest in taking a wife, and that was something of a problem.

Perhaps it would have been fine, but he also wasn't particularly concerned with the more mundane duties of a Keeper; while he had respect for the tales of Elvhenan, he didn't see much point in trying to preserve those ways to the exclusion of all else. What his people needed was not stagnation, not retroactivity, but change. This ideological split earned him a somewhat voluntary exile, and in the twenty or so years after, he existed as a fringe element of Dalish society, a recognized wise-man hermit and wanderer who nevertheless did not have a place in any clan.

More or less, his role became that of a problem-solver, and when insurmountable obstacles seemed to face the People, they were wont to consult him. He left the Dales sporadically, doing things like hunting down kidnapped children or chasing mysterious rumors. He kept always the confidence of those who consulted him on any matter, however mundane, and for that reason, became known as the friend of many secrets, or the Falon Bel'era.

Professional History: Andaer was trained from a very young age in magic, particularly blood magic, and in the years since he left his clan, has also picked up some knowledge of swordsmanship, though not quite enough to yet qualify as an Arcane Warrior. He presently finds himself in the Deep Roads, questing after a disappeared Dalish boy and girl. The Roads are currently being used by Tevinter Slavers as means of conveyance for slaves, given their relative emptiness at present.

Idea for a Personal Sidequest: If he doesn't end up finding those kids, freeing them might constitute a personal sidequest, I suppose.