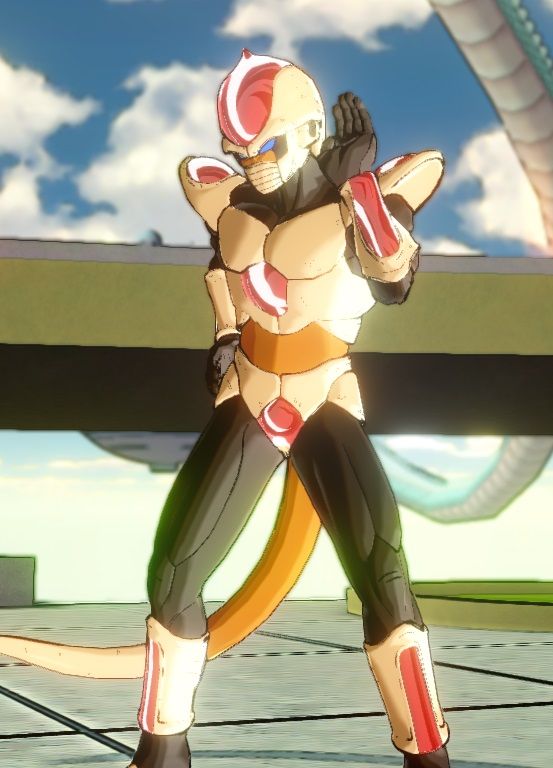 Name: Heeta
Age: 33
Gender: Male
Race: Tropian
Appearance: Dark brown skin covered in off-white bio armor. The armor has red gems, with the one on the top ending with a point. His eyes are a vibrant and solid light blue. The skin on his tail, around his mouth, and around his gut are pale orange.
Strengths/Weaknesses: Heeta can use his Overheat technique to increase his power to fit any challenge. However, the tradeoff is that the technique generates a lot of heat in the body, which can do serious damage to his body if he overuses it. Additionally, Heeta cannot cool down on his own. He relies on a liquid called "coolant" to reverse the effects of his Overheat technique. Even when he isn't using the ability, he has to drink coolant to keep his body heat from rising on its own and killing him.
Signature moves:
1. Overheat - Increases the power level of the user. It has no limits aside from what the user can handle.
2. Death Bomb - Similar to the Death Ball used by Frieza, but forcefully shrunk to a small size to give it an explosive force upon contact.
3. Burning Fist - Focuses the extra heat generated by Overheat within the user's hands, burning what they touch.
Personality: Because he has never experienced defeat, he is fearless and thinks himself invincible. Not even the god of destruction of Universe 6, Champa, can scare him. He is very calm, and rarely is seen expressing his anger. Heeta enjoys a challenge, so he doesn't usually powerup so much that his opponent can't touch him. He is stubborn and always expects to get what he wants. He has not pity, and only sees other people as means to an end.
Bio: Heeta hails from a race known as the Tropians, which share a common ancestor with the Arcosians. Unlike the Arcosians who evolved transformations, the Tropians evolved their Overheat ability. Heeta himself was born with an unusually high power level, and remained among the strongest of his kind without the need to train. His Overheat ability was far advanced compared to his peers, but it was also more unstable. Other Tropians only needed coolant just after using Overheat, rather than needing it all the time whether or not the technique is used. Now, he uses his power to forcefully take over planets and enslave their people. Those who refuse his rule are killed. Now he hears that the Arcosian Frost is dead, and his lands up for grabs, and he intends to take it. But when the Saiyans defeat his forces, Heeta will see an even greater opportunity.