Name
Laris Oscura
Nickname
Who would give me a nickname..? My name is not long enough for one anyway..
Age
20 years old
Gender
Male
Race
Lian
Height
6' 1"
Weight
165 lbs
Hair Color
Chalk white
Eye Color
Pinkish-red
Complexion
Actually closer to tan
Distinguishing Marks
A black banded tattoo above my left elbow and a scar running down the same arm from about the beginning of the tattoo to the wrist...
Visual Appearance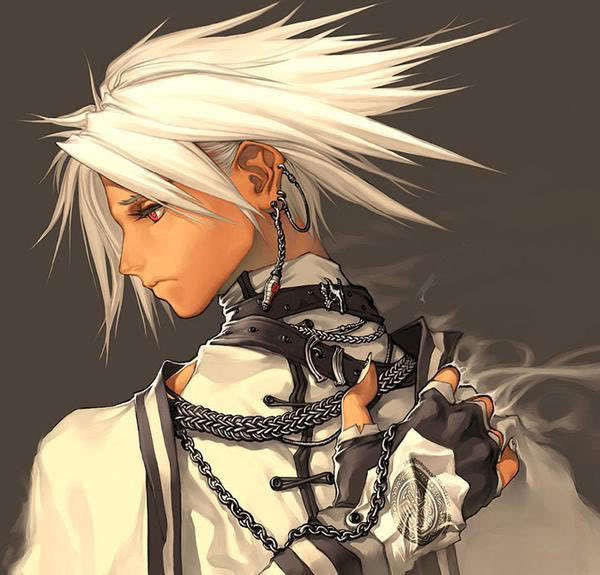 Written Appearance
If you are confused by my strange white hair, then you would be correct. It is one of the things that keeps me apart from the others in my village. I was born a psuedo-albino, however, in reality I have not problems with light. Otherwise, I would not be so tan, yes? I prefer to keep my hair less than shoulder length, but not too short; it helps to hide my face. The other strange feature is my red-almost-pink eyes, another byproduct of birth. It's one of the two things that people will recognize me by.
I usually wear black, as it helps me fade away, even with my white hair. I will only wear another colour...well, I won't wear other colours. For the most part. If you must know, I carry two short-swords at my back. I prefer not to wear jewelry, though I do have a piercing on my left ear, for the occasional earring. I also always wear a simple necklace with a dark pendant on it.
Personality
While my features are not dark, I choose to wear the colours that are. I have frequently wished I could fade away, so that no one could see me. Everyone seems to shun me for being different, even though I am still a person - albeit one with strange features. However, as such, I have always felt at home in the night, the dark, whatever enshrouds me. I can identify with it.
I am very patient. Whenever it is my turn to hunt, I can wait for hours to get the perfect kill, causing the least pain necessary. I am not a sadistic person, and like the darkness I hide it, I seek to relieve pain, not to cause it. This does not only apply here. Years of being shunned as a different person - a demon, to some - have also made me very withstanding of talking to people, in the rare case I do so. I do not hate them for doing so, I simply choose to understand why they feel this way. I understand that seem different to the others in the village, and even though they do not accept me, I accept them. Similar to how the darkness accepts me.
Everywhere, and yet not. Despite my isolation, I seem to hear everything, and seem to be everywhere. For the most part, people have chosen ignore me, which I use to my advantage. Despite standing out, I also seem to blend into the background at most times. I am fine with this; I do not enjoy talking to others very much. However, I will not let any of my village-mates get hurt. While many seem to fear the dark, think of what hides in it, I choose to give others what the darkness gives me. That is, safety. I will protect this village and its people with my life, and I will seek to give back, prove myself to those who shun me, in hopes they will understand that I am just as much a person as anyone else.
Quirks
I could be described as...anti-social. However, this is mostly because of the village seeking to isolate me. In the rare case I do get a conversation with someone else, I enjoy it very much. It does seem I do not say much in those cases though...perhaps I require more communication in order to change this.
I am nocturnal, however it really does not matter. I simply prefer to be awake during the night, when I am less recognizable. In the day, people go about their work, and do not bother with a sleeping reject. However, outside circumstances mean that this is viable to change, and I do not mind either way.
I have a double-edged sword in the way of trust. I believe that I am easily trusting in anyone who approaches me, though various times I have found this was only to hurt me more. However, I have moved past these problems. I will stay true to my belief that if I am accepted, these things will stop. Thus, I must focus on proving my worth to everyone else.
Likes
Light
Darkness
Conversation with a few people
Life
The village and its inhabitants
Dislikes
Large groups
Danger to the village
Fighting
Killing
Death
Talents
I am proficient with my blades, however much I wish they did not need to see use.
Otherwise, I am decent at cooking, foraging, hunting, and sewing. Having less interaction with others gives you more time to learn more self-sufficient skills...
My other skills lie in observation and tracking, due to my extreme patience. I can follow someone, or something, without being noticed easily.
Finally, perhaps not a talent per-say, I can see well at night. Having grown up with it, or perhaps due to my strange reddish eyes, I can easily make my way in the darkness. The morning, the day, does not give me much trouble, however, a quick change from dark to light will keep me blinded longer than most.
Background
I...did not know my parents. From the rare word I have heard of them from the other villagers(when they do not think I am listening, I might add) I know that my mother was Delerian and my father was Caelum. They came to Liam to give birth to me, however, after this, they returned promptly to their respective sides. While I understand that there was love between them, the only way in can be seen is through me. However, duty called, and I was left to be orphaned in this village. However, I do not spite them; in fact, my parents are one of the reasons I do not spite anyone. I will move past the hate of my difference and become accepted by this village. Since being left here, I have grown up, only allowed contact with the other children until their parents thought me too strange and a bad influence. I live by myself, though I have a met a hermit on my rare journeys into the woods. He has not disclosed his name, however, I do know he was an assassin before this. This is where I have learned my skills. While I do not agree with the methods, I must admit these skills can also be used to protect, thus, I have taken it upon myself to learn them in case the time should come when I will need them.
Element
Luxo - Darkness
Weapon
Twin short-swords
Weapon Skills
Pinpoint Weakness - With a lot of observation, I can easily take down a target if necessary. I can find the most efficient and painless way of doing so. This is more effective at night, when it is harder to spot me. However, I can do it in the daytime with enough cover and time.
Armor Pierce - In a direct battle, I can find a crack in the opponent's armor or perhaps even weapon. However, again, this requires time, though not as much as Pinpoint Weakness.
Darkness Evade - I can easily evade most projectiles even when it is dark. This applies to a lesser extent with melee blows.